U.S. Murder Rate On Track To Be Lowest In More Than 100 Years
Homicide rates are on pace to be lower than they were at the start of the 20th Century.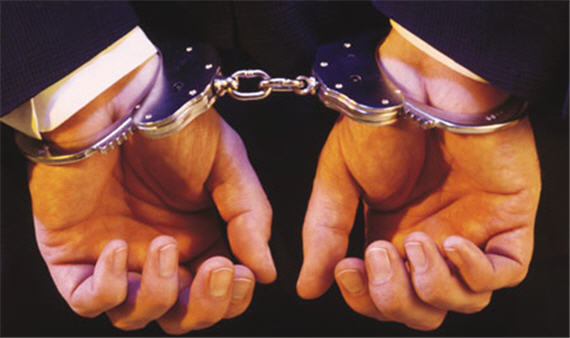 Kevin Drum links to an interesting study which suggests that, if current trends hold up, 2013 will see the United States experience it's lowest murder rate in 100 years [Study available in PDF]. Drum, who has been blogging a lot lately about the measurable impact of the removal of lead from the environment starting in the 1970s comments:
Analytically speaking, murder is an especially interesting crime because we have pretty good homicide statistics going all the way back to 1900. Most other crimes have only been tracked since about 1960. And if you look at the murder rate in the chart below (the red line), you see that it follows an odd double-hump pattern: rising in the first third of the century, reaching a peak around 1930; then declining until about 1960; then rising again, reaching a second peak around 1990. It's been dropping ever since then.

This is the exact same pattern we see in lead ingestion among small children, offset by 21 years (the black line). Lead exposure rises in the late 1800s, during the heyday of lead paint, reaching a peak around 1910; then declines through World War II; and then begins rising again during our postwar love affair with big cars that burned high-octane leaded gasoline. Lead finally enters its final decline in the mid-70s when we begin the switch to unleaded gasoline.

This is powerful evidence in favor of the theory that lead exposure in childhood produces higher rates of violent crime in adulthood.
Here's the chart that Drum speaks of: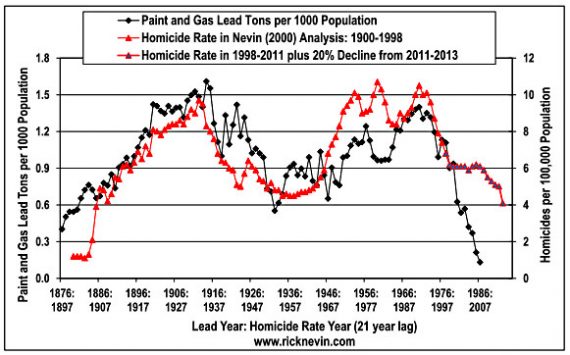 It's certainly an intriguing hypothesis, and Drum has done an excellent job of making his case in other blog posts on this topic reaching back several months. Of course, it's probable that the decline in the rate of homicide in particular, and crime in general, over the past several decades is attributable to a number of factors working together. Among those that have been cited as having an influence on criminal behavior. Some researchers have suggested that the legalization of abortion nationwide has been a contributing factor simply because it has prevented the birth of people who would have been raised in environments likely to lead to a life of violent crime. This hypothesis is interesting, but somewhat undercut by the fact that out-of-wedlock and teenage mother births have also increased significantly since the Roe v. Wade decision, and those are precisely the types of environments likely to lead someone to a life of crime. Another factor that many will mention is the manners in which police tactics have changed over the years, but murder strikes me as being an offense least likely to be deterred by something like "community based policing." The fact that prison sentences for lesser crimes have increased significantly over the years means that people who are likely to commit violent crimes are being kept off the streets for longer periods of time, thus reducing their opportunity to commit more crime. Finally, it may be possible that homicides have declined because medicine has become more skilled at treating people who are injured. For this to be true, of course, one would expect to see a commensurate increase in violent crimes that result in serious, but not fatal, injuries. In the end, though, I'd suggest that all of these factors, including Drum's argument about the relationship between lead exposure and violent behavior, have played a role in bringing the murder rate to a level lower than it was at the beginning of the 20th Century is an intriguing one. Indeed, if it holds up, then we can expect crime rates to continue to decline as the years go on. That would make the 1970's era decision to go after a substance that we've known from history has adverse effects on human development was a pretty good idea.