Gas Prices Not That High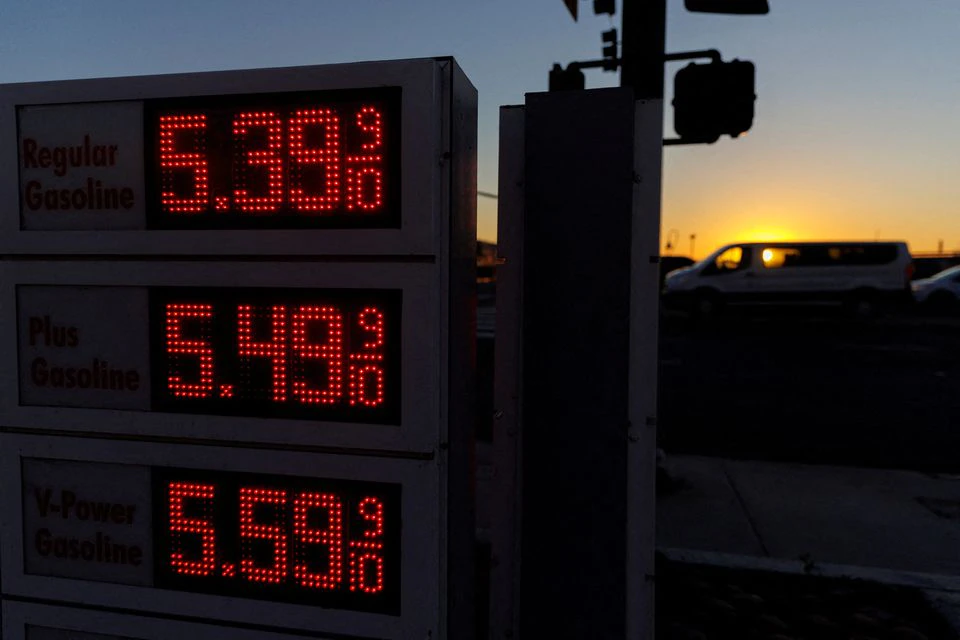 Reuters ("U.S. gasoline prices soar to highest since 2008 on Russia conflict -AAA"):
U.S. gasoline prices at the pump jumped 11% over the past week to the highest since late July 2008 as global sanctions cripple Russia's ability to export crude oil after its invasion of Ukraine, automobile club AAA said on Sunday.

AAA said average U.S. regular grade gasoline prices hit $4.009 per gallon on Sunday, up 11% from $3.604 a week ago and up 45% from $2.760 a year ago.

The automobile club, which has data going back to 2000, said U.S. retail gasoline prices hit a record $4.114 a gallon on July 17, 2008, which was around the same time U.S. crude futures soared to a record $147.27 a barrel.

The most expensive gas in the country is in California at $5.288 a gallon, followed by Hawaii ($4.695), Nevada ($4.526) and Oregon ($4.466), according to AAA.

[…]

Gasoline price provider GasBuddy said the average price of U.S. gasoline spiked nearly 41 cents per gallon, topping $4 for the first time in almost 14 years, and stands just 10 cents below the all-time record of $4.103 per gallon.

GasBuddy said that weekly increase was the second largest ever, following a jump of 49 cents per gallon during the week of Sept. 3, 2005, after Hurricane Katrina tore through the U.S. Gulf Coast.
Because the price, down to the 10th of a cent, is prominently displayed in giant font visible from the road, there is no other product where Americans are more attuned to fluctuations in cost. Since most of us use most of us consider gasoline on a daily basis and consider it a commodity, with any station's offering just as good as the next, we're unusually price sensitive. Many who only casually check prices at the grocery store will go out of our way to get the best price on a fill-up.
I'm certainly old enough to remember the days of $4 gas being routine and was happy when it was under $3 last year. But here's the thing: $4 in 2008 is the equivalent of $5.27 in today's money.
I was prepared to write a lengthy post drawing out the point but realized I already did that back in December when panic over the prospect of $4 gas was spreading. It included this graphic from Pew Research: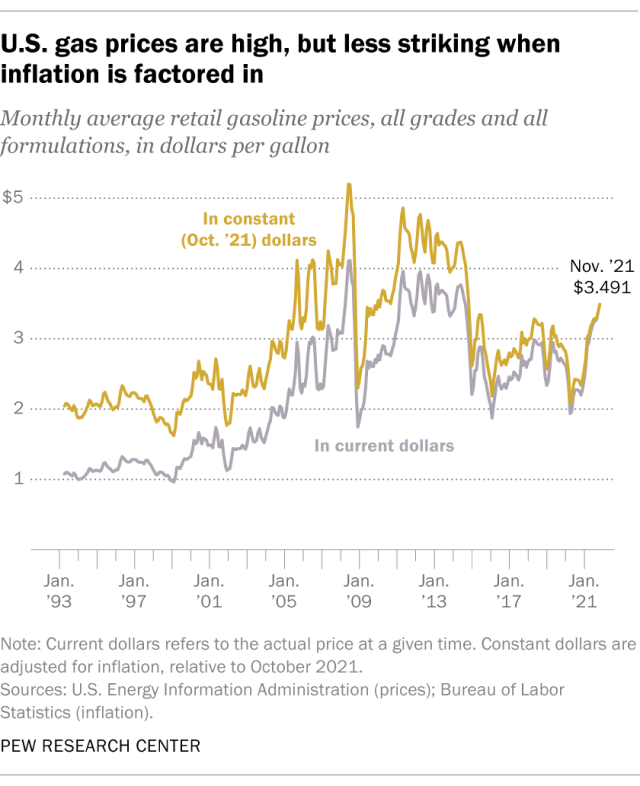 On the other hand, we're actually paying more in constant dollars for gasoline now than we were during the OPEC embargo of 1973. Gas went to a shockingly high 54 cents a gallon at the peak of that crisis—which is only $3.26 in today's dollars. That's surprising to me.
Not being Kevin Drum, I'm not interested in spending hours crunching the numbers to create my own graphics but here's a dated one from the Energy Department's Vehicle Technologies Office: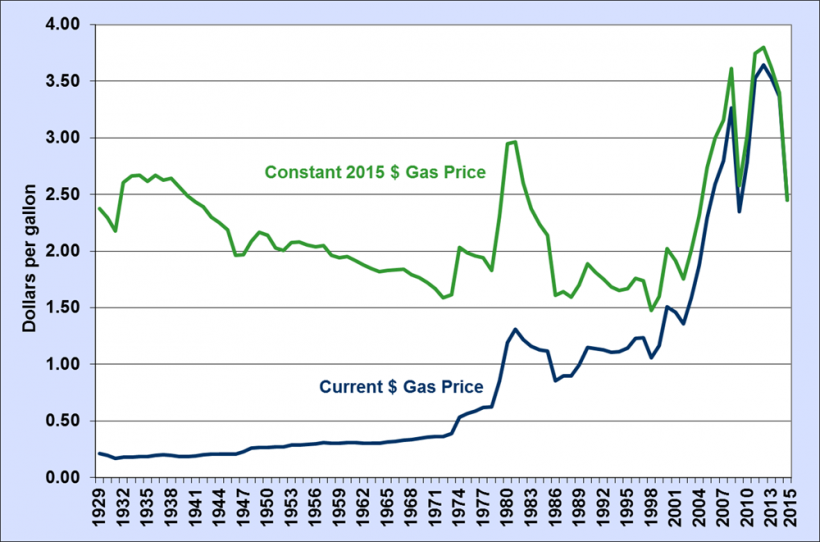 In constant dollars, the 1974 shock price was only high compared to recent memory; it had been much higher in the decades prior. And the spike in the early 1980s, around the time I started to drive, was way higher as well.
Two things that jump out to me from the above calculations:
Retail price includes Federal and State taxes.
Price is for regular leaded gasoline until 1990 and for regular unleaded gasoline thereafter
The Federal tax on gasoline went from 1 cent in 1932 to 2 cents in 1951 to 3 cents in 1956 to 4 cents in 1959 and . . . stayed there until 1983, when it skyrocketed to 9 cents. And then to 14.1 cents in 1990 and 18.4 cents in 1993 . . . where it has stayed ever since. Had it kept up with inflation, we'd be paying 36.3 cents.
One would think the mandate for lead-free gasoline and, later, the corn lobby's demand for ethanol blends would have had major impacts on the price as well but it's not apparent from the chart. With regard to ethanol, that's partly explainable by the fact that there was a steep discount on the gas tax for "gasahol" between 1983 and 2005, at which point both pure and blended gasoline became taxed at the 18.4 cent rate.
The constant over time is that gas prices swing wildly in response to both supply and demand shocks. How this compares to other commodities, I honestly don't know. And, again, that's simply because we have trained ourselves to be acutely sensitive to the price of gas in a way that we aren't to, say, a Starbucks latte or a pound of chicken.