Back to $4 Gas
Three dollars and change at the pump. The cost of livin's high and goin' up.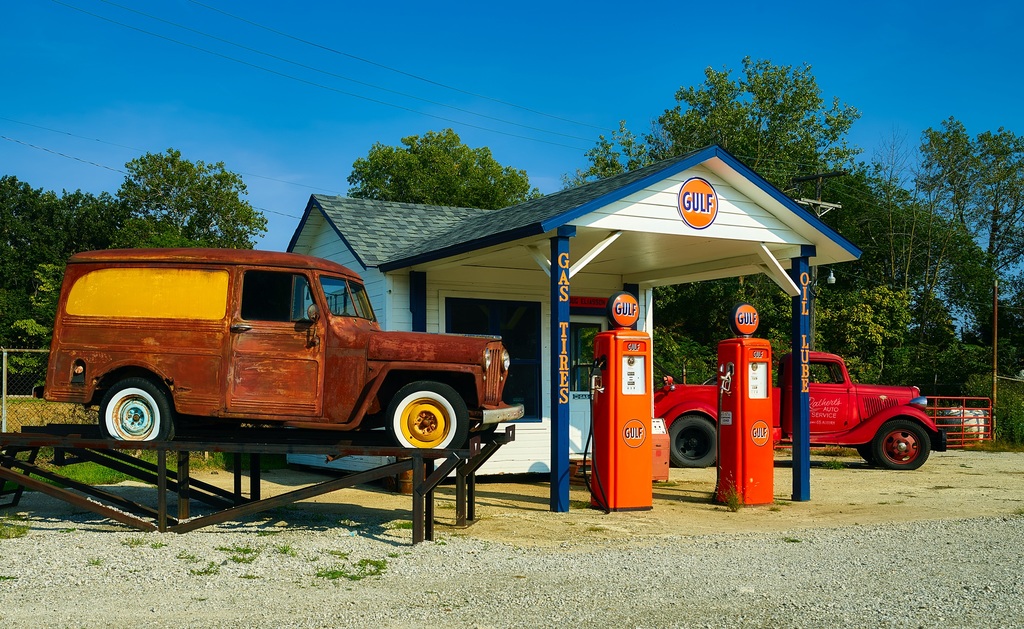 CNN Business ("$4 gas could be here by Memorial Day, GasBuddy predicts"):
Pain at the pump will get worse before it gets better.

That's according to a new GasBuddy forecast that predicts the national average will rise to $3.41 a gallon in 2022, up from $3.02 a gallon this year. That would reverse some of the recent relief American drivers have received as gas prices have slowly backed away from seven-year highs.

The GasBuddy forecast, shared exclusively with CNN, projects prices at the pump will peak nationally at a monthly average of $3.79 in May, before finally retreating below current levels by late 2022.

"We could see a national average that flirts with, or in a worst-case scenario, potentially exceeds $4 a gallon," said Patrick De Haan, head of petroleum analysis at GasBuddy, an app that tracks fuel prices, demand and outages.

That would amplify the inflationary pressures hitting American families grappling with the biggest price spikes in nearly 40 years. And it would add to the White House's political headaches.The national average at the pump fell to $3.29 a gallon on Monday, according to AAA. That's down by 13 cents from the peak of $3.42 on November 8.The call for gas prices to rise further in the coming months stands in contrast with forecasts from the government and some, though not all, on Wall Street.The US Energy Information Administration said on December 7 the national average will likely drop to $3.01 a gallon in January and fall to $2.88 for 2022. Citigroup likewise predicted a "radical drop" in energy prices, including a potential bear market for oil next year.
As I've often noted, Americans are irrational when it comes to gas prices. Because—unlike any commodity I can think of—the price is displayed in giant signs we can see from the road, we know down to the penny what we're paying, we're incredibly sensitive to fluctuations.
Myself included. While I'm naturally price-aware and try to get good deals on purchases, I'll time my fillups based on when I know I'll pass stations that have the lowest prices, even if I'm running on fumes when I get there.
But here's the thing: gas prices have always fluctuated both seasonally and in response to various global economic forces. Here are the US national averages over the last three decades: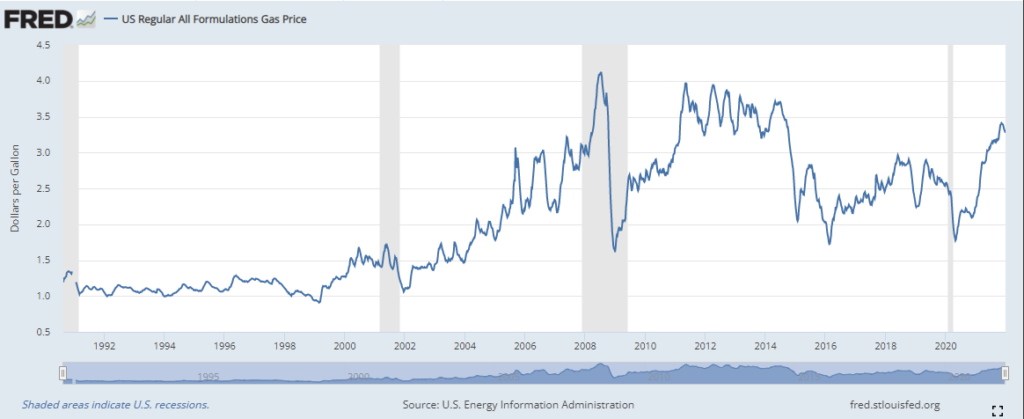 Yes, $4 gas would indeed be an anomaly. But I remember paying that back in 2008. And it's been much higher than that for those who use premium grade gas. (And those of you who live in California are laughing wildly at the notion of $4 gas being high.) And, hell, I remember paying that much for gas in Germany in the late 1980s.
And, of course, this figures are in nominal dollars. The $4 I was paying in the summer of 2008 is equivalent to $5.05 in today's money. Pew Research presents this graphic illustrating the point: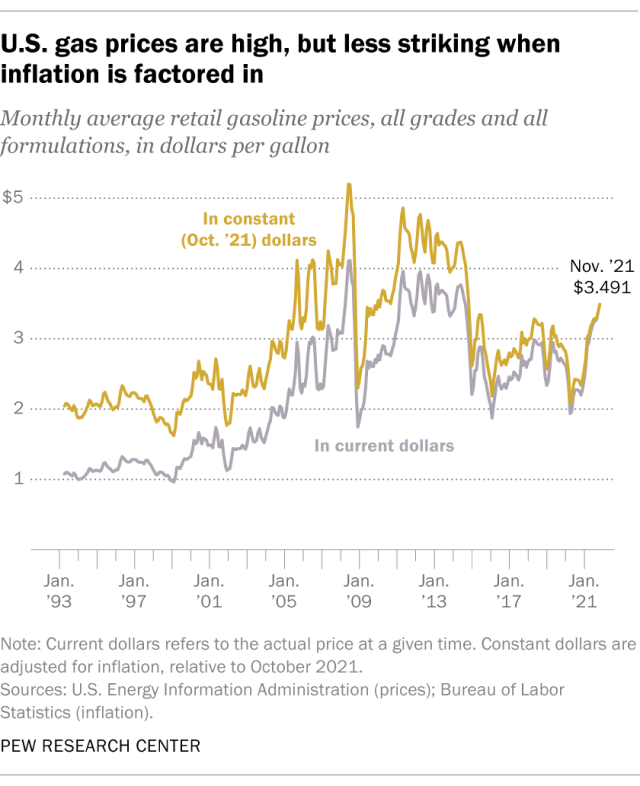 Looking at the constant dollars line, it's apparent that, while prices are higher now than theywere from 1993 through 2005, they're lower than they were most of the eight years after that (with the notable exception coinciding with the greatest economic collapse since the Great Depression). They mostly seem high right now because we're comparing them to the demand trough we experienced at the height of the COVID shutdown.
Pew's Drew DeSilver adds,
Americans are acutely sensitive to gasoline prices, especially when they're on the rise. One reason, of course, is that we buy a lot of gas: an estimated 570 gallons this year for the average driver, which at current national average prices would cost close to $2,000. Also, gas prices are posted all over town on large signs – unlike, say, milk prices - and people typically buy gas on its own rather than as part of a larger shopping trip, making price changes more noticeable. And gas prices can and do swing sharply and unpredictably, in ways that can seem unconnected to the rest of the economy.

[…]

Since 1994, average gas prices have fluctuated between a low of 96.2 cents a gallon in February 1999 and a high of $4.114 in July 2008. The current average price, in fact, is almost exactly what it was in September 2014 – at least on a nominal basis.

When inflation is factored in, today's prices appear more modest. In today's dollars, gas cost an average of $5.20 a gallon in June 2008, and more than $4 as recently as September 2014.

Also, gasoline is not a single, uniform product. Besides regular, midgrade and premium gas, which differ by octane rating, there's conventional and "reformulated" gas. The latter is required to be sold in California, along the Northeastern seaboard and in several other major urban areas to reduce smog and other air pollutants.

Over the past year, reformulated gas was consistently 30 to 35 cents more expensive than conventional gas until mid-October, when the differential began to widen, according to an analysis of EIA price data – it's­ now about 46 cents more expensive. Over the same period, midgrade gas has ranged from 37 cents to 46 cents more expensive than regular, while premium has been 25 to 27 cents higher than midgrade.
Two of our cars run on Regular, which in these parts is almost always an ethanol blend, and the third on Premium. For most of my gas-buying lifetime, which dates to roughly 1982, the pricing went according to this formula: Regular=$X, Midgrade=$X+10 cents, and Premium=$X+20 cents. A few years back, that predictability went away with Premium now often wildly more expensive (apparently owing to increased demand and production issues.)
Another phenomenon that I've only noticed in the last several years is the propensity of various businesses to start adding a "surcharge" to account for higher fuel costs. I guess they figure that customers are more understanding of that than they are of simply raising prices.