Gas Prices About To Become An Election Issue
Prices are rising at the pump, and the candidates for President are starting to notice.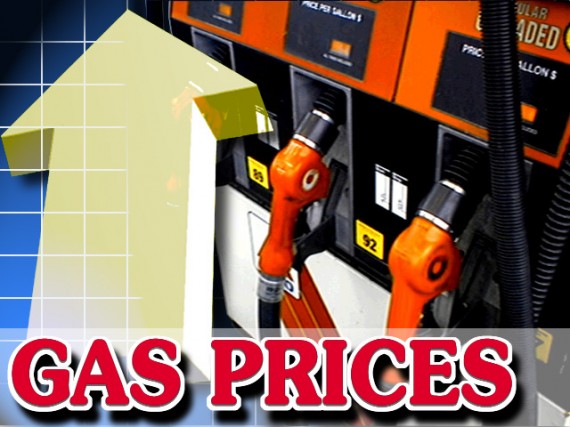 We learned over the weekend that gasoline prices are higher now than they have ever been at this time of year so, it's not entirely surprising that rising fuel prices have quickly become a part of the stump speech of every Republican candidate for President:
WASHINGTON — Rising gasoline prices, trumpeted in foot-tall numbers on street corners across the country, are causing concern among advisers to President Obama that a budding sense of economic optimism could be undermined just as he heads into the general election.

White House officials are preparing for Republicans to use consumer angst about the cost of oil and gas to condemn his energy programs and buttress their argument that his economic policies are not working.

In a closed-door meeting last week, Speaker John A. Boehner instructed fellow Republicans to embrace the gas-pump anger they find among their constituents when they return to their districts for the Presidents' Day recess.

"This debate is a debate we want to have," Mr. Boehner told his conference on Wednesday, according to a Republican aide who was present. "It was reported this week that we'll soon see $4-a-gallon gas prices. Maybe higher. Certainly, this summer will see the highest gas prices in years. Your constituents saw those reports, and they'll be talking about it."

Iran's recent warnings of a disruption in the global oil trade have pushed the price of a barrel of domestic oil to more than $103, a six-month high and up about 34 percent since September. That has helped drive the average price of a gallon of regular gasoline in the United States to $3.52, a 30-cent increase in the past two months. It is already approaching $4 in some places.

Economists say the current price of oil is only a modest drag on the economy. But a big jump — combined with tensions over Iran and continuing European debt worries — could present a more significant challenge to America's recovery, they say.

For the president's economic team, the specter of such increases in oil prices comes on the heels of positive economic news that has lifted Mr. Obama's approval rating, including better-than-expected job growth, a surging stock market and a payroll tax deal that will put more money in the pockets of millions of Americans.

But Mr. Boehner's message to his members echoes the aggressive talk coming from the Republican campaign trail, where the men vying for the right to challenge Mr. Obama are increasingly blaming Mr. Obama's administration for rising gas prices. A gallon of gas had dropped to $1.89 when Mr. Obama took office in 2009, in large part because of the fall in oil demand caused by the financial crisis, and has almost doubled since.

"They want higher energy prices. They want to push their radical agenda on the public," Rick Santorum said at a campaign event last week, accusing Democrats of pushing alternatives to oil. "We need a president who is on the side of affordable energy."

Newt Gingrich wrote on Twitter on Friday that "gasoline prices are unacceptable. We can do better!" He urged his supporters to sign a petition on his Web site calling for a return to $2.50-a-gallon gas. "Drill here. Drill now. Pay less," the petition says.

And talking points from the Republican National Committee that go out to conservative commentators every Friday often include rising gas prices among the "Top Line Messaging" for the week. A recent "Pundit Prep" document cited the national debt, unemployment and the price of gas as the three best ways to define the "Obama economy."
Steven Taylor already noted the utter ridiculousness of Newt Gingrich's comments about gasoline prices, but he's just one example of what we're likely to see from politicians eager to prove to voters that there is some kind of easy solution to the issue of rising energy costs when in fact there isn't. Republicans, for example, will no doubt trot-out their good old "Drill baby, Drill" slogan, claiming that the easy solution to higher prices is to increase oil exploration. While that's certainly a good idea, as is the reconsideration of the President's ill-advised decision to deny a permit for they Keystone XL Pipleline, it isn't necessarily something that will bring down prices significantly. For one thing, domestic oil production has actually steadily increased over the past three years to such an extent that even the experts are surprised:
The United States' rapidly declining crude oil supply has made a stunning about-face, shredding federal oil projections and putting energy independence in sight of some analyst forecasts.

After declining to levels not seen since the 1940s, U.S. crude production began rising again in 2009. Drilling rigs have rushed into the nation's oil fields, suggesting a surge in domestic crude is on the horizon.

The number of rigs in U.S. oil fields has more than quad­rupled in the past three years to 1,272, according to the Baker Hughes rig count. Including those in natural gas fields, the United States now has more rigs at work than the entire rest of the world.

"It's staggering," said Marshall Adkins, who directs energy research for the financial services firm Raymond James. "If we continue growing anywhere near that pace and keep squeezing demand out of the system, that puts you in a world where we are not importing oil in 10 years."

There are doubts that energy independence is that close. But many say the booming shale oil fields in Texas and North Dakota and the growth of deep-water drilling in the Gulf of Mexico will allow the nation to cut its reliance on oil imports significantly over the next couple of decades.

Last month, the U.S. Energy Information Administration upgraded its forecast of crude production in 2025 to 6.4 million barrels per day – 1 million barrels more than were pumped in 2010.

Previously, the EIA had projected the U.S. would peak at 6 million barrels in 2022.

"The growth that we've seen in shale, that's one of the biggest changes that's contributing to our outlook," said Dana Van-Wagener, a research analyst for the agency. "It's evolving so quickly. We weren't anticipating enough growth."
So here we are in the middle of a massive boom in oil production that nobody anticipated and still, oil prices are going up. Maybe we need to add to that by increasing offshore drilling? Well, a 2010 study by the U.S. Energy Information Administration, part of the Department of Energy,   found that opening the entire outer continental shelf to offshore drilling would have very little impact on the price of gasoline. In ten years, the report found that there would be virtually no  impact on gasoline prices from the increased supply of oil.  Over twenty years, the report projected that US gasoline prices would be three cents a gallon lower. Three cents. So much for "Drill Baby Drill." The reason for this is that most of what determines the price of gasoline lies far beyond the control of any politician, especially given the fact that we now live in a world where the price of crude oil, the biggest component in the price of a gallon of gas, is influenced by demand on a worldwide basis regardless of where the oil itself actually comes from. There are, in other words, no easy solutions to this issue and any politician who guarantees that they can return us to the days of $2.50 per gallon gas is lying to you.
So if drilling is unlikely to bring about that $2.50/gallon gas that Gingrich is promising, what would? Well, as I noted last year , there is one sure way to bring down worldwide energy prices:
Of course there is one thing that is virtually guaranteed to bring the price of oil and gas down. If the economy were to contract again, consumer and business demand for energy would fall, and world prices would decline at least to some extent. Of course, there are plenty of bad things about another recession, and no politician is going to tell the public that the best thing they could do to bring down gas prices is to crash the economy again. Instead, we'll get more demands for "investigations" into speculation from the White House, and continued repetitions of the catchy, but rather meaningless, phrase "Drill Baby Drill" from Republicans. In the meantime, don't count on prices at the gas station going down any time soon, at least not until this current price bubble has decided to deflate.
Of course, that's the kind of explanation that politicians never want to give and voters never want to hear. It's much easier to claim that you've got an easy solution to what is, in reality, a complex problem. We saw it back in 2008 when John McCain and Hillary Clinton came up with the idiotic idea of the Gas Tax Holiday, which likely would have resulted in absolutely no savings to consumers during the time it was in effect, and we see it now from people like Newt Gingrich. None of that really matters, of course. If consumers end up paying something close to $5.00 per gallon for gasoline this summer then it's going to have an impact on the election and, potentially, the economy. The fact that there really isn't anything that anyone in Washington can do about the matter won't really matter.