Michele Bachmann's Plan For $2.00 Gas: Another Great Recession?
Michele Bachmann is promising $2.00 gas. Not surprisingly, she has no idea how to achieve this seemingly impossible goal.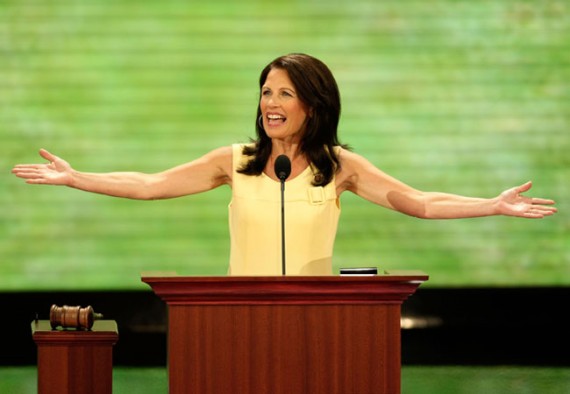 Michele Bachmann made this boastful statement during a campaign appearance yesterday:
Americans will save at the pump if Michele Bachmann is elected president, the Minnesota Republican said Tuesday.

"The day that the president became president gasoline was $1.79 a gallon. Look at what it is today," she said at an event in Greenville, S.C.. "Under President Bachmann, you will see gasoline come down below $2 a gallon again. That will happen."

The average price for a gallon of gasoline is currently $3.58 per gallon, according to AAA.

Bachmann didn't detail how she would cut the price of gasoline, which is tied to the global price of oil.
She also didn't really discuss the reason why gas prices had fallen under $2.00 per gallon in the late months of 2008, something which this chart of gas prices going back to 1979 makes dramatically clear: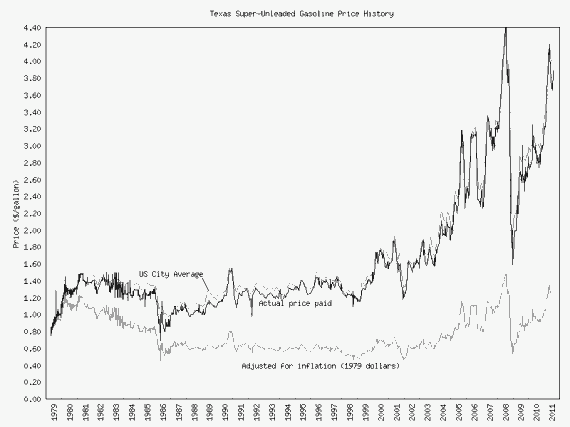 As you can see quite clearly, gas prices where on a sharp upward tick from mid-2007 until mid-2008, and then they dropped precipitously until they reached a level unseen since a brief drop in 2003, and before that unseen since 2001. From 2003 onward, gasoline prices were on a clear upward trajectory, largely because the price of oil itself was also heading upward. Supply and exploration issues are certainly one factor in the price spike, as are tensions in the Middle East, but the largest factor that was driving oil (and gas) prices up during this time was increased demand from nations such as India and China.
What caused the 2008 collapse, then, a collapse so dramatic that it's echoed when you adjust the price figures for inflation? Obviously, it was the 2008 worldwide financial collapse and recession, with its subsequent decreases in demand, that led gas prices to reach levels we haven't seen in nearly ten years now. Once the crisis was over and the world economy started to recover, prices started going back up again as demand returned to normal, pre-crisis, levels.
So, that leads to the question of exactly how Michele Bachmann would bring about a world of $2.00 per gallon gas.
Bachmann's solution, no doubt, involves some radical variation on the GOP's "Drill Baby Drill" mantra, and while it would certainly be advisable for the Federal Government to remove many of the restrictions against off-shore driling and oil shale exploration,  it's fairly clear that expanding exploration drilling isn't going to have much of an impact on energy prices, especially not in the short term. According to a 2010 report by a division of the Department of Energy, opening the entire outer continental shelf to offshore drilling would have very little impact on the price of gasoline. As the chart below shows, the study analyzed the difference between full offshore drilling (Reference Case) and restriction to offshore drilling (OCS limited case).  In 2020, the report found that there would be virtually no  impact on gasoline prices.  In 2030, US gasoline prices would be three cents a gallon lower.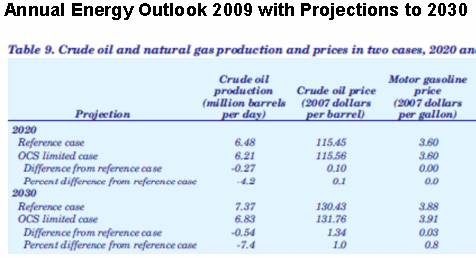 So if drilling is unlikely to bring about that $2.00/gallon gas that Bachmann is promising, what would? Well, as I noted back in April, there is one sure way to bring down worldwide energy prices:
Of course there is one thing that is virtually guaranteed to bring the price of oil and gas down. If the economy were to contract again, consumer and business demand for energy would fall, and world prices would decline at least to some extent. Of course, there are plenty of bad things about another recession, and no politician is going to tell the public that the best thing they could do to bring down gas prices is to crash the economy again.
Or at least that's what I thought in April. Since nothing she's proposing is likely to bring about the promise she has made, is Michele Bachmann saying that the solution to our energy problems is another Great Recession? Or is it just that she spouted off something without any real idea of how she'd accomplish the goal?
Whichever choice one makes, it doesn't reflect very well on the candidate.