Is There Anything That Washington Can Do About Gas Prices? Not Really
Congress is coming back to Washington and gas prices continue to rise. Expect a lot of demagoguery, but very little in the way of solutions.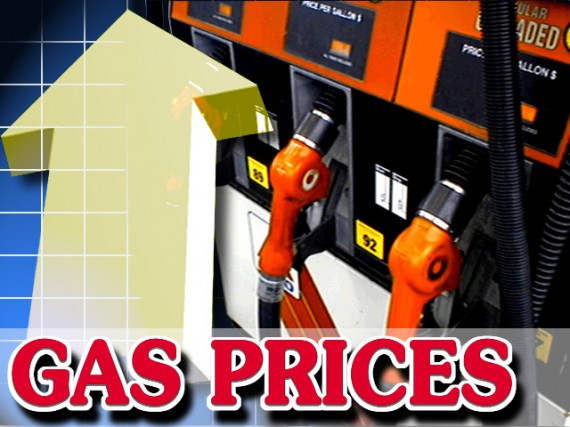 With Congress set to return on Monday, it's looking like the skyrocketing prices of oil and gas will be at the top of the agenda, but mostly it will just be another excuse for both political parties to blame the other for a problem over which neither one has control:
WASHINGTON — Congress returns next week to a flaring brawl over oil industry profits and tax breaks, with both parties hoping to capitalize on growing public ire at high gasoline prices.

"When oil companies are making huge profits and you're struggling at the pump, and we're scouring the federal budget for spending we can afford to do without, these tax giveaways aren't right," President Obama said in his weekly address on Saturday. But in the Republican response, Rep. James Lankford of Oklahoma countered: "For more than two years, his administration has knowingly increased energy prices by choking off new sources of traditional American energy and smothering our economy in new energy regulations.

Last week, Mr. Obama touched off the latest flurry with a letter to Congressional leaders last week calling for the repeal of $4 billion a year in tax incentives for domestic oil and gas production, saying the industry was doing very well, thank you, and needed no help from the government. Republicans responded that the president's proposal would only raise the cost of production and the price of gasoline, which now tops $4 a gallon in many parts of the country.

Both parties are planning legislative maneuvers this week to try to caricature their opponents as either in the pockets of the oil companies or hostile to domestic energy production.

The debate may generatea fair amount of noise that provides one side or the other with a temporary political advantage but is unlikely in the end to have an appreciable impact on gasoline prices.

"Every time Americans have to shell out $60 or $80 to fill their tanks, they mutter under their breaths about government and it puts pressure on Congress and the White House to do something," said Byron L. Dorgan, the former Democratic senator from North Dakota who is now co-chairman of an energy project at the Bipartisan Policy Center in Washington. "But it's just howling at the moon. The basic laws of supply and demand haven't changed."
While both political parties will fight over the issue, though, it's the President who has the most to lose here:
"You can talk all you want about Republicans and oil companies and OPEC, but consistent in American history, the price of gas lands on the president's desk as a blame issue and that goes back to the first oil shocks for Nixon," said Jeremy Mayer, an associate professor at George Mason University. "It'll be an albatross around his neck if it's $5 by the election."

With gas prices climbing, Obama's poll numbers are indeed sagging. This week, a Washington Post-ABC News poll found 60 percent of independents are concerned enough about gas prices to say that they definitely will not back Obama for reelection.
If you're in the White House, this has got to be making you nervous. The average national price of gas is now at $3.93 per gallon, that's up more than a dollar from where it was is April 2010, and nearly two dollars a gallon higher than it was in April 2009.  Some projections suggest we could see gas prices at $5.00 or even $6.00 per gallon by the time summer rolls around. The economic impact of energy prices at that level are rather apparent, as are the political consequences. The truth of the matter, though, is that there's very little that the Federal Government can do that would have a significant impact on the price of gas in the short or medium term.
To see why that's the case, one need only examine the factors that are actually driving up gas prices today:
1.The Supply and Demand Factor. Fuel demand from China, India and Brazil — three countries with a combined population of 2.7 billion — is the chief factor behind rising prices. China's fuel demand increased 12 percent in 2010. Meanwhile Saudi oil production has fallen, as AEI's Steve Hayward told me. Perhaps the Saudis are pulling back after overstating their reserves, in which case we're in serious trouble. Or perhaps they're accepting higher prices in the short term to spend more money on their people to avoid a Libya-type revolution, in which case the production shortfall should be temporary. Either way, supply matters and there's less of it.

2. The Middle East. Break the past year in gas prices into three phases. First, in the summer and fall of 2010, gas prices were pretty steady around $2.80. Second, beginning in the late fall, they started to climb gradually for six months. Third, since February, they have increased dramatically. What happened in February? Revolutions swept the Middle East, then Libya descended into civil war and its oil production fell by more than 50%. Ongoing uncertainty about the region continues to push up prices.

3. The Weak Dollar. A falling dollar can be good for Americans. It makes our exports more attractive and imports less attractive, which keeps more money in the U.S. economy. Unfortunately, as the dollar loses value, oil becomes more expensive.

4. The Summer. The EIA estimates that good weather and vacations cause U.S. summer gasoline demand to be 5 percent higher than during the rest of the year. Better weather means more vacations, which means more gasoline use. Think of it as a naturally occurring demand enhancer.

5. The Speculation Factor. Oil speculation — investors betting up the price of oil in the futures market — is a controversial factor in rising gas prices, and Hayward doesn't believe it's a deciding factor. Burned by the bust of oil prices in the 2009, it's unlikely that oil speculators are back in the market bidding up the price of crude. But it's a possible, if marginal, factor.

6. The Drill, Drill, Drill Argument. The U.S. can drill all it wants but it's hard to find anybody who expects greater domestic production to move gas prices by more than, say, two percentage points in the next six months. The problem is that the market for oil is global and U.S. supply is too small to make an impact.
Taken together, it's clear that the majority of the factors driving energy prices up are beyond the control of any government. In fact, the main reason that oil and gas prices are higher today than they were in 2009 is because the world economy is in far better shape now than it was then and demand has, consequentially, returned to pre-recession levels for the most part. Add this increased demand into the supply problems created by the fact that the majority of the world's oil happens to be located in the most politically unstable part of the world and it's easy to see why the prices of both these commodities has increased so significantly over the past two years.
As we've found far too often over the past 40 years or so, there's very little we can do to make the Middle East more politically stable. That may happen some day, but it wil happen because the people of the Middle East want it to happen not because of some "solution" imposed from the outside. So, we're likely to  have to deal with a politically unstable Middle East for the foreseeable future.
Additionally, there's not much that can be done in the short term to impact the demand side of the equation. Demand for energy has increased in China and India precisely because these nations are becoming more developed economically, meaning that they need more oil for electricity generation and gasoline. Economic progress in those countries is actually a good thing, though, since it means a wider market for American goods and, of course, a better life for the people of India and China.  Back home, the demand for energy continues unabated and it's now clear that even increases in the price of gasoline, whether naturally or through imposition of higher gas taxes, has very little impact on driving behavior.
Finally, there's not a lot we can do on the supply side of the equation either. In 2010, the U.S. Energy Information Administration, part of the Department of Energy issued a report that found that opening the entire outer continental shelf to offshore drilling would have very little impact on the price of gasoline. As the chart below shows, the study analyzed the difference between full offshore drilling (Reference Case) and restriction to offshore drilling (OCS limited case).  In 2020, the report found that there would be virtually no  impact on gasoline prices.  In 2030, US gasoline prices would be three cents a gallon lower. So much for "Drill Baby Drill."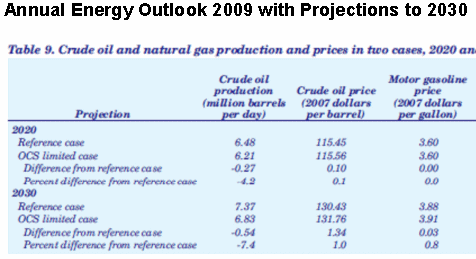 Of course there is one thing that is virtually guaranteed to bring the price of oil and gas down. If the economy were to contract again, consumer and business demand for energy would fall, and world prices would decline at least to some extent. Of course, there are plenty of bad things about another recession, and no politician is going to tell the public that the best thing they could do to bring down gas prices is to crash the economy again. Instead, we'll get more demands for "investigations" into speculation from the White House, and continued repetitions of the catchy, but rather meaningless, phrase "Drill Baby Drill" from Republicans. In the meantime, don't count on prices at the gas station going down any time soon, at least not until this current price bubble has decided to deflate.