Media Ignorance: Dog Bites Man
Political journalists are asking clumsy, ignorant, and intolerant questions. Film at 11.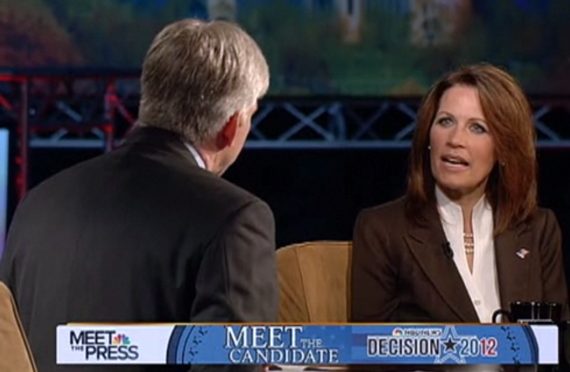 Andrew Exum, no fan of Michele Bachamann and Rick Perry,  is annoyed of the trashing of their religious beliefs by ignorant media folk.
I am getting a little tired of political journalists and their thumb-nail deep understanding of trends within and strands of evangelical and fundamentalist Christian thought in America. Even as good an article as Ryan Lizza's profile of Michelle Bachmann — which I enjoyed — left something to be desired in its treatment of Francis Schaeffer and evangelical theology. Most treatments of the religious beliefs of Bachmann and also Rick Perry that I have been reading over the past few weeks are clumsy at the least and intolerant and ignorant at the worst. Watching Bachmann on Meet the Press on Sunday, for example, I was shaking my head in disbelief as the candidate advanced her "understanding" of "economics," but once David Gregory started grilling her on her theological beliefs, I started considering the whole exchange unfair, uninformed and inappropriate.*

If political journalists are going to start writing about the theological beliefs of people like Bachmann and Perry, they should first take the time to study evangelicalism and fundamentalisms within American Christianity in a serious way.
He goes on to suggest a short bibliography to be used as primers.
While I agree that many of us who opine on the religious views of candidates could use more background on the subject, I'm nonetheless amused by the notion that this is a particular blind spot. When Ex  broached the subject yesterday on Twitter, I quipped, "Thankfully, political journalists are otherwise well rounded, with religion the only thing about which they talk out their ass."
This prompted James Gerrond to bring up the "Gell-Mann Amnesia effect," a coinage of the late Michael Crichton.
Media carries with it a credibility that is totally undeserved. You have all experienced this, in what I call the Murray Gell-Mann Amnesia effect. (I call it by this name because I once discussed it with Murray Gell-Mann, and by dropping a famous name I imply greater importance to myself, and to the effect, than it would otherwise have.)
Briefly stated, the Gell-Mann Amnesia effect works as follows. You open the newspaper to an article on some subject you know well. In Murray's case, physics. In mine, show business. You read the article and see the journalist has absolutely no understanding of either the facts or the issues. Often, the article is so wrong it actually presents the story backward — reversing cause and effect. I call these the "wet streets cause rain" stories. Paper's full of them.

In any case, you read with exasperation or amusement the multiple errors in a story — and then turn the page to national or international affairs, and read with renewed interest as if the rest of the newspaper was somehow more accurate about far-off Palestine than it was about the story you just read. You turn the page, and forget what you know.

That is the Gell-Mann Amnesia effect. I'd point out it does not operate in other arenas of life. In ordinary life, if somebody consistently exaggerates or lies to you, you soon discount everything they say. In court, there is the legal doctrine of falsus in uno, falsus in omnibus, which means untruthful in one part, untruthful in all.

But when it comes to the media, we believe against evidence that it is probably worth our time to read other parts of the paper. When, in fact, it almost certainly isn't. The only possible explanation for our behavior is amnesia.
Now, I don't think most reporters at major outlets are intentionally exaggerating or lying. Rather, the preparation and career pattern of journalists make it almost impossible for them to report accurately on an increasingly complex world.
Most of them do a remarkably good job of acclimating themselves to the environment they've parachuted into, talking to as many people as they can, applying a skeptical eye, and reporting the facts as honestly as they can. But, for example, few of the people reporting on the ongoing mess in Libya had any familiarity with the  language, culture, and politics of the country six months ago. Nor do they have any real training in international diplomacy or military strategy. Or the domestic politics of the dozen or so partners in the operation.
Some are doing a fantastic job.  For example, C.J. Chivers is doing extraordinary reporting for the New York Times. But it would be ridiculous to expect every war correspondent to be a Cornell graduate who spent seven years in the Marine Corps, went to Ranger School, and served in multiple war zones before attending the best journalism school on the planet and earning a Pulitzer Prize for reportage in yet another war zone. And he'd be the first to tell you that, even with that impressive background, he's still struggling like hell to learn as he goes.
Political reporting is easier than covering foreign wars, in that nobody's shooting at you and everyone involved is speaking your native tongue. But even those of us with extensive training and life experience have major gaps in our understanding. I've lived in more states than most but can't claim familiarity with local issues in even all those places, much less the entire country.
Until recently, I've really only been vaguely aware of Michele Bachmann and only slightly more familiar with Rick Perry. Ditto Barack Obama and Mike Huckabee at this point in the last cycle. They'd come onto my radar screen a few times but weren't truly national figures until gaining traction in the presidential cycle.
Similarly, while I spent most of my formative years and early adulthood in the Deep South and know quite a bit about mainstream Methodists, Southern Baptists, and even Pentecostals , I'm only vaguely familiar with Francis Schaeffer, Tim LaHaye, and some of the more politically forward strains of evangelicalism. [See Schaeffer admirer Joe Carter for a defense of his hero's teachings.]
While it would presumably behoove political journalists to educate ourselves on these issues once they come into prominence–as many did with Jeremiah Wright and black liberation theology last cycle–it's not unreasonable to expect people vying for the presidency of the United States to help them. If Bachmann goes around saying things that appear to people not schooled in her religious tradition as crazy or antiquated, it's perfectly reasonable for interviewers to ask her to explain–just as they asked Obama to account for Wright's rants.