Michele Bachmann And The "Submission" Question: Byron York Was Right
On reflection, the nature of Marcus Bachmann's influence over his wife is indeed a legitimate question in a political campaign.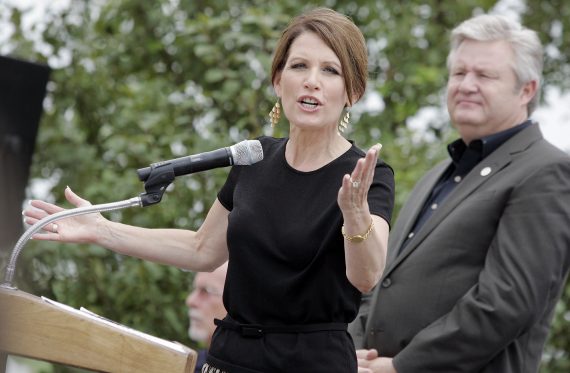 During last week's Presidential debate in Iowa, The Washington Examiner's Byron York asked Michele Bachmann a question about her relationship with her husband that caused an immediate negative reaction from the crowd, and has generated much discussion afterwards:
YORK: All right. Thank you, Mr. Cain.

Next, we're going to go to Representative Bachmann.

In 2006, when you were running for Congress, you described a moment in your life when your husband said you should study for a degree in tax law. You said you hated the idea. And then you explained, "But the Lord said, 'Be submissive. Wives, you are to be submissive to your husbands.'"

As president, would you be submissive to your husband?

BACHMANN: Thank you for that question, Byron.

YORK: You're welcome.

BACHMANN: Marcus and I will be married for 33 years this September 10th. I'm in love with him. I'm so proud of him. And both he and I — what submission means to us, if that's what your question is, it means respect.

I respect my husband. He's a wonderful, godly man, and a great father. And he respects me as his wife. That's how we operate our marriage. We respect each other. We love each other.

And I've been so grateful that we've been able to build a home together. We have five wonderful children and 23 foster children.
We've built a business together and a life together And I'm very proud of him.

(APPLAUSE)

YORK: Thank you Ms. Bachmann.
Before beginning, it's probably worth setting forth in full what Bachmann said in 2006 that formed the basis of York's question:
My husband said, now you need to go and get a post-doctorate degree in tax law.  Tax law?  I hate taxes.  Why should I go and do something like that?  But the Lord said, "Be submissive.  Wives you are to be submissive to your husband."  And so we moved to Virginia Beach, Virginia, and I went to William and Mary Law School there, for a post-doctorate degree in tax law.  And I pursued this course of study.  Never had a tax course in my background, never had a desire for it, but by faith, I was going to be faithful to what I felt God was calling me to do through my husband.
This "submission" idea comes from a passage in the 5th chapter of St. Peter's Letter To The Ephesians that has become a standard part of a Christian wedding ceremonies, in fact I can't remember a wedding I've been to where that particular passage from Ephesians wasn't read. The question, though, is what that language means to different Christian sects, and how that teaching is applied in the daily lives of its members.
There was plenty of reaction to the question in the immediate aftermath of the debate, most of it about as negative as the crowd reaction to York's speech at the debate venue. In my own summary of the debate, I said that I thought the question was somewhat unfair, and that's coming from someone who is most definitely not a Michele Bachmann fan. Well, in today's Examiner, Byron York steps forward to defend himself and explain why he thinks the question was perfectly legitimate:
In the days since the debate, a number of commentators have taken issue with the question. "Snarky and uninformed," wrote Focus on the Family's Glenn Stanton on National Review Online.  "It is really an obscene question, both in its blatant misunderstanding of Christian teaching and in the disrespect it shows the candidate as a woman and a wife."

"Submitting to Stupid Questions," said the headline of an opinion article in the Washington Post.  Referring to a complaint by Newt Gingrich that some of the debate questions constituted "Mickey Mouse games," the Post's Alexandra Petri wrote that, "The epitome of the Mickey Mouse games came late in the evening, in a question posed to Rep. Michele Bachmann."

"When we look at many of the vital issues facing this country, who in their right mind would waste time during a nationally-televised debate asking the only female GOP candidate about whether she would submit to her husband in the White House?" asked CNN's Roland Martin.  (Just for the record, my first question to Bachmann was about taxes, and she faced questions from the Fox/Examiner panel on the economy, the debt ceiling, the war on terror, and other topics.)

One striking feature of the criticism is that it did not examine, and in some cases didn't even mention, the premise of the question.  One can read Stanton's critique all the way through and never have any idea of what Bachmann actually said back in 2006 said that formed the basis of the question.  Petri ignored it as well, beyond saying that Bachmann had "once alluded to submissiveness in a speech." To his credit, Martin included the entire debate question, but does not appear to have looked any farther into the matter.  The critics suggested the question was without basis by simply ignoring its basis.

The "submissive" question returned on Sunday, when Bachmann, fresh from her victory in the straw poll, was asked about it on "Meet the Press."  Noting that she had already answered the question at the debate, Bachmann said, "'Submission,' that word, means respect. It means that I respect my husband and he respects me."

Will that put an end to the question?  Probably not. Bachmann's point that "submission" means "respect" will likely ensure that she is asked the question again in the future.  After all, the point of the 2006 story was that she made a major career decision that she didn't want to make because her husband told her to — because she believed God was calling her through her husband.  Some critics just won't buy it, and as long as Bachmann is running for the highest office in the land, things she has said in the past will always be a part of the political conversation.
David Weigel agrees with York, as does The Daily Caller's Matt Lewis:
Indeed it is a legitimate question. If Bachmann is truly going to submit to her husband when it comes to making serious decisions (as she said she has), that is fine. It should not disqualify her from service. But it also becomes a fair question for York to ask. And it means Marcus Bachmann deserves a thorough vetting.
Legitimate or not then, the question is whether, as President, Michele Bachmann would make decisions based on what her husband tells her to do because the Bible tells her to "submit" to him, and that God is somehow speaking to her through him. The reason its an uncomfortable question, and the reason the crowd booed, I think, is because it seems to delve into an area that we usually don't talk about very much, the relationship between a prospective President and their spouse.
History is replete with examples of Presidential spouses who, in one way or another, caused problems for their husbands, or otherwise assumed roles that raised eyebrows in some circles Mary Todd Lincoln's had family ties to men who were actually serving in the Confederate Army, for example, but it was perhaps her tendency to run up bill for household furnishings and her frequent bouts with what was called "melancholy" but which now clearly seems to have been some form of clinical depression that caused poor Abe the most headaches. When Woodrow Wilson's health began to deteriorate in October 1919, his second wife Edith Wilson hid his medical condition from his cabinet and the Vice-President and essentially acted as President for him. Eleanor Rooselvelt was an independent, outspoken First Lady in an era when such a thing still made some people uncomfortable. Betty Ford was an outspoken advocate of women's rights. Rosalyn Carter took it upon herself to attend Cabinet Meetings. After his attempted assassination, President Reagan's wife Nancy took too consulting astrologers and exercising sometimes odd authority over his schedule for fear that he would be the victim of another shooting. And, of course, Hillary Clinton, or as she was first called when her husband took office, Hillary Rodham Clinton, stretched the bounds of what it meant to be a First Lady in ways that few others before her had.
In truth, of course, we never really know what role a President's spouse has or will play in their Administration. Presumably, a President would refrain from sharing classified secrets with their spouse (Michelle Obama, for example, told a magazine recently that she was unaware of the Osama bin Laden mission until her husband told her about after it was over), but the amount of actual discussion that goes on in the Presidential bedroom is something we'll never be privy too, and we probably shouldn't be.
Nonetheless, I think that York, Weigel, and Lewis have a point here and that my initial reaction to the "submission" question was incorrect. Michele Bachmann has said publicly that she made an important decision to do something she didn't want to do because her husband told her to do it. Quite honestly, I find that rather odd not just because I can't understand why anyone would submit themselves to the will of another person like that, but also because Bachmann doesn't really strike me as a person who is easily dictated to by anyone. In any case, though, she opened the door and made it an issue, and the American people are entitled to know just now much influence Marcus Bachmann would have in a Bachmann Administration, even if the likelihood of such a thing ever existing is pretty close to zero.