Newt Gingrich's Gasoline Price Fantasies
Anyone who falls for this needs to look into bridges in Brooklyn and oceanfront property in Arizona.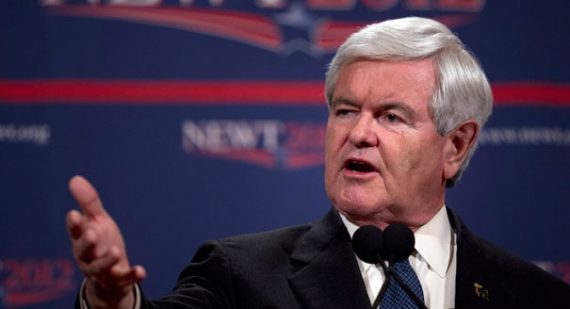 Today on FNS Newt Gingrich said the following:
the biggest difference between me and Santorum, who in many ways were the conservative wing of the race, is the scale of the ideas, the boldness of the ideas. I'm much more prepared to talk about fundamental change, whether it's a personal Social Security savings accounts for young Americans, or it is zero capitol gains tax, or it is the kind of energy policy that leads back to $2.50 a gallon gasoline.

[…]

$1.13 was the amount we paid for a gallon of gas when I was speaker, 4.2 unemployment rate when I left the speakership. Four was the number of years you balanced the federal budget the only time in your lifetime. Two out of three was the number of people who went to work or went to school under welfare reform.

[…]

Now, can we get to $2.50? Can we get to $2? It was $1.13 when I was speaker. It was $1.89 when Obama was sworn in.

I mean, $2.50 is not some inconceivable number, except in the Washington establishment, which also explains to you why whatever you want to do that's good for the American people can't be done.
There is a lot of amazing in here, but let's start with the bolded portion.  He is implying that somehow there is a way to control gas prices.  Yes, one can tinker at the edges via thing like gas taxes and yes, various policies can have some, likely marginal, effects on production and thereby supply.  However, the notion that presidents can actually help target a particular price per gallon is fantastical (to be kind).  This should be obvious to anyone who been paying attention since, say, since the early 1970s.
Anyone who falls for this needs to look into bridges in Brooklyn and oceanfront property in Arizona.
We all have to remember:  the price of crude is driven by an international marketplace.  Price is going up not because the president is failing to deploy big ideas, but rather the fact that demand for oil is going up is indicative of global economic recovery, which actually is a positive.  Of course, I do recognize that increased gas prices at the pump are problematic for both the domestic economy recovery and Obama's re-election chances.
Back to Gingrich:  I continually wonder if he either is truly such an egotist that he thinks that the "boldness" of his ideas can in, fact, control the price of gasoline, or if he just thinks so little of the electorate that he assumes that they will blithely accept his nonsense.  Along those same lines, I love how he cites various numbers from his Speakership as if he was somehow personally responsible for them.
Also:  it is amazing that his head does not explode from the cognitive dissonance associated with stating he is part of the "conservative wing of the race" at the same time claiming he is "much more prepared to talk about fundamental change" than any other candidate.  Note to Newt:  the foundation of conservative is "to conserve" and a conservative mindset is highly skeptical of the efficacy of big ideas.  Indeed, Santorum's views on tradition (and his lack of big ideas, in fact) make him far more conservative than Gingrich.
I will say this:  if some one could come up with a Really Cool, Bold, Big Idea to make gas cheaper, that would be really keen!  Of course, why stop at that.  I say crank up the Boldness Machine and come up with free, pollution-free energy.  Why think so small as just $2.50/gallon gas?