High Gas Prices Hurting Obama
President Obama is suffering in the polls because of high gas prices, but is there really anything he can do about them?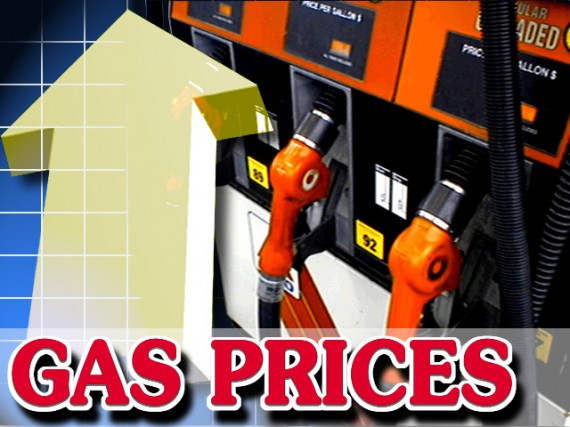 Sometimes a President suffers politically for things that are completely within their control, such as an unpopular piece of legislation, a political mistake, or a foreign policy adventures gone bad. Sometimes, though, they suffer because of things that are, by and large, beyond their control and that's precisely the situation that President Obama finds himself in now:
Soaring gasoline prices are biting into household incomes and nibbling at Americans' fuel consumption — and support for President Obama, according to a Washington Post-ABC News poll.

About six in 10 respondents said they had cut back on driving because of rising fuel prices, and seven in 10 said that high pump prices are causing financial hardship.

Obama, like previous presidents in times of high oil prices, is taking a hit. Only 39 percent of those who call gas prices a "serious financial hardship" approve of the way he is doing his job, and 33 percent of them say he's doing a good job on the economy.

The Energy Information Administration said Monday that gas prices climbed last week to $3.88 a gallon, up 81 cents since the start of the year. That is the highest pump price since August 2008, before the financial meltdown.

Evidence of motorists' hardships is littering the roads. AAA says the number of motorists running out of gas has been surging. John Townsend, a spokesman for the automobile association, said that cash-strapped members "are pushing the envelope" and that emergency gas deliveries to stranded members jumped nationwide, including by 40 percent in the District.

That sort of hardship could slow Obama's reelection campaign. The Post-ABC poll shows that 60 percent of independents who say they've been hit hard by surging gas prices also say they definitely won't support Obama in his bid for reelection.

In a hypothetical matchup with former Massachusetts governor Mitt Romney, the top GOP performer in the Post-ABC poll, Romney wins by 24 points among the independents who have taken a severe financial hit because of gas prices, and the president is up 7 percentage points among other independents.
Of course, there's not very much that President Obama can do in the short term to control gas prices. Dipping into the strategic petroleum reserve, as some have suggested, would have, at best, a temporary impact on the price of oil that may not even trickle down to the gasoline markets in time for consumers to notice it. Expanding oil drilling may help in the long term but is unlikely to have any significant immediate impact on the price of oil. Moreover, as a I noted last month, it's becoming apparent that increased gasoline prices don't lead to the kind of changes in consumer behavior that would have an impact on gas prices, at least not in the short term:
In 2008 when prices last spiked, motorists carpooled, households drove the more efficient of their cars when a choice was possible, and many people opted for public transportation. But the impact was slight.

Borenstein says the drop in consumption was 3 to 4 percentage points. "That's a pretty small demand response when the price of gasoline nearly doubles," he said. Moreover, he said, "this was happening in context of a giant recession, so there were income effects as well."

Christopher Knittel, a professor of applied economics at the Massachusetts Institute of Technology, said that "consumers are less responsive today than in the past, especially when compared to the 1970s." With the growth of families with two income earners and other social changes, motorists are less likely to regard their day-to-day driving as discretionary.

But, Knittel said, "if prices continue to be high, they start to change what cars they buy, and manufacturers start to change the cars they offer. So it really depends on the time frame."

Knittel said that the increase in gasoline prices is partly a result of the recovering economy. "One of the reasons gas prices are high is that we are coming out of the recession," he said. "So it's sort of bittersweet. The economy is getting strong, but it's hurting our pocketbook."
Meanwhile, not surprisingly,Washington is playing politics with higher energy prices:
The Democrats, self-proclaimed champions of the little guy, are going after greedy speculators, conniving hedge fund operators, and other financial sharks determined to rob said little guy blind, so we're told. Senator Richard Blumenthal (D-CT) has called for empaneling a federal grand jury to hurl subpoenas at the suits on Wall Street. Unfortunately, Blumenthal is treating a symptom and sending the patient home to die.

The Republicans, self-proclaimed champions of the little guy, are no better, with their strident pushing of drill-till-we-drop legislation that would do nothing to bring down gasoline prices in the short term and do a great deal to perpetuate America's dangerous oil dependence in the long term. While Republicans like House Natural Resources Chairman Doc Hastings (R-WA) give lip service to diversifying America's energy menu away from oil, their hearts are not in it, which suits the House of Saud to a tee.

A narrative that the drill-everywhere crowd is pushing is that if the federal government would just send the oil companies a "come on down" invitation to drill all oil fields under federal ownership, happy cheap gas days would be here again. Recently, Senator David Vitter (R-LA) went so far as to claim that 95 percent of U.S. fossil fuel resources are locked up from development.

An outlandish claim, to be sure, but here's the salient issue that Vitter and the rest of the drill-everywheres do not dwell on – the faster we and the rest of the world deplete cheap-and-easy oil, the more quickly we will be forced to tap expensive-and-hard oil in ultra-deepwater and polar regions, and the low-grade stuff like kerogen, a wannabe oil colloquially called "oil shale" that is not economical today because of high capital and production costs.
Both parties make these arguments, of course, because they're cheap and easy. In the coming weeks, Exxon and the other major oil companies will release their First Quarter earning reports and they're likely to show record earnings. It will be easy and cheap for Democrats to attack these numbers, while obfuscating the fact that the profit margin of these companies is among the lowest in all classes of industry and that taxing those record earnings away accomplishes nothing at all.  For Republicans, it is cheap and easy to change "drill baby drill," while ignoring the fact that going after most of America's remaining energy reserves is not economically viable unless oil prices are high and that most of the factors influencing oil prices are completely beyond the control of the United States.
Oil prices are high for three main reasons ; (1) the worldwide economy has recovered from the 2007-08 financial crisis, (2) demand from China and India continues to increase, and (3) most of the world's oil is in the most politically unstable part of the world. There's very little that Congress or the President can do to change any of those  factors.  Expanding oil drilling will help, as will research into new forms of energy, but as my colleague Steven Taylor noted last week, there is no magic formula that will bring gas prices down:
Even if Obama was defeated in 2012, these policies writ large are unlikely to change.  One might recall, for example, that drilling in ANWR was blocked with a Republican in the White House.   Further, many of the offshore drilling bans are state-based (see, e.g., Florida and California).  Yes, Obama installed a moratorium on deep water drilling after the BP oil spill (a move likely, I would argue, by any occupant of the WH at the time).  However, to pretend that that moratorium is responsible for high oil prices is absurd on its face, regardless of what else one may think of the policy.  Indeed, despite the numbers cited in the piece, it should be noted that the current surge in prices did not take place in concert with the moratorium, but rather because of unrest in North Africa and the Middle East (and in the context of global economic recovery and therefore increased energy demands).
Of course, none of this matters in the political context and American voters are likely to hold the incumbent President to task for increased gas prices simply because of the extent to which they are making an already difficult economic situation worse. In the long run, though, as with many other things, there are no easy answers here and the situation isn't made any better by the fact that our leaders refuse to deal with us like we're adult. But, then, no President is ever going to tell the American public that they may just have to live with higher gas prices because they'll get booted out of office.