$4.00 Per Gallon Gas By Spring? Bye Bye Economic Recovery?
Higher gas prices in the spring could have an impact on the economy, and the election.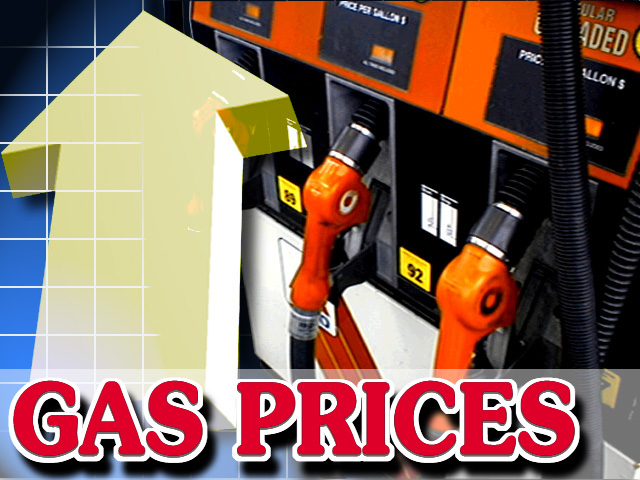 Seemingly out of nowhere, there appears to be a fairly massive spike in the price of gasoline headed our way later this year:
Maybe you'll want to start salting away money for 2012 fuel costs now. Get ready to see $4-a-gallon gasoline in various parts of the U.S. sometime this spring, according to one prediction. Another prediction says that some of the nation's biggest cities — such as Chicago, Los Angeles and New York — will see record Memorial Day averages of $4.55 to $4.95 for a gallon of regular gasoline.

The predictions come from two sources. One is the Oil Price Information Service in New Jersey, which provides the daily averages for the AAA Fuel Gauge Report, using retail receipts from more than 100,000 retail outlets across the U.S.

The other is the annual price outlook from GasBuddy.com, where 300,000 to 400,000 member motorists a day report and post online and through phone apps the highest and lowest local prices they see. There are more than 250 price-posting GasBuddy websites devoted to various towns and cities across the U.S. and Canada.

Tom Kloza, chief oil analyst for the Oil Price Information Service, is predicting a national average of $4.05 a gallon this spring, which would be just short of the Energy Department's all-time inflation-adjusted record of $4.114 reached in the summer of 2008. California's average would be higher, he said, adding that he didn't expect it to hit the state's record of $4.588 a gallon.

One reason, Kloza said, was that those prices will be built on oil that is significantly more expensive than the commodities trading benchmark West Texas Intermediate crude that is reported every day on the New York Mercantile Exchange (NYMEX).

The NYMEX on Friday, for example had West Texas crude trading at $98.61 a barrel, down 49 cents. But much of the oil the U.S. imports is based on Brent North Sea crude, which was trading at $110.38 per barrel in London. Other sources of U.S. crude are also more expensive, Kloza said.

"The Alaska North Slope oil you rely on in California has been trading at about $10.40 a barrel more than West Texas. Louisiana crude from the Gulf of Mexico has been trading $11 a barrel higher."
There's further talk from these sources that gas prices could be near $5.00 per gallon heading into the summer, a prospect that would obviously cause major concerns for the summer driving season. For the economy as a whole, the impact of higher fuel prices are rather apparent and impact not just the pocketbooks of American drivers, but also the costs of transportation at nearly every level of the economy. If it costs more to ship the vegetables from California to your grocery store, then you're going to end up spending more for those vegetables, not to mention pretty much every other level of the economy. If consumers and business are forced to spend more on transportation expenses, then that leaves them with less money for other expenditures, which in turn hurts the economy as a whole. Several analysts, for example, blame the rather obvious economic slowdown at the start of last year at the spike in fuel prices that we experienced at the time. If it happens again, it could put yet another damper on an already feeble recovery.
Politically, the impact of higher fuel prices is also fairly apparent. When gas prices started to rise early last year, President Obama's job approval numbers felt the effect. They've recovered at least a little bit since then, but that was more than a year before the election. A gas price "crisis" over the spring and summer is likely to be bad news for the President, and would quite obviously become an issue in the 2012 elections. Much of it is likely to take the form of the GOP's "Drill, Baby, Drill" sloganeering of the 2008 election, but it's also worth noting that upward pressure on energy prices, combined with the bleak jobs picture, is going to make it next to impossible for President Obama to block the Keystone XL pipeline, and a political minefield if he does.
Of course, Keystone XL wouldn't have an impact on energy prices for years and, as I noted when all of this came up last year, there's very little that Washington can do about gas prices given that the factors driving up prices are largely out of the control of any government:
It's clear that the majority of the factors driving energy prices up are beyond the control of any government. In fact, the main reason that oil and gas prices are higher today than they were in 2009 is because the world economy is in far better shape now than it was then and demand has, consequentially, returned to pre-recession levels for the most part. Add this increased demand into the supply problems created by the fact that the majority of the world's oil happens to be located in the most politically unstable part of the world and it's easy to see why the prices of both these commodities has increased so significantly over the past two years.

As we've found far too often over the past 40 years or so, there's very little we can do to make the Middle East more politically stable. That may happen some day, but it wil happen because the people of the Middle East want it to happen not because of some "solution" imposed from the outside. So, we're likely to have to deal with a politically unstable Middle East for the foreseeable future.

Additionally, there's not much that can be done in the short term to impact the demand side of the equation. Demand for energy has increased in China and India precisely because these nations are becoming more developed economically, meaning that they need more oil for electricity generation and gasoline. Economic progress in those countries is actually a good thing, though, since it means a wider market for American goods and, of course, a better life for the people of India and China. Back home, the demand for energy continues unabated and it's now clear that even increases in the price of gasoline, whether naturally or through imposition of higher gas taxes, has very little impact on driving behavior.

Finally, there's not a lot we can do on the supply side of the equation either. In 2010, the U.S. Energy Information Administration, part of the Department of Energy issued a report that found that opening the entire outer continental shelf to offshore drilling would have very little impact on the price of gasoline.
Added into all of this, of course, is the unknown factor. A year ago at this time, few people suspected that Libya would end up having a six month long civil war that would cut off its delivery of oil to Europe, something which contributed greatly to the increased price of oil for much of the first half of 2011. This year, it's entirely possible that the unknown factor could come from some 2,300 miles to the east of Libya in the Straits of Hormuz. As insane as it would be for either the United States or Iran to force a confrontation there, all it would take is one badly timed incident for things to spin out of control. And guess what happened the other day:
At a time of heightened tensions with Iran, U.S. military officials told CNN Friday that U.S. military and Coast Guard ships had two close encounters earlier this month with high-speed Iranian boats in the Strait of Hormuz and Persian Gulf that exhibited provocative behavior.

The incidents occurred January 6, according to a senior U.S. military official.

The USS New Orleans, an amphibious transport ship was sailing through the Strait of Hormuz into the Persian Gulf last Friday when three Iranian Navy speed boats rapidly approached within 500 yards of the ship, the official said. The Iranians did not respond to whistle signals or voice queries from the New Orleans. The lack of response disregards standard maritime protocols, the official said. The boats eventually broke away.

On the same day, the U.S. Coast Guard cutter Adak was also harassed by high-speed Iranian Navy boats while operating 75 miles east of Kuwait City. Iranian personnel in the small boats appeared to be holding AK-47 rifles and at least one video camera, the official said. U.S. personnel on the cutter also reported seeing a forward gun that was manned on one of the Iranian boats, according to the official. Eventually, communications with a larger Iranian vessel in the area were established and the speed boats stopped their harassment.

No shots were fired in either incident, both of which were videotaped. The Pentagon may release that footage later Friday.

While the U.S. Navy has had routine encounters with Iranian naval forces for years, the Navy has reported seeing more aggressive action in recent weeks from Iranian-flagged vessels. Officials believe such aggressive action carries the potential for miscalculation. Typically, Iranian small boats are operated by forces of the Iranian Revolutionary Guard Corps force and are considered to be more aggressive than regular Iranian forces.
There's at least some speculation that the Iranian boats were testing the American vessels, seeing how close they could get before being turned away. All it takes is for one of those incidents to go badly, or for communications to break down, and we could end up with an incident that increases tensions in the area to a level unseen in decades. The direction which oil prices would take if that happens would seem to be rather obvious.
So, you've been warned. Gas prices look to be headed up in the spring. What happens after that is anyone's guess.