UMBC Whips UVA in First 16-Seed Over 1-Seed in NCAA Tourney History
The near-impossible happened last night, demonstrating why March Madness is the most exciting and most absurd way to pick a champion.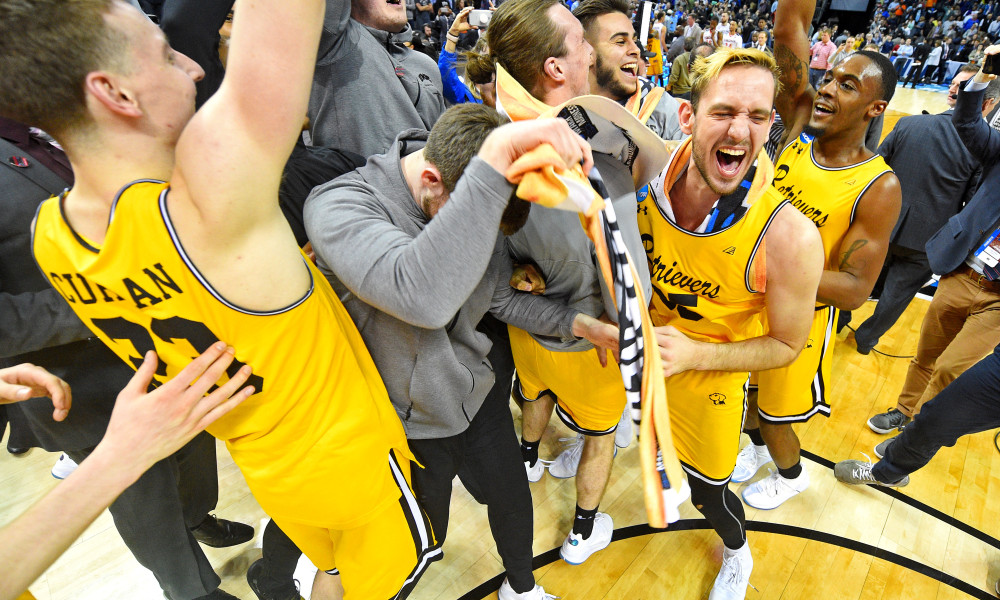 Some sports history happened while I was asleep.
ESPN's Ryan McGee calls it "the night the impossible happened."
On a bench outside Charlotte's Spectrum Center, sometime past midnight as Friday night transitioned into Saturday morning, a man dressed head to toe in orange clothing, marked up and down with navy blue "VIRGINIA" sat, hands on his knees and face in those hands, while his identically dressed wife solemnly rubbed his back. His name was Bill Waggoner, he was from Richmond, and he wanted to be left the hell alone.

"Do you remember Chaminade?" he asked Mrs. Waggoner. "I'm too young to remember Chaminade. Call your father and ask him if this is what Chaminade felt like."

All around the couple, people streamed in both directions. Most were leaving the arena, having just witnessed the moment no one thought they would ever witness in their lifetime, as 16th-seeded UMBC — University of Maryland Baltimore County, the Retrievers — pummeled the No. 1 team in the nation, Bill's beloved Virginia Cavaliers 74-54. The people who weren't streaming out were suddenly trying to find their way in, having hours earlier made the decision to skip the game and instead hit the bars and restaurants of uptown Charlotte. Most had attended the days earlier matchups, the sexier No. 8 vs. No. 9 between Creighton and Kansas State, the more fun showdown of Providence vs. Texas A&M and especially the hometown big ticket between North Carolina and Lipscomb.

Now, on the same streets where UVA-UMBC tickets had been going for $10 a pop two hours earlier, they were trying to force their way in, modern-day Woodstockers, hoping to claim that they'd been in attendance for the greatest upset in NCAA tournament history.

"You know what this is like?" CBS Sports analyst Bill Raftery stood and asked it to no one in particular as he threw down his headset courtside and turned to the media and audience members seated behind him, most with their jaws still hanging, unhinged, while the Retrievers in their 1990s YMCA league uniforms celebrated on the floor behind him. "This is like saying, well, you know, one day the aliens are going to land here and that's going to be incredible. But in the back of your mind you're like, 'C'mon, man, we all know the aliens are never going to land here.'"

One day a 16-seed is going to beat a 1-seed. We all said it. But, c'mon, in the back of our minds we all knew it was never going to happen.

No, not when the 16s were 0-135 all time. Not when this 16 was arguably the weakest 16 in recent memory, having been pummeled only two months ago by Albany, 83-39.

83-39!

UMBC made the NCAA tournament by defeating Vermont in the America East title game via a buzzer-beater. Its first NCAA appearance in a decade came via the Retrievers' first win over the Catamounts in 23 tries, snapping Vermont's nation-leading 15-game winning streak.

No, not when the No. 1 wasn't just a No. 1 seed, but the No. 1 overall seed, arguably the most ironclad No. 1 in years. Not when that No. 1 had nearly run the table in the ACC, regarded as the nation's best conference, winning the regular season by four games and then running through that league's conference tournament.

But UMBC — a team that Charlotte media members had to spend the dinner break between Friday game sessions looking up ("Is it UMBC or UBMC?") — didn't just beat the nation's top-ranked team. It won in a rout. It won by 20. Throughout the second half it didn't feel that close. The Cavaliers' much-ballyhooed defense had surrendered only 53 points per game all season.

The Retrievers scored 53 points in the second half.

"I've been watching and coaching in NCAA tournament games my whole life, and I've heard it just like we all have, that a 16 will never defeat a top seed," UMBC's second-year head coach Ryan Odom said breathlessly as he moved through an unexpected gantlet of postgame media sessions.
Like McGee, I am indeed old enough to remember Chaminade. I'll let him tell it:
"Coach told us when we got to Charlotte, we had a chance to make history," said Retrievers swingman Joe Sherburne, who just last week was named the school's first academic All-American. "He told us about growing up in Charlottesville, and about that other time Virginia lost when they were No. 1."

That would be the game that poor weeping Bill on the Charlotte street bench was asking his wife about. It was the eve of Christmas Eve 1982, when top-ranked UVA, led by all-time great Ralph Sampson, traveled to Hawaii for a pre-ACC holiday tournament and were stunned by Chaminade, an 800-student hometown school.

In the days leading up to Virginia's trip into the Pacific, the Cavaliers practiced under the watchful eye of a 7-year-old kid, there to hang out with his father, a Virginia assistant coach. The coach's name was Dave Odom. The kid's name was Ryan.

Chaminade's 77-72 toppling of Virginia was arguably the biggest upset in college hoops history. Until Friday night.

"All these years later, so many people claim to have been there for that game and dad has always said, yeah, none of them were actually there," Odom recalled, laughing. "I suspect there will be a lot of people at work on Monday who will say they were here tonight, but they weren't actually here."

They tried. Nearly an hour after the final buzzer had sounded, they were still trying. Several who were turned away at the door cornered a ticket scalper, offering to buy up any of his unused tickets.

"Here," damp-eyed Bill in the Virginia gear said to a family wearing black and gold Retrievers gear as he and his wife finally stood to walk away. "Take mine. Frame it. I don't care. I don't need any damn souvenirs from tonight."
I'm not a huge college basketball fan and have watched less and less of the tourney over the years. The games come on ridiculously late now, especially for those of us in the Eastern time zone. I knew 9th seeded Alabama was playing 8th seeded Virginia Tech in the first round—and picked them to win in my bracket—but actually forgot that it was on Thursday night. Given that it didn't start until 9:30 Eastern, I wouldn't have watched, anyway.
But massive upsets like UMBC's improbable win over UVA are why this tournament is easily the most exciting in sports. While I don't expect Alabama to make it past Villanova in this morning's second-round game—indeed, I have Villanova going all the way—it's possible.
These games are also why, while it's the most exciting, it's also the silliest way to pick a champion. In basketball, more than just about any sport, any team can beat any other in a given game if they get particularly hot in shooting. So it's rather absurd to play for months and months to figure out who the best teams are and then put them in a single-elimination contest—especially one with a fixed bracket that doesn't constantly re-seed to favor the best teams.
Conversely, the NBA (and NHL) have the playoff format that's most likely to pick the best teams but are the most excruciating for casual fans to watch. There, the seeding adjusts every round to account for upsets. Each round is best of seven. Absent injuries, the best teams tend to advance in that format. But it takes two months for the generally predictable outcome to play out.