Who Has The Best College Basketball Program Of All Time?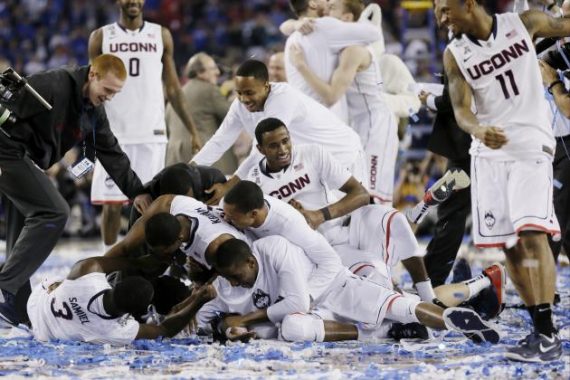 In the wake of the twin victories by the University of Connecticut's men's and women's basketball teams in their respective NCAA Championship Tournaments, FiveThirtyEight's Carl Bialik takes a look at the numbers to see which school's program ranks best over the long term when you factor both the men's and women's teams into the equation:
UConn, Duke and Tennessee all entered two teams into tournaments this March. Four of the six teams were seeded third or better, and the two exceptions — UConn's No. 7 men and Tennessee's No. 11 men — were underseeded, according to FiveThirtyEight's model. UConn went 12-0, while Tennessee's teams won four games from the round of 64 on (plus a play-in win for the men). The Duke teams combined for just one win.

If Duke had run the table while UConn disappointed, Duke would lead UConn in tournament wins and winning percentage. Tennessee could have led in winning percentage if its men's and women's programs had won titles, and UConn had struggled. UConn, though, would still lead the trio in titles. Its only real competition there is UCLA, which could have passed UConn with a men's title.

But the Bruins' success has hardly been balanced: UCLA has won as many titles in the men's tournament as it has won games in the women's tournament. In fact, outside of Storrs, Conn., and a trio of Atlantic Coast Conference schools — Duke, North Carolina and Maryland — few of the leaders in combined basketball success have been truly successful in men's and women's hoops. Tennessee has a losing record in the men's tournament even after this year's run, and Stanford gets most of its wins from the women's side.

Kentucky, Kansas and Florida, meanwhile, have had little women's success. Nonetheless, they appear on our list of the most successful combined programs, showing the teams with at least 10 wins in the men's and women's NCAA tournament since 1951 who have the best combined winning percentage in the tournament during that period.
Here's the chart: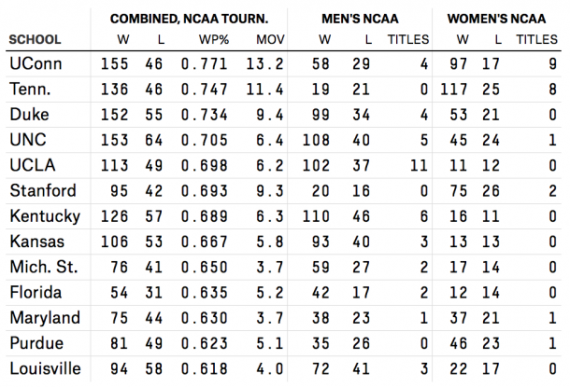 It's worth noting , of course that the Women's NCAA Tournament has a much shorter history than the Men's Tournament. While the Men's Tournament has been around since 1939, although Bialik only uses data starting in 1951 when the NCAA tournament began surpassing the much older National Invitation Tournament (which is itself now owned by the NCAA), the women's tournament has only been around since 1982. To some degree, obviously, that impacts the numbers here, especially in the case of sch0ols like UCLA which have had much success in the NCAA men's tournament in the past, but little success in the women's tournament.