Geno Auriemma and John Wooden
Geno Auriemma and his UConn Huskies should rightly be enormously proud of their accomplishments. But comparing them to John Wooden's is embarrassing.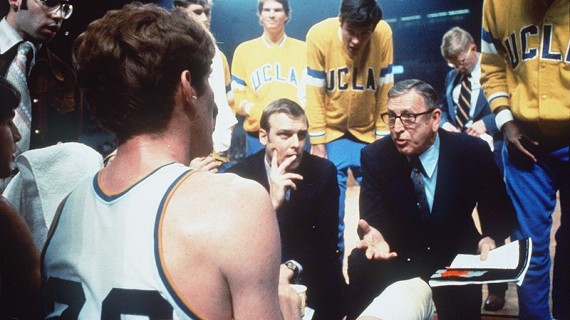 Geno Auriemma and his UConn Huskies have won a remarkable 88 straight games, matching the legendary John Wooden's record set from 1971-74.   He's angry that he's getting so little attention:
After win No. 88 in a row was in the books, Geno Auriemma finally let loose: He thinks some people are rooting against his record-setting players because of their gender.

"I just know there wouldn't be this many people in the room if we were chasing a woman's record," the Connecticut coach said Sunday near the end of his postgame news conference. "The reason everybody is having a heart attack the last four or five days is a bunch of women are threatening to break a men's record, and everybody is all up in arms about it."

Already with no equal in women's basketball, UConn won its 88th straight game Sunday to match the men's streak set by coach John Wooden and his UCLA teams from 1971-74. The top-ranked Huskies routed Ohio State (No. 10 ESPN/USA Today, No. 11 AP) 81-50 in the Maggie Dixon Classic at Madison Square Garden.

"All the women are happy as hell and they can't wait to come in here and ask questions. All the guys that loved women's basketball are all excited, and all the miserable bastards that follow men's basketball and don't want us to break the record are all here because they're pissed," Auriemma said. "That's just the way it is."

[…]

"Because we're breaking a men's record, we've got a lot of people paying attention," Auriemma said. "If we were breaking a women's record, everybody would go, 'Aren't those girls nice, let's give them two paragraphs in USA Today, you know, give them one line on the bottom of ESPN and then let's send them back where they belong, in the kitchen.'"
If this is some bizarre motivational technique to keep his team focused, fine.  But if he really thinks this, he's a friggin' idiot.
Frankly, the fact that anyone is talking about this "record" as if he's about to "break" it is the outrage.
Auriemma is a great, great basketball coach.   He'd be a great coach if he were to take over a major men's program.  And his team has set new standards for the women's game.  He and they should rightly be enormously proud of their accomplishments.
But let's not pretend that this streak will really break Wooden's, any more than that Pat Summitt's career victory total is really comparable to Bob Knight's or Dean Smith's, any more than Sadahuru Oh's 868 home runs actually puts him ahead of Barry Bonds* or Hank Aaron.   It's ain't the same ballpark, ain't the same league, and ain't even the same sport.
Women's teams compete in their own segregated league.  They don't compete against the men's teams.  We therefore can't legitimately compare the accomplishments of the women's games against the men's any more than we compare records in the National Football League, Canadian Football League, and Arena Football League. Or Little League and the Major Leagues.
And, while today's players on the elite women's teams are light years better than they were twenty years ago, they're simply not remotely on the same talent level as their male counterparts.  Oh would have doubtless been a star player in the Major leagues, just as Hideo Nomo and Ichiro Suzuki did.  Several players from both the CFL and AFL have gone on to play at Hall of Fame level in the NFL.  Thus far, the number of female players to make an NBA squad stands at zero.  (And don't tell me it's discrimination.  If there were a woman player who could plausibly make the bench, an enterprising owner would snap her up for the publicity value.)
Aside from women's college basketball being less than a minor league, it's not even internally competitive.  A handful of teams have dominated over the years, with two standing out from the pack.
Since the women's tournament began in 1982, here is the list of championship games:
1982 Louisiana Tech 76-62 Cheyney State
1983 USC 69-67 Louisiana Tech
1984 USC 72-61 Tennessee
1985 Old Dominion 70-65 Georgia
1986 Texas 97-81 USC
1987 Tennessee 67-44 Louisiana Tech
1988 Louisiana Tech 56-54 Auburn
1989 Tennessee 76-70 Auburn
1990 Stanford 88-81 Auburn
1991 Tennessee 70-67 (OT) Virginia
1992 Stanford 78-62 Western Kentucky
1993 Texas Tech 84-82 Ohio State
1994 North Carolina 60-59 Louisiana Tech
1995 Connecticut 70-64 Tennessee
1996 Tennessee 83-65 Georgia
1997 Tennessee 68-59 Old Dominion
1998 Tennessee 93-75 Louisiana Tech
1999 Purdue 62-45 Duke
2000 Connecticut 71-52 Tennessee
2001 Notre Dame 68-66 Purdue
2002 Connecticut 82-70 Oklahoma
2003 Connecticut 73-68 Tennessee
2004 Connecticut 70-61 Tennessee
2005 Baylor 84-62 Michigan State
2006 Maryland 78-75 (OT) Duke
2007 Tennessee 59-46 Rutgers
2008 Tennessee 64-48 Stanford
2009 Connecticut 76-54 Louisville
2010 Connecticut 53-47 Stanford
Pat Summitt's Tennessee teams have been dominant over this era, winning eight championships, appearing in another five finals games, and a total of 18 Final Four appearances.  They've not missed the tournament in its history.
Auriemma started coaching at UConn in 1985 and has arguably surpassed Summitt at this stage.  His teams have won seven championships and 11 Final Four appearances and have not missed the tourney since first making it in 1988-89.
Since 1987, when Tennessee won its first title, these two teams have accounted for fifteen of twenty-three championships. Indeed, they've faced each other in the championship game four times.
And this probably overstates the competitiveness of the women's game.  A long, single-elimination tournament means that the best teams frequently don't win.  And the vagaries of brackets means that Tennessee and UConn have likely faced each other in the earlier rounds with some frequency.
The men's tournament has been going on since 1939.  But, if we just look at the championship games from 1982 forward, winners include:  North Carolina (4), Duke (4), Kansas (2), Connecticut (2), Florida (2), North Carolina State, Georgetown, Villanova, Louisville, Indiana,  Michigan, UNLV, Arkansas, UCLA, Kentucky, Michigan State, Maryland, and Syracuse.  That's 18 winners over 28 years.  And it took 11 games to get to the first duplicate winner.
In fairness, UCLA absolutely dominated the tourney in the Wooden era, winning 10 titles in a 12-year span from 1964 to 1975.   But that was an indication of his dominance as a recruiter and tactician.  In the entire history before Wooden's streak, champions included Kentucky (4), Oklahoma A&M (2), San Francisco (2), Cincinnati (2), Oregon, Indiana, Wisconsin, Stanford, Wyoming, Utah,  Holy Cross,  CCNY, Kansas, Indiana, La Salle, California, Ohio State, and Loyola-Chicago.
Wooden's streak will almost certainly never be matched on the men's side.  Not only have rules changes made the game more competitive than ever, with even the "mid-majors" able to recruit blue-chip talent, but players now bolt to the NBA after a single year, maybe two.  In Wooden's day, freshmen weren't eligible to play but almost everyone stayed in school for four years.   On the women's side, conversely, players almost all stay for the whole four years and play as freshmen.