US Tops 6 Million COVID-19 Cases
Yet another grim milestone.
On August 7, the United States topped 5 million cases of the novel coronavirus. It has taken less than a month for us to add another million cases.
Indeed, we hit the did it late Friday or early Saturday using the Worldometers data that I've been using to keep track here.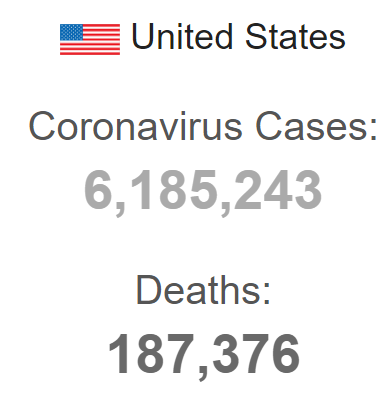 The slightly-more-conservative Johns Hopkins figures have us at 6,002,615.
CNN:
There have been at least 6,002,615 cases of coronavirus in the United States and at least 183,203 people have died, according to data compiled by Johns Hopkins University.

JHU recorded the first case of coronavirus in the United States on January 21. Here's how we got to more than six million:
It took the country 99 days to reach 1 million cases on April 28.
It then took 43 more days to reach 2 million cases on June 10.
It took another 28 days to surpass 3 million cases on July 8.
It took the US only 15 additional days to surpass 4 million cases on July 23.
It took the US 17 days to go over 5 million cases.
It has taken the nation 22 days since then to reach 6 million cases.
Only two other countries in the world have over 1 million reported Covid-19 cases – Brazil with roughly 3,862,000 cases and India with 3,621,000 cases.
That's some great company right there.