Brazilian Protesters Turn Their Anger Toward Soccer
Even the national sport is arousing the anger of the protesters in Brazil.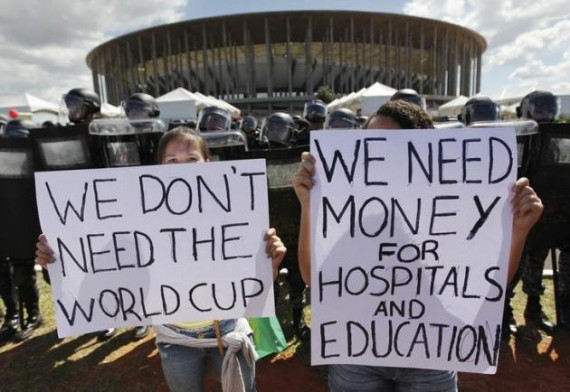 The protests in Brazil, which started after news came out about a series of bus fare increases, have started to turn their anger to a sport that has long been identified with the nation as a whole:
SÃO PAULO, Brazil — It has long been a source of unparalleled pride, a common bond uniting a disparate nation, something Brazilians could always point to — even in times of economic ruin or authoritarian rule — that made them the best in the world.

But these days, Brazil, the most successful nation in World Cup history, home to legends like Pelé and Ronaldo, is finding little comfort in "the beautiful game."

In the most unexpected of ways, Brazil's obsession with soccer has become a potent symbol of what ails the country. Ever since huge protests began sweeping across Brazil this week, demonstrators have taken to the streets by the hundreds of thousands to vent their rage at political leaders of every stripe, at the reign of corruption, at the sorry state of public services.

The protests have grown so large and disruptive that on Friday, Brazil's president, Dilma Rousseff, put forth measures to address some of the grievances.

But pointing to the billions of dollars spent on stadiums at the expense of basic needs, a growing number of protesters are telling fans around the globe to do what would once have seemed unthinkable: to boycott the 2014 World Cup in Brazil. In a sign of how thoroughly the country has been turned upside down, even some of the nation's revered soccer heroes have become targets of rage for distancing themselves from the popular uprising.

"Pelé and Ronaldo are making money off the Cup with their advertising contracts, but what about the rest of the nation?" asked one protester, Gabriela Costa, 24, a university student.

Protesters lambasted both men after Pelé, whose full name is Edson Arantes do Nascimento, called on Brazilians to "forget the protests" and a video circulated on social media showing Ronaldo, whose name is Ronaldo Luís Nazário de Lima, now a television commentator and sports marketing strategist, contending that World Cups are accomplished "with stadiums, not hospitals."

With hordes of protesters rallying outside soccer matches, clashing with the police and setting vehicles on fire, FIFA, soccer's international governing body, took pains to reassure the world on Friday that it had "full trust" in Brazil's ability to provide security and had not considered canceling either the 2014 World Cup or the Confederations Cup, a major international tournament currently taking place in Brazil.

But the fact that soccer officials even had to address the issue was a major embarrassment to Brazilian officials, who had fought so hard to land international events like the World Cup and the 2016 Olympic Games in order to showcase what a stable, democratic power their nation had become.

Now instead of being the culmination of Brazil's rise, the events — and the enormous expense of hosting them — have become a rallying cry for the protesters to show how out of step their government's priorities are with what the people want and need. While the government says it is spending more than $13 billion to prepare for the World Cup, including related construction projects, most of the stadiums are over budget, according to official findings.

"I love soccer," said Arnaldo da Silva, 29, a supervisor at a telecommunications company supervisor, who celebrated back in 2007 when Brazil landed the World Cup but was also among the protesters in the streets this week, denouncing spending on stadiums when the infrastructure around those structures, like sidewalks, is crumbling. "It's as if we're divided between our heart and our head."
In addition to next year's World Cup and the 2016 Olympics, Brazil will also be the host of this year's World Youth Day, a religious  event organized by the Catholic Church and held by at the international level every two to three years. This year, it will be held in Rio de Janeiro and will mark Pope Francis's first trip to South America since he was  elevated to the Papacy after having been Archbishop of Buenos Aires form many years. While many of the costs of that even are being covered by the Church, the Brazilian government will still be responsible for security and law enforcement surrounding the Papal visit. So far, there hasn't been comment from the Vatican, but in many ways these protests seem perfectly made for a Pope who, in first two months of his Papacy, has spent much time drawing attention to the poor.
On the soccer side, the protesters focus on that area is interesting if only because the sport itself is immensely popular in Brazil, and players like Pele are sports icons in the way that Babe Ruth and Michael Jordan are here in the United States. Nonetheless, the World Cup and the Olympics seem to be at the core of the argument that protesters are making:
The protests are happening as Brazil makes preparations for the 2014 World Cup and the 2016 Olympics. The Confederations Cup, a precursor to the World Cup, is happening now in Brazil in several of the cities dealing with protests. Public spending on these events—running in the billions—is another target of protesters' ire. The 2016 Rio Olympics will be the first time the event will be hosted in South America, and workers' rights advocates say the country is gutting services to poor people to pay for the events.

Police and roughly 15,000 protesters clashed Wednesday in Fortaleza, according to the Associated Press, about two miles from a stadium where Brazil took on Mexico.

"We are against a government which spends billions in stadiums while people are suffering across the country," one of the protesters said. "We want better education, more security and a better health system."
Not everyone affiliated with the national sport is as dismissive of the protesters, though. Members of Brazil's World Cup winning national team have made statements supportive of the protesters:
One day after peaceful protests in Rio de Janeiro and other cities descended into chaotic street battles between protesters and the police, and tensions boiled over between factions within the demonstrations as well, a congressman who once helped Brazil win a World Cup railed against the cost of staging next year's tournament.

Speaking in a video posted on YouTube (not yet subtitled in English), the former soccer star Romário threw his support behind the demonstrations and criticized what he called waste and mismanagement on an epic scale in the preparations for the 2014 World Cup.

Romário, a Socialist Party member who represents Rio de Janeiro in the federal congress, said that the more than $3 billion spent so far on building and renovating stadiums for the tournament could have paid instead for 8,000 new schools, 39,000 school buses and 28,000 sports facilities for the public. "The money spent in Mané Garrincha Stadium" in the capital, Brasília, he added, "could have been used to build 150,000 homes for people of low income, medium income or no income."

Romário, the hero of Brazil's 1994 triumph, also criticized the role played by soccer's world governing body, FIFA, which he called "a state inside of the state." He said that after the Confederations Cup, a test run for next year's tournament that is now under way, "some things that didn't work will need to be redone, and some new things for the World Cup will need to be done. And who determines what needs to be done? The true president of Brazil today, named FIFA."

Later in the video statement, he added: "Our country's current president, named FIFA, will arrive, will collect a profit of four billion reais," or nearly $2 billion. Normally, a profit like that would cost a business about $500 million, Romário said, but FIFA "won't pay it. That is: it will come, it will mount its circus, won't spend anything and will take everything."
As the article goes on to note, other Brazilian soccer stars of note have made similar statements, and Pele has issued an apology in which he declares himself to be "100% in favor of this movement for justice in Brazil!"  It seems highly unlikely that these protests will lead to either the World Cup or the Olympics being moved out of Brazil. However, the fact that protesters are turning their attention toward these high-profile events that cost the nation billions of dollars while delivering dubious actual economic benefits is yet another sign that this has become about more than just bus fare. The political leadership in Brazil will clearly need to respond to these protests soon before they get even more out off hand.