FIFA President Sepp Blatter Resigns As The Vultures Circle
FIFA's President surprised everyone today by resigning, but he's likely to stay in power for as long as another ten months.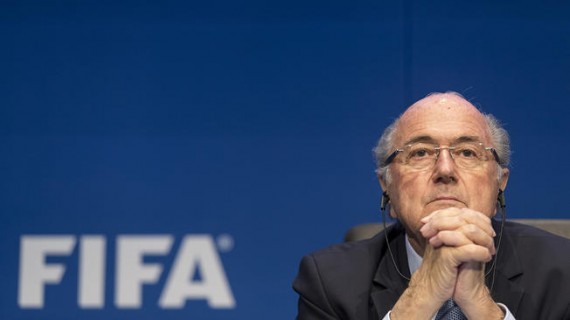 Less than a week after a series of indictments of top FIFA officials rocked the soccer world, FIFA Preident Sepp Blatter has announced his resignation just days after having been re-elected to a fifth term:
Sepp Blatter, who led world soccer's governing body for 17 years and had just won re-election for a fifth four-year term, resigned his position at a hastily called news conference in Zurich on Tuesday evening in the wake of an international corruption inquiry.

In a short speech delivered at the headquarters of FIFA, which oversees global soccer, Mr. Blatter said that "FIFA needs a profound restructuring" and that he had decided to step away from the organization for which he had worked in various positions for 40 years. Mr. Blatter, 79, who spoke in French, then referred to his recent re-election by FIFA's 209 member nations when he said, "Although the members of FIFA have given me the new mandate, this mandate does not seem to be supported by everybody in the world of football."

Mr. Blatter's resignation is not immediate; according to Domenico Scala, the independent chairman of FIFA's audit and compliance committee, who spoke to the news media after Mr. Blatter, a special meeting of FIFA's member nations will be called to elect a new president. According to FIFA's rules, there must be at least four months' notice given to members for such a meeting, so Mr. Scala indicated that the likely window for a new election is from December 2015 to March 2016.

Mr. Blatter will continue his duties in the meantime, but will focus on a program of reform that he said would be driven by Mr. Scala.

"For years, we have worked hard to put in place administrative reforms, but it is plain to me that while these must continue, they are not enough," Mr. Blatter said. "We need deep-rooted structural change."

Mr. Blatter mentioned several components of reform that he found necessary, including a reshaping of the powerful executive committee. In a somewhat strange twist, given his lengthy presence as FIFA's leader, he also noted the importance of term limits.

(…)

Pressure on Mr. Blatter mounted in recent days, beginning even before Friday's FIFA Congress, at which he was re-elected. Two days before the election, Swiss police officials — acting on behalf of United States authorities — arrested several top soccer officials, including two FIFA vice presidents, at a five-star Zurich hotel, and the United States Department of Justice handed down a 47-count indictment alleging widespread corruption within the organization. The Swiss police also revealed that day that a separate investigation, which is focused on alleged improprieties involving the bidding for the 2018 and 2022 World Cup tournaments, had led investigators to seize documents and records from FIFA's offices.

Mr. Blatter was not directly implicated in either investigation, but The New York Times reported late Monday that Mr. Blatter's top deputy, Jérôme Valcke, had been identified by American officials as a person linked to wire transfers involving bank payments believed to be bribes related to World Cup bids. Mr. Valcke denied any involvement, and FIFA released a statement on Tuesday morning in response to the article that tried to distance Mr. Valcke from the transaction.
The logical assumption to be drawn from Blatter's sudden and unexpected resignation, of course, is that the indictment last week and the investigations that have been launched in response to it by the United States, Switzerland, and the United Kingdom are getting closer and closer to the top of the organization and that Blatter saw that his days were numbered. While this may very well be the case, it strikes me that his move here is as much about preserving is own position and those of his cronies as anything else. While Blatter was re-elected last Friday, it took an unprecedented five ballots for him to get to the majority that was needed for victory. Since that vote occurred the day after the arrest of the FIFA officials in Zurich, it's likely that those events added to the issues regarding corruption at FIFA that have been plaguing Blatter for years now. If Blatter truly believed he was in danger then it seems logical to assume that he would have resigned prior to the election. Instead, by standing for re-election and wining, he's basically guaranteed that he will stay in power for as long as another ten months and that the process that chooses he replacement will be one that he and those close to him will have much more control over than they would have had over Friday's election. Blatter's stunt today, then, may not be as magnanimous at it seems and certainly isn't the panicked move that some observers believe it to be. It was really quite a smart move on his part, if you think about it.
This is hardly the end of the story, of course. As I've noted, the investigation that led to last week's indictments continues in the United States, and there are parallel investigations going on in Switzerland and the United Kingdom. Last night it was reported that one of Blatter's top deputies was on the radar of investigators on both sides of the Atlantic.  The allegations regarding bribery connected to the awarding of the 2022 World Cup to the Qatar have been around for quite a long time now, and there are also allegations of corruption in connection with the awarding of the 2018 World Cup to Russia. Blatter may yet be indicted in the United States or somewhere else, and as the Times notes in the article linked above Blatter is being investigated by the same Justice Department team that just issued indictments. For the moment, though, he remains in control at FIFA and this resignation doesn't strike me as quite as earth shattering as it's being made out to be.