Vaccine Patent Rights
Should live-saving drugs be protected intellectual property?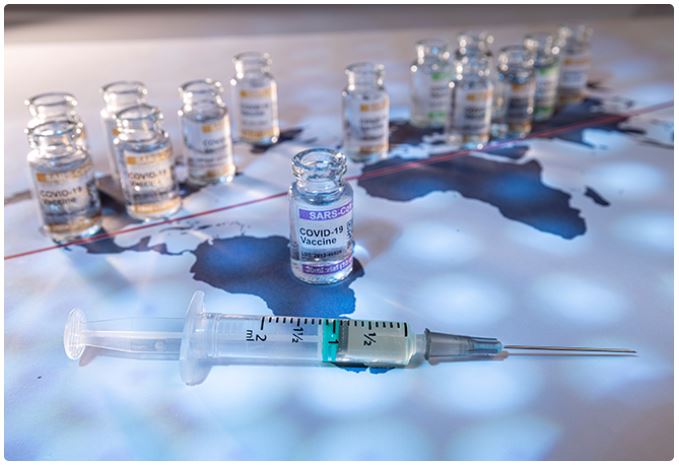 Wednesday, the Biden administration threw its support behind efforts to waive intellectual property protections for COVID vaccines, citing the urgency of getting people in the developing world vaccinated. Yesterday, German chancellor Angela Merkel announced her opposition, declaring that "The protection of intellectual property is a source of innovation and it must remain so in the future" and that, anyway, "production capacities and the high-quality standards, not the patents" are the main obstacles to distribution.
Not surprisingly, the WSJ Editorial Board is on Merkel's side on this one, calling Biden's idea "theft" in its headline, "steal[ing]" in its subhed, and a "heist" in its lede.
President Biden genuflected again to progressives on Wednesday by endorsing an intellectual property waiver at the World Trade Organization for Covid vaccines and therapies. This patent heist won't end well for the U.S. or the world.

[…]

WTO rules already allow low-income countries to force drug makers to license their patents during emergencies, though they must negotiate some agreements with developers. Liberals says this is slowing vaccine production.

Yet U.S. and European drug companies have already voluntarily entered into dozens of licensing agreements with other manufacturers, many in low-income countries, as they work to scale up production. Merck last week announced licensing agreements with several Indian manufacturers to produce its investigational antiviral drug.

But vaccine and drug makers first need to ensure their partners can safely manufacture the complex biologic products. This takes time. So does ramping up production of raw ingredients. Even so, global vaccine production is accelerating. The U.S. has also committed $4 billion to Covax, a World Health Organization initiative, which aims to distribute two billion doses to lower- and middle-income countries by the end of this year. Yet India, a global vaccine production powerhouse, recently restricted exports to serve its own population.

European governments have opposed the waiver because they realize it sets a terrible precedent. Once stolen, IP on breakthrough innovations like Moderna and Pfizer -BioNTech mRNA vaccines can't be returned. So why did Mr. Biden surrender?

Progressives are pounding the White House for supposedly hoarding vaccine doses, though only a few months ago it was praised for ordering more supply from Pfizer and Moderna. The White House recently agreed to release 60 million of its contracted AstraZeneca doses, but only after they receive FDA approval. Contracts with other manufacturers limit exports to countries without liability protection for potential adverse side effects.

The Administration's WTO waiver will break patents and legal protections for vaccine makers. Investors will be less likely to fund new drug research if they think their own government will betray them under political pressure. Chalk up another damaging victory for the Congressional left.
Dave Schuler, who pointed me to the WSJ editorial, pushes back a bit:
I think that U. S. intellectual property protections are too robust. Patents are not part of the natural order of things. They are government-granted monopolies. There's a reason that so many developments are patented in the U. S. and it's not just that we do so much R&D.
Still, he wonders if following through on Biden's idea would constitute a "taking" under US law.
Kevin Drum, meanwhile, argues persuasively that Biden's announcement is really just a smokescreen.
As near as I can tell, this is something of a meaningless gesture. Many of the patents involved in manufacturing the vaccines don't belong to Pfizer/Moderna/etc. in the first place. They're licensed from various other sources. Nor are patents really the biggest stumbling block for poor countries that want quicker access to vaccines. It's manufacturing know-how and shortage of raw materials. And anyway, these countries already have legal remedies available that allow them to force pharmaceutical companies to license generic versions of their drugs at low cost.
His suggestion lines up with what I've been arguing for a while now:
Beyond this, if the US really wants to make vaccines more available to poor countries, the solution is easy: spend lots of money. How much would it cost to purchase, say, 10 billion doses of vaccine? $50 billion? $100 billion? This is not a huge sum of money by American standards. And it would be even less if we split the cost with Europe. This is more or less the goal of Covax, the global initiative aimed at equitable access to COVID-19 vaccines, which has so far been a dismal failure.

At the risk of sounding a little too cynical, I think Biden's patent announcement represents something of a bad habit. He's done a lot of things to appease the progressive wing of the Democratic Party, but many of those things are more symbolic than real. Sometimes that's because they're unlikely to ever become law; sometimes it's because they simply don't have a big effect; and other times it's because he can give in at a pretty low cost.

Politically, this is a savvy strategy, and it often has no real downside. But this time it might. The real answer to global vaccine coverage is money, and lots of handwaving about patents does nothing but obscure that.
The caveat I would offer is this: to the extent the vaccines are developed using government funding or backing, the taxpayer should certainly have some stake in the IP. That is, if Moderna's vaccine is largely a result of CDC grant money, we should certainly have the right to buy it at a lower price than if the company took the risk of developing it out of hide. Relatedly, given that Operation Warp Speed both helped speed up production and backstopped failed attempts, we're entitled to a discount.