Vaccine Nationalism in a Global Pandemic
The US has more shots available than willing arms while those in the developing world are dying.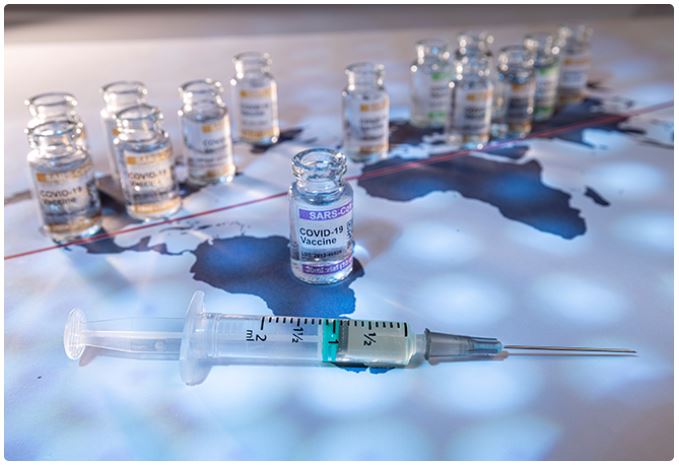 A WaPo report ("As pandemic surges anew, global envy and anger over U.S. vaccine abundance") points out the obvious inequity of COVID-19 ravishing India, where a mere 1.4 percent of the population has been fully vaccinated, while the United States is getting to work vaccinating teenagers.
A long-simmering debate over the glaring gap in vaccine access — largely between rich and poor countries, but among some developed nations, too — is now boiling over, with global figures and national leaders decrying the vaccine plenty in a few nations and the relative drought almost everywhere else.

African nations such as Namibia and Kenya are denouncing a "vaccine apartheid," while others are calling for policy changes in Washington and a broader rethink of the intellectual property and trademark laws that govern vaccine manufacturing in global pandemics.

"It's outrageous ethically, morally, scientifically," said Maria Van Kerkhove, an epidemiologist with the World Health Organization, on global vaccine inequities.

[…]

It is happening at a demarcation point in the pandemic. In some countries with high vaccination rates — including the United States, Britain and Israel — coronavirus numbers are decreasing or plateauing. But globally, the number of new cases per week has nearly doubled since February, according to the WHO, particularly as some nations in the developing world witness their highest infection rates yet.

[…]

The vaccine divide is not just between rich and poor, but between wealthy neighbors, too. Canada brokered advance-purchase agreements with several pharmaceutical firms for hundreds of millions of potential doses, far more than it needs for its 38 million people. But it has had limited capacity to manufacture coronavirus vaccines at home, leaving it eying the U.S. rollout with jealousy and some resentment.

[…]

What the World Bank classifies as "high-income countries" — accounting for just 16 percent of the world's population — have locked up more than 50 percent of near-term supply, according to research from Duke University.
Despite the global nature of the pandemic, which means it's foolish—not just morally questionable—to prioritize low-risk people in rich countries over high-risk people in poor ones, the politics of this are certainly understandable. Dividing the world into nation-states, almost by definition, means that governments will prioritize the needs of their own citizens over those of even neighbors and allies. Even when, in this case, doing so isn't actually in the best interests of their citizens. People are irrational and governments, especially in democracies, are naturally going to appease them.
But we've gotten to the point of stupidity with this:
There is no question the United States is practically rolling in vaccines.

All Americans 16 and over are now eligible for a shot. Health officials in states including West Virginia, North Carolina and Pennsylvania have said that supply is already exceeding demand, and their new challenge is combating vaccine hesitancy.

While it's difficult to determine exactly how many vials of vaccines are sitting unused across the United States, data from the Centers for Disease Control and Prevention indicates that a dozen states are administering less than three-quarters of the doses they receive.
I've been "fully vaccinated" for days now, my wife is a couple weeks from getting her shot, and my teenage stepchildren have either gotten their first shot or have appointments to do so. The shots are available to us and it serves no useful purpose at all to not take our place in line. But none of us are at particularly high risk.
The New York Times Editorial Board notes that "The World Needs Many More Coronavirus Vaccines" and pointedly calls out the issue:
So far, this global shortage has been obscured by pockets of vaccine abundance in wealthier countries like the United States. But if the shortage isn't addressed soon, the trouble will become all too clear. Hundreds of thousands, if not millions, of people will continue to get sick and die, even as the pandemic recedes in richer nations. The most fragile economies will continue to teeter, and gains made elsewhere will eventually be imperiled: The longer the virus spreads, the greater the chance it mutates into something even more contagious, deadly or vaccine-resistant.
The editorial does a good job of explaining some of the complications preventing that from happening. Most glaringly, it's the fact that for-profit businesses own the intellectual property:
Nearly as soon as vaccines entered clinical trials, wealthy countries began hoarding doses, ensuring that instead of the most vulnerable people everywhere being vaccinated, their residents would be first in line.

Then, as the vaccines came to market, some vaccine makers insisted on sweeping liability protections that further imperiled access for poorer countries. The United States, for example, is prohibited from selling or donating its unused doses, as Vanity Fair has reported, because the strong liability protections that drugmakers enjoy here don't extend to other countries. (The Biden administration recently circumvented this stricture when it classified the vaccines it gave to Mexico and Canada as "loans," but that's a cumbersome workaround that creates further confusion and delay.)

In other countries, Pfizer has reportedly not only sought liability protection against all civil claims — even those that could result from the company's own negligence — but has asked governments to put up sovereign assets, including their bank reserves, embassy buildings and military bases, as collateral against lawsuits. Some countries have understandably balked at such demands, according to the nonprofit Bureau of Investigative Journalism, and the pace of purchasing agreements has slowed as a result.

As they find themselves shut out of vaccine procurement, those same nations have also found that they cannot make the shots themselves. Companies and countries are hoarding both raw materials and technical expertise, and have prevented poorer nations from suspending patents despite international treaties that allow for such measures in emergencies.
They offer a slew of interesting solutions to the problem but it seems to me that the most obvious one is for the United States, the World Health Organization, or some other body to buy out the intellectual property rights. For that matter, it's not obvious why we didn't do that up front. Given the degree to which taxpayer money, in the form of both direct investment and purchase guarantees (including for vaccines that didn't pan out) are responsible for the rapid creation, it's not obvious why we didn't include IP ownership as part of the deal.
As as much of a capitalist as the next guy; probably more so. I have no objection to those who invent medicines that save the lives of tens of thousands—or, in this case, potentially billions—of people getting rich from their efforts. But, to the extent that they do so in a public-private partnership, that should certainly come with strings.
Regardless, two good things have come from the effort that will hopefully be around and built upon. First, we seem to have demonstrated the efficacy of mRNA vaccines. This should radically accelerate the rolling out of future vaccines—especially if we expedite the approval process as well. Second, we have significantly improved global vaccine production capacity. The NYT Editorial Board calls for extending this into the developing world, which likely makes sense. But it makes sense to keep this new capacity so that, in future outbreaks, we can rapidly roll out much larger supplies to eliminate the competition between nations and even groups of citizens within nations over who goes first.