VFW Endorses Non-Vet Over Allen West, Retired LTC
The Veterans of Foreign Wars has endorsed Ron Klein, who never served a day in uniform, over retired LTC Allen West, a decorated veteran of several foreign wars. Is this an outrage?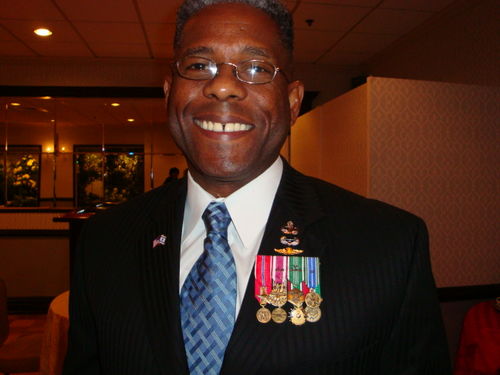 Blackfive's Mr. Wolf has a rant emploring readers to "BURN YOUR VFW CARDS."
What was so disturbing was the email listed someone we all know- LTC(r) Allen West, and how the VFW, of all people, THE VEE-EFF-FRICKING-W, was ENDORSING HIS OPPONENT.

You read that right.

His opponent?  Democrat Ron Klein.  WHO HAS NEVER SERVED IN UNIFORM.

You read THAT right, too.

People, I've been pissed before.  Mad, even.  Upset.  But this?  THIS is treasonous to me.  For a 'so called' veterans organization to pick a NON-SERVING, NON-VETERAN over one of the MOST PROMISING veterans running in politics is heinous.  Disturbing.  And shows just how far off-track the VFW has become.
While I'm a veteran of a foreign war, I'm not a member of VFW.  Regardless, I'd stop short of describing endorsement of a sitting United States Congressman who never wore a uniform over a retired lieutenant colonel treasonous.   Or even heinous.  Or disturbing.  It is, however, a mite curious.
What does the VFW PAC have to say for itself?
"This endorsement is based on your strong support for veterans, national security & defense, and military personnel issues," says a letter to Klein from Veterans of Foreign Wars PAC Director Salvatore Capirchio.
Given VFW's mission, that doesn't seem entirely unreasonable.  B-b-b-b-ut Klein never served!  What could Klein have possibly done for veterans?
One of Ron's top priorities is to keep America's promise to our veterans, and improve their quality of life after service. To continue his fight for those who have fought for our country, Ron introduced the Wounded Warrior K-9 Corps Act (H.R. 3266), new, bipartisan legislation to help train guide dogs and other service animals for wounded veterans. Ron co-sponsored the GI Bill for the 21st Century, which passed with overwhelming bipartisan support. The legislation makes America's veterans part of our economic recovery by restoring the promise of a full, four year-college education for Iraq and Afghanistan veterans, which can be transferred to their spouse or children. Ron formed and meets regularly with Veterans Advisory Groups in Broward and Palm Beach counties. He also has dedicated specific staff to work with veterans who have served our country and to their families, when their loved ones are overseas and return home.
Oh.
It also doesn't hurt that he's currently got a 5 point lead over West in the only available poll.
So, to reiterate:  The VFW's PAC has endorsed a sitting U.S. Representative who has done an enormous amount of heavy lifting for veterans in his short tenure in Congress who's favored to be re-elected, anyway.   His opponent had a fine career in the United States Army and moved to the district for the first time six years ago.   This isn't a crime against veterans.
Now, from what little I've seen of West over the past few months, I'd like to see him win.*  He'd be a rising star in the Republican Party.  But simply serving in the military doesn't  mean you'd be a good Congressman and automatically deserve the support of veterans, even if your opponent never wore a uniform.   If the VFW supported Charlie Rangel's opponent, for example, I'd be thrilled.  And Rangel is a bonafide hero of the Korean War.
_____________
*UPDATE:    Readers have reminded me of the controversial end of Allen's Army career. Here's the Wikipedia summary:
While serving in Taji, Iraq, on August 20, 2003, as commander of the 2d Battalion, 20th Field Artillery Regiment, Lieutenant Colonel West was in charge of an interrogation of a civilian Iraqi police officer who was suspected of having pertinent information regarding attacks on American soldiers in the area. Interrogators had learned that the detainee had information about a planned ambush. When the interrogators were unable to extract the needed important information for some time, LTC West was asked to come try to obtain the important information. As the detainee continued to hold back the information, LTC West fired his pistol past the detainee's head into a clearing barrel, frightening (but not physically harming) the detainee and getting him to finally give the information. According to Lt. Col. West's sworn statement, the detainee informed West that:

" [The attack] was to occur Friday morning in Saba al Boor vicinity of the police station by positioned snipers supposedly being brought in from Fallujah. [The detainee] was to ID my vehicle and myself for these rooftop firers. We took this information and the following day established flask CPs and used AH-64s overhead. There was no attack and no further attacks have emanated from the town since the apprehension of [the detainee] and his named associates. "

At least one man was apprehended as a result of the information obtained through the detainee's interrogation. His home was searched, but no plans for attacks on Americans or weapons were found. Colonel West testified that he did not know whether "any corroboration" of a plot was ever found, adding: "At the time I had to base my decision on the intelligence I received. It's possible that I was wrong about [the detainee,] Mr. Hamoodi."

LTC West, who at the time was just short of having 20 years of service, was charged with violating articles 128 (assault) and 134 (general article) of the Uniform Code of Military Justice. West was processed through an Article 32 hearing in November 2003, where he admitted wrongdoing, was fined $5,000 over two months for misconduct and assault. He then submitted his resignation, and was allowed to retire with full benefits in the summer of 2004.

At a hearing, West was asked by his defense attorney if he would do it again. "If it's about the lives of my men and their safety, I'd go through hell with a gasoline can," he said. Apparently not knowing West's gun was aimed into a barrel, "Hamoodi cracked and gave information about the planned ambush on West's convoy, thwarting the attack." West said there were no further ambushes on U.S. forces in Taji until he was relieved of his leadership post on October 4."  "After West's resignation was brought to public attention the next fall, he received over two thousand letters and e-mails from the American public offering him moral support. In addition, a letter was drafted to the Secretary of the Army, its signatories being ninety-five members of Congress in West's support.

West spoke in Sept. 2010 in defense of a group of US military personnel convicted of war crimes known as the "Leavenworth 10."
This significantly clouds the issue and removes the presumption of support I'd have for a charismatic, black Republican who's a decorated veteran.     Were I in West's district, I'd research the incident much further.  But it's highly troubling.