War And The Presidency
According to some historians, a President isn't truly great unless he involves America in a bloody and destructive war.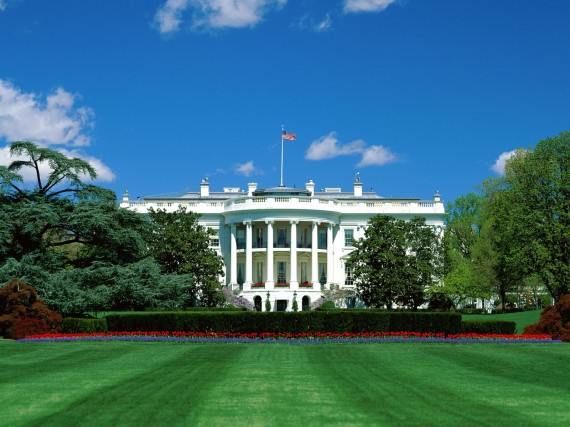 The Washington Post's Sarah Kliff links to new study that seems to suggest that historians judge a President more positively if they've been involved in a war that ends up killing a lot of Americans:
Our data analysis suggests that wars in which a large percentage of the U.S. population is killed will, all other things equal, cause historians to judge as great a president on whose watch those wars occurred. Certainly, this was the perception of presidents Theodore Roosevelt and John F. Kennedy. It was probably also the perception of other presidents.
The danger is that modern presidents understand these incentives. Those who want peace should take historians` ratings of presidents seriously. Beyond that, we should stop celebrating, and try to persuade historians to stop celebrating, presidents who made unnecessary wars. One way to do so is to remember the unseen: the war that didn`t happen, the war that was avoided, and the peace and prosperity that resulted. If we applied this standard, then presidents Martin van Buren, John Tyler, Warren G. Harding, and Calvin Coolidge, to name four, would get a substantially higher rating than they are usually given.
Here's the chart showing the results they came up with: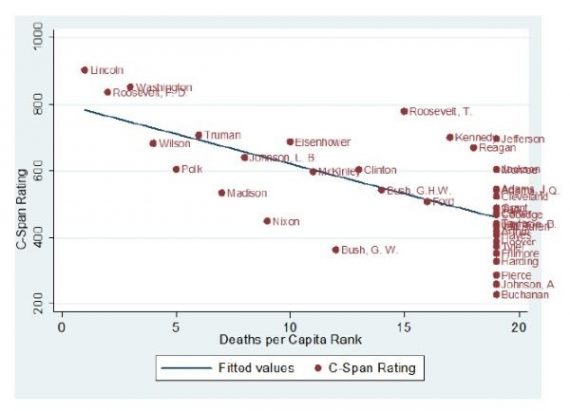 Of course, there may be reasons not to praise Van Buren notwithstanding his peacemaking. The same goes for Warren Harding who, while apparently not personally corrupt, did preside over an Administration that permitted far too much insider dealing, something that largely ended when his Vice-President, Coolidge, took over after his sudden death. Additionally, many of the President's judged as lacking by historians likely deserve that appellation notwithstanding the fact that they didn't start a war. The ante bellum era, for example, is full of a rather unremarkable one term Presidents most of whom didn't do much of anything and many of which weren't even able to secure their party's nomination for a second term. Indeed, sprinkled among those ante bellum Presidents is at least one candidate for the worst President in American history.
Nonetheless, the study does raise some interesting questions. I've noted before the rise of the Imperial Presidency, and the tendency of historians to view most positively those President's who have expanded the powers of the Presidency far beyond the boundaries of Article II of the Constitution. Given that there is no greater tool for the expansion of Presidential power than war, especially in the modern era where declarations of war and Congressional oversight of Presidential war powers has been essentially non-existent, it's not surprising that there's a correlation between war and how historians view President's. Of course, it's worth noting that we're taking about successful wars here. Neither Truman nor Eisenhower seem to benefit much in Presidential rankings from the Korean War, which ended in a stalemate. LBJ doesn't get any benefit from Vietnam, quite obviously, and one doubts history will ever judge George W. Bush kindly. So as long as you're a President who got involved in a war that resulted in a lot of people dying and is deemed successful, you'll turn out okay in the eyes of history basically.
It is an odd standard by which to judge the effectiveness of our leaders, isn't it?