Was Yasser Arafat Murdered?
A nine month Al Jazeera investigations indicates that poison may have played a role in Yasser Arafat's 2004 death.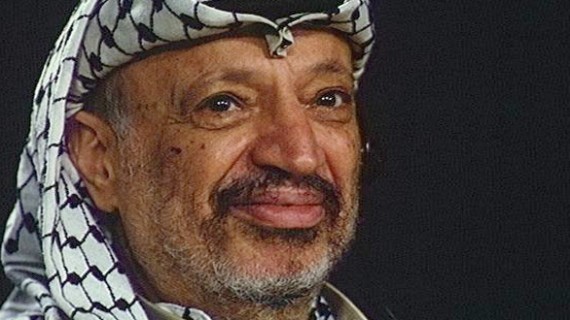 A new report is raising questions about the real cause of Yassir Arafat's death in 2004:
Tests performed on former Palestinian leader Yasser Arafat's personal belongings have revealed that they contained abnormal levels of the radioactive substance polonium, Al Jazeera reported on Tuesday.

Arafat died in a French military hospital on November 11, 2004, following a mysterious illness. Unconfirmed reports have suggested that Arafat may have died of AIDS. AlJazeera said that a nine month investigation revealed that this was untrue and the Palestinian leader was in good health before he suddenly fell ill in October 2004.

Arafat's widow provided Al Jazeera with his clothing and toothbrush for laboratory testing  at the Institut de Radiophysique in Lausanne, Switzerland. "I can confirm to you that we measured an unexplained, elevated amount of unsupported polonium-210 in the belongings of Mr. Arafat that contained stains of biological fluids," Al Jazeera quoted Dr. Francois Bochud, the director of the institute as saying.

According to the report, Russian spy-turned-dissident Alexander Litvinenko, who died in London in 2006 under suspicious circumstances, was found to have been poisoned with polonium slipped into his tea.

Arafat suffered similar symptoms to Litvinenko prior to his death - severe diarrhea, weight loss, and vomiting, according to the report.

Palestinians and Arabs have charged in the past that Israel poisoned Arafat. Some PA leaders have suggested that former Fatah official Mohammed Dahlan assisted Israel in the poisoning

(…)

The Al Jazeera commissioned study of Arafat's belongings did not reveal any traces of common heavy metals or conventional poisons, so they turned their attention to more obscure elements, discovering the high levels of polonium, according to the report.
In 2005, The New York Times reported that medical records revealed that Arafat had died of "a stroke following a bleeding disorder," and in connection with the issue of poisoning said the following:
Many senior Palestinian officials say Arafat was poisoned. In a recent telephone interview from Amman, Jordan, for example, Arafat's personal doctor, Ashraf al-Kurdi, said he believed Arafat was poisoned.

But the newly released findings argue strongly against poisoning.

The French doctors sent specimens to three different laboratories for standard toxicology tests to detect metals and drugs like barbiturates, opiates and amphetamines. None were detected. The laboratories included the Toxicology Department of the Criminal Division of Physics and Chemistry in the Institute of Criminal Research of the National Gendarmerie; the Department of Clinical Biochemistry, Toxicology and Pharmacology at Percy; and the French Army's Radiotoxicology Control Laboratory.

The researchers said Arafat did not suffer the extensive kidney and liver damage they would expect from a poison, although he did have jaundice.

Arafat did improve for a time in the Percy hospital, talking and walking with members of his entourage. Then he slipped into a coma on Nov. 3, when he was transferred to intensive care from the hematology service. That would seem to contradict the idea of poison, the experts said.
Of course, if the 2004 toxicology tests did not include testing for polonium, then it wouldn't have been found, or likely even suspected. It's also worth noting that the death of Alexander Litvinenko, now believed to be due to exposure to polonium as part of an assassination plot, didn't occur until 2006 and was believed to be the first time anyone had died due to non-accidental exposure to polonium. So, Arafat's doctors didn't necessarily have any reason to test for this rather exotic element as the source of his illness.
None of this is to say that Arafat was in fact assassinated, but it does raise questions. Already, Palestinian President Mahmoud Abbas and Arafat's widow Suha Arafat to call for an investigation into Arafat's death, including the exhumation of Arafat's body for the purpose of performing additional medical tests. If that happens, and if the polonium theory is confirmed, then the search for suspects will begin and, no doubt, most Palestinians will automatically assume that the Israelis were involved. The implications for Israeli-Palestinians relations from there seem rather obvious.
Stay tuned on this one.