Washington Spending in Perspective
What's worse: Leon Panetta spending $860,000 in taxpayer money flying home? Or the GSA spending $823,000 on a conference?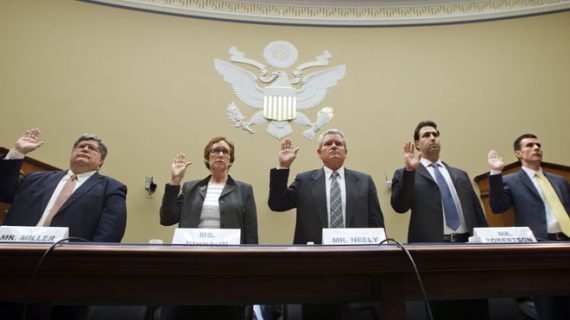 What's worse: Leon Panetta spending $860,000 in taxpayer money flying home to see his family? Or the GSA spending $823,000 on a conference in Las Vegas? Certainly, the latter has received far, far more attention.
The GSA story has been in the news for days, with four separate hearings scheduled before various Congressional committees. So far, senior officials have been ordered to repay $5600 out of their own pockets. They've rightly been lampooned on the late night comedy circuit for some rather silly and lavish spending.
AP broke the Panetta story 11 days ago and I somehow missed it until this morning. The key facts: "The Pentagon chief has traveled on military aircraft to his home in northern California more than two dozen times since he took the defense post in July — trips that have cost the government about $32,000 each. Panetta, in turn, has reimbursed the government about $630 per roundtrip for the personal flights, based on longstanding formulas dictated by federal policies."
So, to be clear: Panetta has done nothing illegal or even particularly unusual. While he could obviously avoid this spending by moving his family to Washington–certainly, it's not unheard of–the Secretary of Defense is entitled to fly on his department's very expensive aircraft and reimburse the taxpayer the relatively bargain price of a coach class commercial ticket. That's been the law for quite some time; it's not some secret loophole Panetta is exploiting. Further, he made it clear when he took the job that he would do so only on the precondition that he would be able to fly home to California regularly.
As Time's Mark Thompson points out, while $860,000 is a lot of money, it amounts to "42 seconds of Pentagon spending." And, he observes, that as a military reporter who has "traveled around the world with several defense secretaries, and seen them in action up close, around the globe and inside the Pentagon," he sees no problem with it. " It is a grueling, relentless job. If Panetta wants to jet off to his California walnut farm to tend to a different kind of nut than those he has to deal with daily in the capital, he should. A clear-headed defense secretary – one who is making life-and-death decisions constantly – is worth the investment."
I'm inclined to agree but still have reservations with cabinet officials, congressional leaders, and even the president's family doing personal business on the taxpayer dime at extremely high markup. It seems more than a little undemocratic.
At the same time, I'm less apoplectic than most seem to be over things like the GSA boondoggle.  It was, no doubt, lavish and excessive. Still, it amounted to $2742 per attendee. For a work-related, team building exercise that likely had real benefits in morale.  Why is that a criminal outrage worthy of Congressional investigation and days of spleen venting by the TV talking heads while Panetta's  spending $32,000 on personal business every weekend is business as usual?
Hat tips: Josh Rogin and Mark Thompson