We Are Not QAnon Nation
Most Americans have never even heard of it.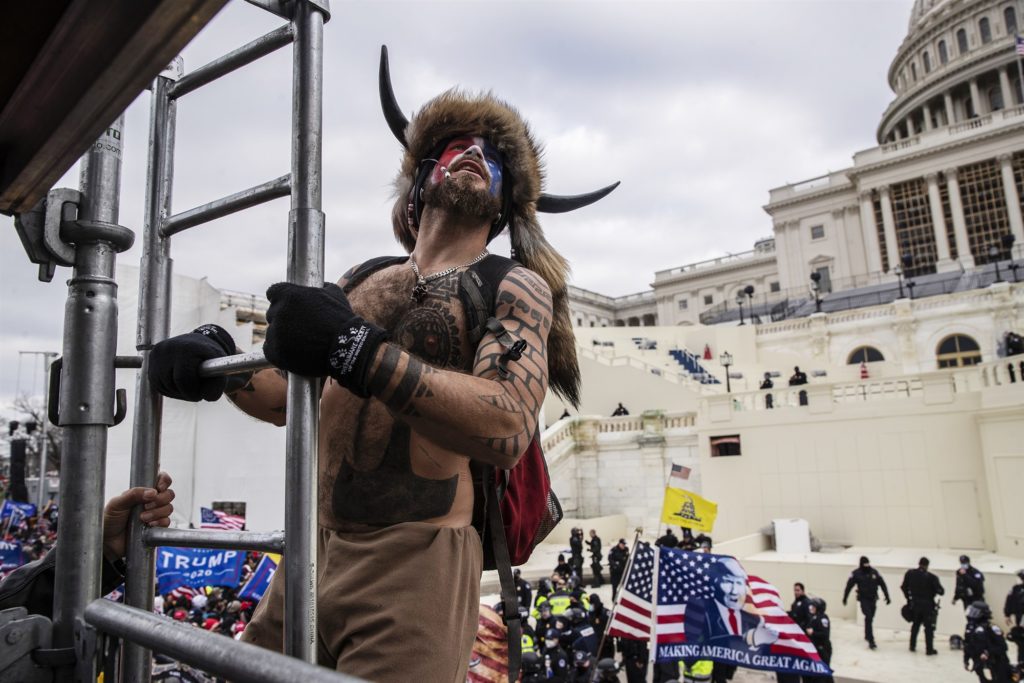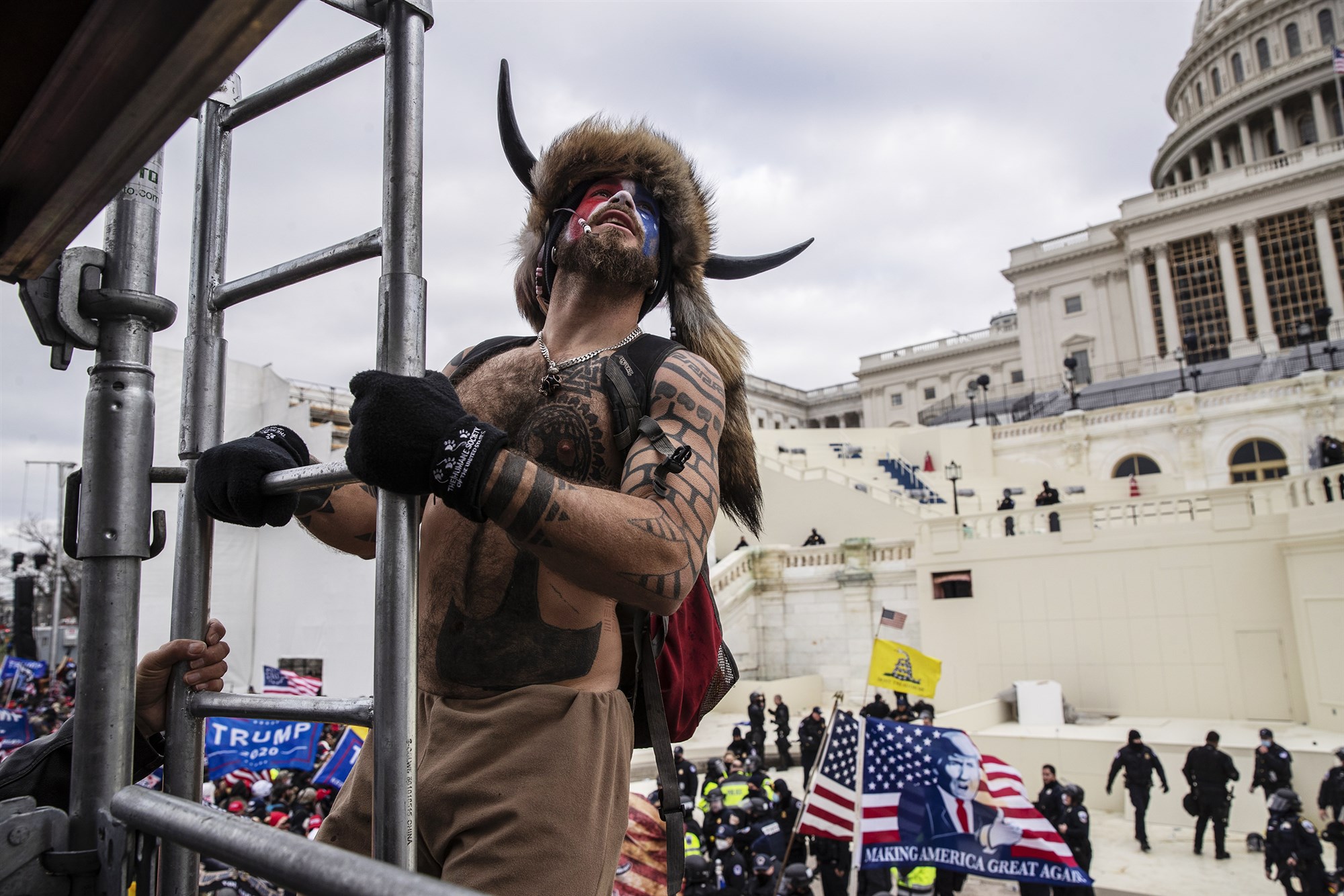 Commenter Teve opens this morning's open thread with a link to Kevin Drum's post "Barely Anyone Believes In QAnon's Conspiracy Theories."
Drum's takeaway is an important one:
A few days ago Morning Consult released a poll showing that 18% of American adults believed in QAnon's conspiracy theories. Shazam! That might be down a bit from previous polls, but 18% is still a lot. It's one out of six Americans.

Except that if you read closely, that was 18% "among all adults who had heard of the group." It turns out that two-thirds of adults have never even heard of QAnon, which means Morning Consult's chart should have looked approximately like this: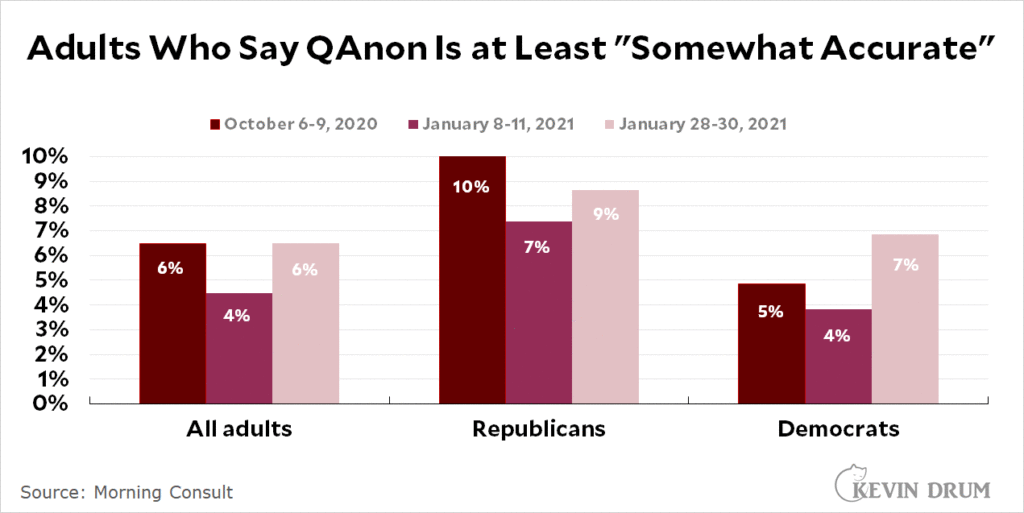 When people read about this stuff, the chart is all that lot of them are going to see. They won't read the accompanying text at all, let alone read it carefully. They'll just take a quick glance and come away thinking that Americans are nuts.

But a proper chart shows that only 6% of adults think QAnon is even "somewhat" accurate. And only 2% think it's very accurate.

[…]

Bottom line: We are not QAnon Nation. In fact, QAnon barely has a foothold in the American psyche at all.
It's incredibly useful to understand that
Journalists tend not to be great at math
There's an incredible incentive in journalism to draw sensational conclusions, especially at the headline level;
Most Americans don't read beyond the headlines.
But there's arguably a more important takeaway here:
Thirty-six percent of adults said in the latest survey that they had heard either "a lot" or "some" about QAnon, compared to 27 percent who said the same in October of last year.
QAnon has been in the news a lot over the past couple of years. Yet, a whopping sixty-four percent of American adults have never heard of it.
Those of us who consume significant amounts of political news on a daily basis are the exception, not the norm. Those of us who spend hours weekly—if not daily—debating the news of the day are off-the-charts unusual.
Operating from the assumption that average Americans are well-informed about the news of the day and have thought deeply about the issues is, alas, a huge mistake.
Further, I would wager that the vast majority of the ~9 percent of Republicans and ~7 percent of Democrats who say that QAnon is at least "somewhat accurate" couldn't actually tell you anything significant about the movement.
Indeed, as someone who has paid rapt attention to American politics for more than four decades, has three degrees in political science, has made a living thinking about aspects of politics for more than a quarter-century, and has hosted a politics blog for over eighteen years now, my understanding of QAnon is more than a little fuzzy. And I've read multiple articles and listened to a handful of podcasts on the subject—which almost certainly puts me in the 99th percentile of consumers of QAnon-related information.
I'd be willing to bet that few of Margorie Tayor Greene's constituents had any idea what Q was last November, when they overwhelmingly voted for her, much less in the July primary runoff. Rather, they almost certainly saw her as a Sarah Palin-type plain-spoken gal running against Washington who was going to champion people like them.
That may well be a problem. Republican intellectuals like myself were highly critical of the choice of Palin as John McCain's 2008 running mate and my friend and co-blogger Steven Taylor effectively left the party over that choice, seeing it as a final straw. But Palin was an ignoramus unqualified to be once removed from the nuclear button, not a deranged nut.
Regardless, I understand the appeal of Palin-type candidates to regular folks who are tired of politicians going to Washington and voting for the same elite-consensus policies. That's especially the case decades removed from the era I grew up in, where there were only a handful of information gatekeepers, all sharing essentially the same information, and where there was little alternative but to watch a 30-minute nightly newscast if one had the television on. So, not only aren't people well-informed they're differently-informed.