We're Just Negotiating The Price, Governor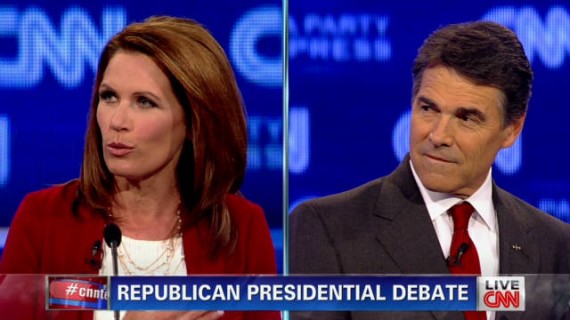 This exchange between Rick Perry and Michele Bachmann at last night's debate:
BACHMANN: I just wanted to add that we cannot forget that in the midst of this executive order there is a big drug company that made millions of dollars because of this mandate. We can't deny that…

(APPLAUSE)

BLITZER: What are you suggesting?

BACHMANN: What I'm saying is that it's wrong for a drug company, because the governor's former chief of staff was the chief lobbyist for this drug company. The drug company gave thousands of dollars in political donations to the governor, and this is just flat-out wrong.

The question is, is it about life, or was it about millions of dollars and potentially billions for a drug company?

BLITZER: All right. I'll let Senator Santorum hold off for a second.

You've got to response to that.

PERRY: Yes, sir. The company was Merck, and it was a $5,000 contribution that I had received from them. I raise about $30 million.

And if you're saying that I can be bought for $5,000, I'm offended.
Reminds me of this great story about Winston Churchill:
At a dinner party one night, a drunk Churchill asked an attractive woman whether she would sleep with him for a million pounds. "Maybe," the woman said coyly. "Would you sleep with me for one pound?" Churchill then asked. "Of course not, what kind of woman do you think I am?" the woman responded indignantly. "Madam, we've already established what kind of woman you are," said Churchill, "now we're just negotiating the price."
Was Perry offended because he thinks he's worth more than $5,000?