West Virginia Teachers' Strike Nets 5% Raise
We may about to see a wave of teacher strikes.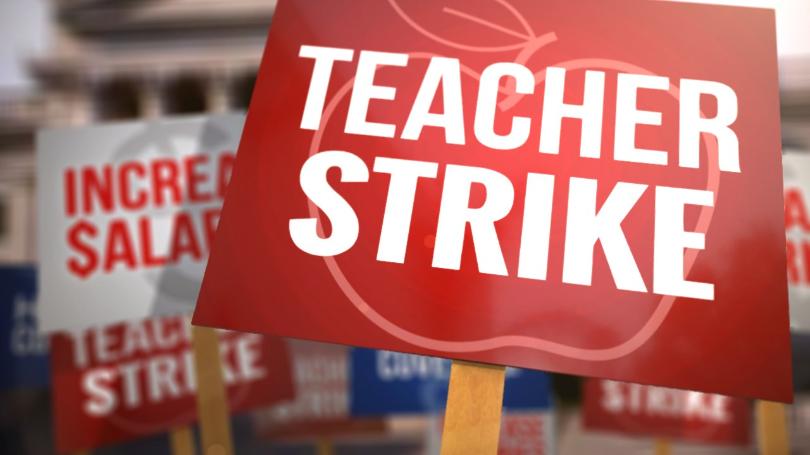 PBS ("West Virginia leaders reach deal to end 9-day teachers strike"):
Gov. Jim Justice and West Virginia's Republican leaders tentatively agreed Tuesday to end the state's nine-day teachers' walkout by giving 5 percent raises to not just teachers, but all state workers.

To pay for it, lawmakers will seek to cut state spending by $20 million, taking funds from general services and Medicaid, Senate Finance Committee Chairman Craig Blair said.

"We have reached a deal," Justice tweeted. "I stood rock solid on the 5% Teacher pay raise and delivered. Not only this, but my staff and I made additional cuts which will give all State employees 5% as well. All the focus should have always been on fairness and getting the kids back in school."

The governor, union leaders and the House of Delegates had agreed last week to the 5 percent pay raise for teachers, who are among the lowest paid in the nation and haven't had a salary increase in four years. But the Senate refused to go along, approving a 4 percent increase.

Some teachers cheered in the hallways of the Capitol after the governor tweeted the news. Others waiting inside the meeting room indicated that they're wary of getting excited until House and Senate majorities approve the deal.

"We've been down this road before," West Virginia Education Association President Dale Lee said. "The winners in this are the students of West Virginia and the educators across West Virginia who finally see a true investment in education."

The union's spokeswoman, Kym Randolph, said that if lawmakers quickly pass the legislation as they said Tuesday they intend to, teachers could be back at work Wednesday. "We just need to see it in writing," she said.
Dave Schuler, pointing to a brewing teachers' strike in Oklahoma, expressed sympathy:
You have to dig a bit for it but the issue is pay and I'm with the teachers on this one. They aren't paid enough. Pay for a teacher in Oklahoma starts at $37,000 and tops out at $46,000 at the highest lane and seniority. Median household income in Oklahoma is $43,000. That means that most teachers in Oklahoma earn below median income. That's not right. Plumbers in Oklahoma have a median income around the state's median and can earn as much as $75,000.
Gregory Krieg notes that the teachers in West Virginia have a similarly strong case:
The strike, which began on February 22 when some 20,000 teachers hit the picket line, has now forced school closures in all of the state's 55 counties. At stake are two apparently separate but deeply interwoven concerns: first, to secure a meaningful raise for educators whose compensation is among the lowest in the country and, second, though perhaps even more important, to come up with a fix for the Public Employees Insurance Agency, their embattled health coverage program.
Health care is a key element of the fight in West Virginia, where even the prospect of a modest pay hike is wiped out by declining benefits, which had until recently been a key draw to the public sector. Now, there are hundreds of teaching jobs unfilled — which further empowers the strikers, it's worth noting — and increasingly strident demands for more robust health care spending. (Or, at the very least, a serious effort by lawmakers to stabilize funding after years of cuts.)

The anger isn't new. Outrage has been brewing for months, years. The Charleston Post-Gazette described a tinderbox of frustration at a public hearing in Charleston last November and a sense — as teachers and their local union leaders railed against low wages and cuts to the Public Employees Insurance Agency — that extraordinary measures would be required to reroute the debate.
Because of their cause and shrewd public appeals, the teachers actually managed to gain sizable support from their students and parents. We'll see whether the legislature goes along with the raise.
Krieg notes that West Virginia and Oklahoma may be the start of a trend.
My longstanding position is that, unlike workers in the private sector, government employees shouldn't have the right to strike. We hold a position of public trust and shouldn't be able to use our offices to hold the public hostage. But that bargain has traditionally included a very competitive salary and benefits and employment guarantees unmatched in the private sector. It seems that the West Virginia legislature hasn't been holding up its end of the deal.
UPDATE (16:33): The legislature has reportedly passed the necessary measure, ending the strike.