California Judge Rules Teacher Tenure Unconstitutional
A landmark ruling out of California that could help propel a real debate on education reform.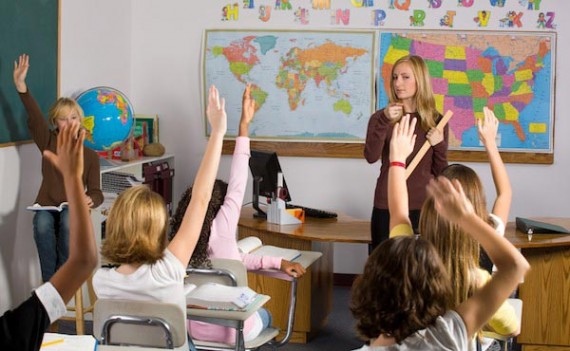 A Superior Court Judge in California tossed something resembling a legal hand grenade today in the form of an opinion declaring that state's teacher tenure rules unconstitutional because of the manner in which they purportedly deny poor and minority children of their rights to an education under the state constitution:
LOS ANGELES — A California judge ruled Tuesday that teacher tenure laws deprive students of their right to an education under the state Constitution. The decision hands teachers' unions a major defeat in a landmark case, one that could radically alter how California teachers are hired and fired and prompt challenges to tenure laws in other states.
"Substantial evidence presented makes it clear to this court that the challenged statutes disproportionately affect poor and/or minority students," Judge Rolf M. Treu of Los Angeles Superior Court wrote in the ruling. "The evidence is compelling. Indeed, it shocks the conscience."
The ruling, which was enthusiastically endorsed by Education Secretary Arne Duncan, brings to a close the first chapter of the case, Vergara v. California, in which a group of student plaintiffs argued that state tenure laws had deprived them of a decent education by leaving bad teachers in place.
The teachers' unions said Tuesday that they planned to appeal. A spokesman for the state's attorney general, Kamala D. Harris, said she was reviewing the ruling with Gov. Jerry Brown and state education officials before making a decision on any plans for an appeal.
"We believe the judge fell victim to the anti-union, anti-teacher rhetoric and one of American's finest corporate law firms that set out to scapegoat teachers for the real problems that exist in public education," said Joshua Pechthalt, the president of the California Federation of Teachers. "There are real problems in our schools, but this decision in no way helps us move the ball forward."
In the ruling, Judge Treu agreed with the plaintiffs' argument that California's current laws make it impossible to get rid of the system's numerous low-performing and incompetent teachers; that seniority rules requiring the newest teachers to be laid off first were harmful; and that granting tenure to teachers after only two years on the job was farcical, offering far too little time for a fair assessment of their skills.
Further, Judge Treu said, the least effective teachers are disproportionately assigned to schools filled with low-income and minority students. The situation violates those students' constitutional right to an equal education, he determined.
"All sides to this litigation agree that competent teachers are a critical, if not the most important, component of success of a child's in-school educational experience," Judge Treu wrote in his ruling. "There is also no dispute that there are a significant number of grossly ineffective teachers currently active in California classrooms."
But lawyers for the states and teachers' unions said that overturning such laws would erode necessary protections that stop school administrators from making unfair personnel decisions. They also argued that the vast majority of teachers in the state's schools are competent and providing students with all the necessary tools to learn. More important factors than teachers, they argued, are social and economic inequalities as well as the funding levels of public schools.
Observers on both sides expect the case to generate dozens more like it in cities and states around the country. David Welch, a Silicon Valley technology magnate who financed the organization that is largely responsible for bringing the Vergara case to court — Students Matter — has indicated that his group is open to funding other similar legal fights, particularly in states with powerful teachers' unions where legislatures have defeated attempts to change teacher tenure laws.
But critics of existing rules hailed the decision as a monumental victory and urged lawmakers to make immediate changes to laws. Mr. Duncan issued a statement saying the ruling could help millions of students who are hurt by existing teacher tenure laws.
"My hope is that today's decision moves from the courtroom toward a collaborative process in California that is fair, thoughtful, practical and swift," Mr. Duncan said. "Every state, every school district needs to have that kind of conversation."
The policy arguments against teacher tenure are old and well-known, of course. The idea that length of service should be the predominant criteria in determining whether or not a teacher stays on the job seems to fly in the face of the claims by educators and administrators that the quality of education is their primary concern. If that were the case, then it makes no sense to cut teachers who were only hired recently when budget cuts become necessary without any reference at all to whether or not they are better teachers than those who have been on the job for a longer period of time. Additionally, making it difficult to fire teachers about whom there are legitimate and verifiable complaints (such as a math teacher who has several classes where the majority of students get below average grades on a standardized test) does nothing to help students and everything to protect the entrenched interests of teacher's unions. Most major proposals for education reform, in fact, include at least some modification of teacher tenure rules that allow administrators to hold teachers more accountable for the quality of the education that they are providing to their students. That strikes me as a reasonable, and long overdue, policy proposal that ought to be enacted nationwide.
Notwithstanding those policy arguments, though, I find myself agreeing with Ed Whelan when he expresses skepticism about the Court's ruling:
The court extrapolates from state supreme court precedents (precedents that are highly dubious at best but that bind lower state courts) "an overarching theme [that] is paradigmatized: the Constitution of California is the ultimate guarantor of a meaningful, basically equal educational opportunity being afforded to the students of this state." Never mind that the relevant constitutional provisions the court cites seem to give broad discretion to the "Legislature." Declaring that the statutes shall be subject to strict scrutiny, the court rushes to the conclusion that they are unconstitutional.

On a first read at least, I don't see how the court is doing anything other than second-guessing the legislature's policy judgments.
Not being an expert on education law in general or California law in particular, I am not going to make any claim to know whether or not the Judge in this case was right or wrong on the law. However,I do have some of the same misgivings that Whelan does with decisions such as this where Courts take it upon themselves to make what on their face look to be policy decisions that ought to be something that the legislature deals with, especially at the state level. Courts in other states have acted in a similar fashion in the education area on issues such as how schools should be financed and what standards are appropriate in measuring how well schools are performing. To some degree, the courts are forced into this position by provisions in their state Constitutions which not only empower the state legislature to create and fund school districts or authorize localities to do the same, but also purport to make an "equal" education (or similar language) a constitutional right. Once you've done that, then Courts are not only empowered but obligated to act like quasi-legislatures when it comes to education policy notwithstanding the fact that courts in general and judges in particular are ill-suited to make broad public policy decisions for not only the parties in the case before them, but also for the state as a whole. The result is usually one that pleases nobody and doesn't really solve the problem, which is what is likely to happen in California unless this decision leads to a wider policy debate in the state.
That last possibility is perhaps the best thing that could come out of this. As I've said before, teacher's unions do themselves no favors when they resist efforts aimed at greater teacher accountability, and defend a tenure system that protects bad teachers and sacrifices good teachers at the expense of students. If they are really interested in reforming the profession they say they care about so much, they'd be willing to stop circling the wagons and start talking reform.
Here's the opinion: