Chicago's Very Well Paid Teachers Go On Strike, Abandoning 400,000 Students
Largely because they are resisting efforts to hold them accountable for their performance, Chicago's teachers are leaving 400,000 students locked out of school.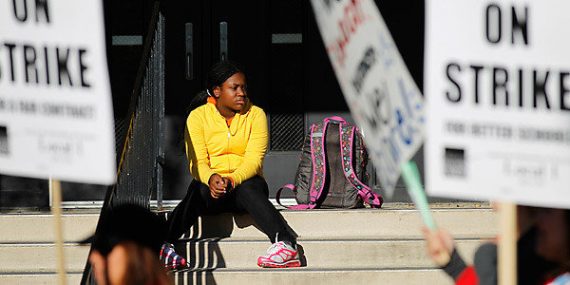 One of the largest school systems in the United States sits paralyzed today thanks to a walkout by the Chicago Teacher's Union after negotiations with the city failed to produce an agreement:
For the first time in 25 years, Chicago's teachers are on strike.

"Negotiations have been intense but productive, however we have failed to reach an agreement that will prevent a labor strike," Chicago Teachers Union President Karen Lewis said at a dramatic 10 p.m. Sunday press conference. "Real school will not be open [Monday]. … No CTU member will be inside our schools.

"Please seek alternative care for your children."

The announcement was quickly blasted by Mayor Rahm Emanuel as "a strike of choice" that didn't have to happen if talks continued. He repeatedly declared: "My team is available now."

But Lewis, just before the midnight strike deadline, said talks wouldn't resume until Monday. She said she texted School Board President David Vitale and they agreed to meet Monday.

A "disappointed" Emanuel said the latest deal offered to the teachers was "very respectful of our teachers and is right by our children."

"The issues that remain are minor," Emanuel said. "This is totally unnecessary. It's avoidable and our kids don't deserve this. … This is a strike of choice.

"It's down to two issues — finish it."

Although union officials say more topics are still being debated, the mayor said the two remaining stumbling blocks involve re-hiring laid off teachers from schools that get shut down or shaken up and a new teacher evaluation process that the union says puts far too much weight on student test scores.

"The kids of Chicago belong in the classroom," the mayor said during a late-night press conference at the Harold Washington Library, flanked by his negotiators.
As we discuss this issue, it's worth noting, what Dave Schuler, who lives in the area, points out over at his own place:
I've already expressed my opinion of wage increases for Chicago teachers: half of Chicago's teachers (plus more than half of Chicago's police officers and firefighters) are already in the top 10% of Chicago's income earners. They are the rich. The only feasible way to fund pay increases is by increasing property taxes, the burden of which will fall hardest on the poorest and weakest. We are living in a period during which public revenues are struggling to remain where they are. This is not the time for public employees to demand pay increases.
Interestingly, as Ed Morrissey notes, the strike does not impact the city's charter schools and the students who attend those institution are still getting an education today:
Leslie Daniels enrolled her son in a Chicago charter school three years ago because she didn't like the education he was getting in his local neighborhood school.

In the back of her mind, she also knew the school was less likely to be affected by labor problems because its teachers are not members of the Chicago Teachers Union. That's an added benefit now that the union has called for its first walkout in 25 years. All of the city's charter schools will remain open Monday.

"I'm glad I made the switch," said Daniels, 55. "I feel for the other parents because a lot of them are working. What are their children going to be doing?"

Charter schools, which are independently run but largely rely on public funding, have been growing steadily in Chicago over the last decade. Former Mayor Richard M. Daley pushed a major expansion of charter schools in the mid-2000s, promoting them as options for parents frustrated by low-performing public schools in their neighborhood.

As a result, the city's charter enrollment has nearly doubled in the last five years, reaching about 52,000 students this fall, according to Chicago Public Schools figures. Mayor Rahm Emanuel, like his predecessor, wants to see charter options expand even further, and there are plans for 60 more charter schools in Chicago over the next five years.

The Chicago Teachers Union has fought the growth of charter schools because the majority of teaching staffs are not members of unions and none belong to CTU. Union leaders argue that charters devalue the profession by paying their teachers less, and that public money is diverted from struggling neighborhood schools to support charters, even when charters don't perform significantly better.

Charter operators said more parents have been asking about the schools in the last several weeks since union teachers first threatened to strike, and charter supporters are capitalizing.

"I just see charter options and opportunities growing in any event (but) if there's a strike the pace might accelerate," said Andrew Broy, president of the Illinois Network of Charter Schools.
Indeed, one has to wonder if this strike, depending on how long it lasts, will cause more parents to consider Charter School enrollment for their children when the opportunity next arises. It has to be better than what they're being subjected to now. This would seem to be especially likely given the fact that, according to reports, the CTU had rejected a 16% pay increase over four years in an era when many people are just happy to be working to begin with, never mind demanding a pay increase in a world where there's a massive pool of unemployed workers out there ready, willing, and able to replace them if necessary. Not to mention the fact that there's no other profession in the country that has anything approaching the idea of "tenure."
So what's this strike really about if not money, well there is the old issue that teacher's unions seem to be coming back to more and more each year anymore, accountability:
In exchange for the salary increase, Mayor Rahm Emanuel and others are insisting that standardized test scores play some role in evaluating teachers and that school principals be given more power to run their schools the way they want to.

(…)

[I]t certainly can't be that complicated to come up with a way of benchmarking student progress that takes into account the effect of specific teachers. One of the most ridiculous claims emanating from teachers unions is the persistent idea that teaching abilities can't be quantified in any meaningful way as it relates to merit. Somehow, every other profession on the planet – including teaching at the college level – finds ways to assess and reward good performance.
When I see teacher's unions resisting calls for accountability on the part of their members, it leads me inevitably to the conclusion that they do not want their members to be held accountable, and they don't want administrators and parents to have more power to protect children from incompetent teachers. Considering that the unions exist for the sole purpose of protecting their members, that's hardly surprising, but it does suggest that the days of giving these organizations wide swaths of power and refusing to cave into their demands. Teachers exist to do a job if objective test results are clearly indicating that individual teachers are not doing that job, then there's no rational reason why it should not be easier to get rid of them regardless of how long they've been part of the system.
There's been some suggestion that Rahm Emanuel is taking a political risk by standing up to the teacher's union, but I'm not so sure of that. We've already seen the electoral benefit that Scott Walker received in Wisconsin for taking on public sector unions, as has New Jersey Governor Chris Christie. Just north of Christie in New York, Governor Andrew Cuomo has been as hard-nosed as his Republican neighbor in dealing with the unions, and he's got approval numbers that would seem to indicate that he's pretty much untouchable for re-election in 2014 at this point in time. It's just as likely that Emanuel will reap political gains from this showdown with the CTU, a showdown that, in the end, he is likely to win simply because of the economic and political realities of the situation. The days when organizations like the CTU can hold a city hostage like this are long gone, and the longer they stay out I suspect they will lose more and more public support.