DC Area Schools Not Opening
The lousy hybrid option has been scrapped in favor of a worthless virtual one.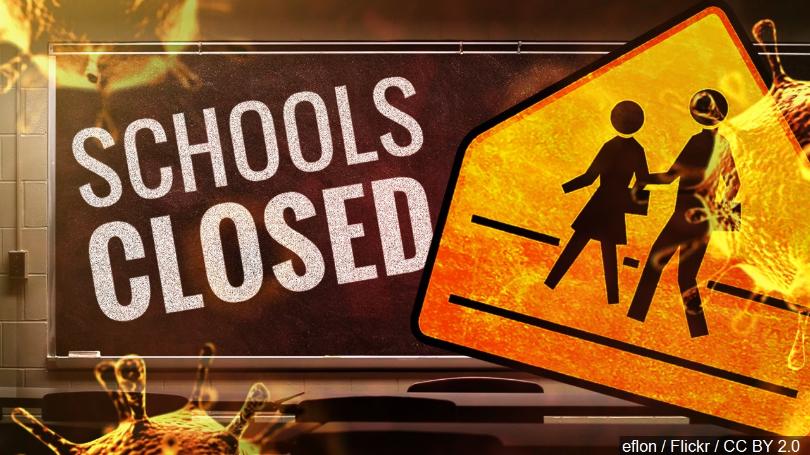 In a stunning reversal to an already-inadequate plan, the local schools are likely going virtual-only for the fall, which will cripple working families and forever stunt the development of young children.
WaPo ("Fairfax, Loudoun, Montgomery call for all-virtual start to school year, scrapping earlier plans"):
In a major reversal, the superintendents of three large public school systems in Virginia and Maryland are calling for an all-virtual start to the fall semester, scrapping earlier plans to offer a mix of in-person and distance learning.

The superintendents of Fairfax County Public Schools and Loudoun County Public Schools, both in Northern Virginia, argued for an online-only start in meetings with their school boards Tuesday. The superintendent of Montgomery County Public Schools in Maryland announced the switch in an email late Tuesday afternoon to parents, students and staffers.All three districts are among the largest and most highly regarded public school systems in the Washington area.

They are all defying intense pressure from the Trump administration, which has urged schools nationwide to reopen their doors five days a week come fall.

In explaining his decision, Fairfax County Schools Superintendent Scott Brabrand said the United States has failed to contain the novel coronavirus. "The covid-19 pandemic looks much different than it did even three weeks ago," Brabrand told board members during the meeting. "Now we are experiencing a surge of covid-19 across the country, and it will impact us here in Fairfax County. The numbers do not lie."

The Fairfax County School Board debated the superintendent's recommendation late into the night Tuesday, in a heated meeting that lasted more than seven hours and at times devolved into a shouting match. Close to 9 p.m., the board took an informal poll at the superintendent's request, and a majority — nine of 12 members — said they supported the all-virtual option. This consensus agreement, although not a formal vote, allows Brabrand to move forward with planning.

[…]

The three announcements, which tumbled out rapid-fire one after the other, left thousands reeling throughout both states. Many residents of Virginia and Maryland — including some members of the Fairfax County School Board — said they felt blindsided by the last-minute recommendations, which came weeks before school is slated to start.

The switches also came days after Fairfax, which enrolls 189,000, and Loudoun, which enrolls 83,000, had formally asked parents to choose between two enrollment options for the fall, an all-virtual plan or a hybrid one. That choice revealed a split: A clear majority of Fairfax parents, 60 percent, chose in-person learning, while a slight majority of Loudoun parents, roughly 51 percent, did. Those who did not respond were counted as selecting in-person learning.
The virus is largely under control locally. The real issue is powerful teachers unions:
Teachers in particular responded with frustration last week as union leaders presented details of what the hybrid approach could involve. In recent days, Montgomery teachers had sent hundreds of emails calling for remote learning for the fall semester — and similar scenes had played out in Fairfax and Loudoun. Surveys in both districts showed teacher support for the online-only option: 52 percent of Fairfax educators indicated a preference for such teaching, and 46 percent of Loudoun teachers.

In part citing these surveys, the superintendents in both Fairfax and Loudoun said in-person schooling would be impractical this fall because too few teachers indicated they would be willing to step back in the classroom. In Fairfax, roughly 10 percent of teachers requested health exemptions under the Americans With Disabilities Act, Brabrand said, and requests for leaves of absence doubled from last year. In Loudoun, Williams said, so many teachers asked for child-care-related leave, requested leaves or resigned from their posts — saying they do not feel confident in the planned safety precautions — that it would be impossible to offer in-person instruction for every student whose family requested it.

Fairfax's Brabrand asked a handful of principals, whom he had invited to the videoconference, to explain their personnel predicaments. "The bottom line is, without additional staffing — actually having significantly more teachers — we cannot make this work," said Amy Goodloe, principal of Rocky Run Middle School.

Educator reactions such as these, coupled with concerns about rising coronavirus infection rates, have already persuaded large school systems throughout the country to opt for an online-only start to next school year. Although the science around reopening is inconclusive and it remains unclear how easily children spread the virus to adults, school systems in Los Angeles, San Diego and Atlanta have already picked the all-virtual path.
We had an awful experience with online learning, so I'm angry at this development. Fairfax County is among the richest in the country but the local schools failed us miserably. Despite shutting down for an entire month to plan, they laid an egg. They delayed yet another week and then came back with sporadic instruction for a couple hours a day, with constant connectivity failures. And my then-fifth grader's teacher relocated to her beach house, which she claims had poor Internet service, and disappeared for days on end.
Still, one sympathizes with the teachers who want to do their jobs but fear for their safety. While young kids seem to be virtually immune from the virus, teachers tend to be older and many are immunocompromised or share a household with someone who is. Further, under the hybrid option, they're in the same boat as the other parents: having to figure out how to both do their jobs and teach their own kids when they're not in school.
Private schools, who exist in precisely the same epidemiological environment but who get funded only if they actually provide service, are opening.
When I saw the NYT headline "In the Same Towns, Private Schools Are Reopening While Public Schools Are Not" the other day, my reaction was cynical. But the piece points out that, aside from the financial incentives, they have some decided advantages:
Public schools plan to open not at all or just a few days a week, while many neighboring private schools are opening full time.

Private schools may reverse course if there are outbreaks in their communities, and governors could still shut down all schools if they determine that local infection rates call for it. Some families and teachers won't feel comfortable returning. But the ways in which private schools are reopening show it can be done with creative ideas — and the money to carry them out.

Public schools, which serve roughly 90 percent of American children, tend to have less money, larger class sizes and less flexibility to make changes to things like the curriculum, facilities or work force.

"The virus is this huge stress test on our education system," said Robert Pianta, dean of the school of education at the University of Virginia. "It has exposed a great deal of inequity, and we are going to see this only exacerbated in the coming months, not years. Certain kids in certain systems, depending on the resources, are going to get much closer to what looks like a typical high-quality education than others."

Gretchen Hoff Varner, a lawyer in Alameda, Calif., and the mother of two elementary schoolers who will go to school part time this fall, said public school educators had done a heroic job with what they have. But the fact that they cannot fully open while independent schools can, she said, represents "a failure of political will and resources."
Locally, at least, the public schools have been far from "heroic." They've been an abject failure. And this is rather silly:
"If we were a country interested in saving schools the same way we've saved airlines and banks, then this is a problem we could solve," said Ms. Hoff Varner, who was the P.T.A. president at her children's school last year.
Obviously, schools are a much bigger enterprise than airlines. And, presuming she's referring to the 2008 economic crisis, banks didn't need to radically restructure their operations; they just needed short-term loans.
Still, public and private schools are often apples and oranges:
Private schools were able to offer much more robust online learning last spring, and research suggests that school closures have widened achievement gaps. Now, as private schools move forward with reopening plans, it's the children who most need to attend in-person school — those lacking the necessary technology for online learning, or with parents unequipped to oversee it — who will tend to be the least likely to do so.

The biggest challenge for schools is how to maintain physical distance, as required by guidelines from state governments and the Centers for Disease Control and Prevention. Most countries where schools have opened after reducing infection levels and imposing distancing measures have not had outbreaks.

It generally means capping classes at around a dozen. Public school buildings in the United States are often old, with small classrooms, cramped hallways and outdated ventilation systems. Independent schools (private schools not run by a for-profit company or religious organization) are more likely to have smaller class sizes to begin with, and money to hire additional teachers.
Additionally, there are some serious disparities in how schools are funded:
Public schools faced a funding crisis even before the pandemic. K-12 schools received $13.5 billion from the federal coronavirus relief package in March (though Education Secretary Betsy DeVos has required that it be shared with private schools). School officials and education policy researchers say that the money was not nearly enough, and that because states are facing budget shortfalls because of lockdowns, schools would need a huge federal infusion of cash to reopen for all students. An average district with 3,700 students and eight buildings would need to spend an additional $1.8 million on health and safety measures, a report estimated.

"There's a giant hole in state and local tax revenue due to not bringing in money over the past months," said Sarah Cohodes, an associate professor of economics and education at Teachers College at Columbia. "Schools need more money. The money needs to come tomorrow. There's no way anything can happen without the money."
In Fairfax County, schools are mostly funded with property taxes, which are only going up. (According to their budget documents, 71.3 percent of their budget is funded by the county, 23.3 percent by the state, 1.5 percent by the federal government, and 3.4 percent from "other sources.") Presumably, that doesn't include the $5.2 million grant under the CARES Act to fund additional nurses, cleaning, etc. (the need for which is not obvious if they're not open).
I'm more than a little bit frustrated at how poorly this has been managed and remain shocked that Scott Braband has not been fired for his rank incompetence. But, of course, his ineptitude has been exceeded by orders of magnitude by President Trump and his administration, who blew it every way possible in responding to the pandemic.
Most obviously, we've failed to contain the virus. Or even get testing in place. Indeed, we're falling further behind.
As to the schools themselves:
We blew schools. Congress allocated $150 billion for state and local governments as part of the CARES Act, but that was aimed at maintaining status services in the face of plummeting tax revenue.

*There was no money earmarked for schools to buy new safety equipment, nor to hire additional teachers who might be needed to staff smaller class sizes and hybrid learning days.

*U.S. Education Secretary Betsy DeVos was not among the 27 officials included in the White House Coronavirus Task Force, and rarely appeared at Task Force press conferences.

*The administration insists that schools should reopen this fall because kids are less likely to get very sick from the virus, but it has not yet offered detailed plans to protect older teachers, at-risk family members, or students with pre-existing respiratory or immune conditions.

*Silicon Valley provided some free services to schools, but there was no coordinated effort to create a streamlined virtual learning platform. There also continue to be millions of schoolkids without access to broadband and/or Internet-connected devices.
Granting that Betsy DeVos' presence would have been anything but helpful, it's clear the administration simultaneously understood the political necessity of getting schools back open while doing nothing to facilitate it.
Parents are rightly outraged that we're still in this situation months into the crisis and with no end in sight. There's plenty of blame to go around but it all starts at the top.