Fairfax Schools Give Incompetence a Bad Name
A fiasco wrapped in a clusterfuck.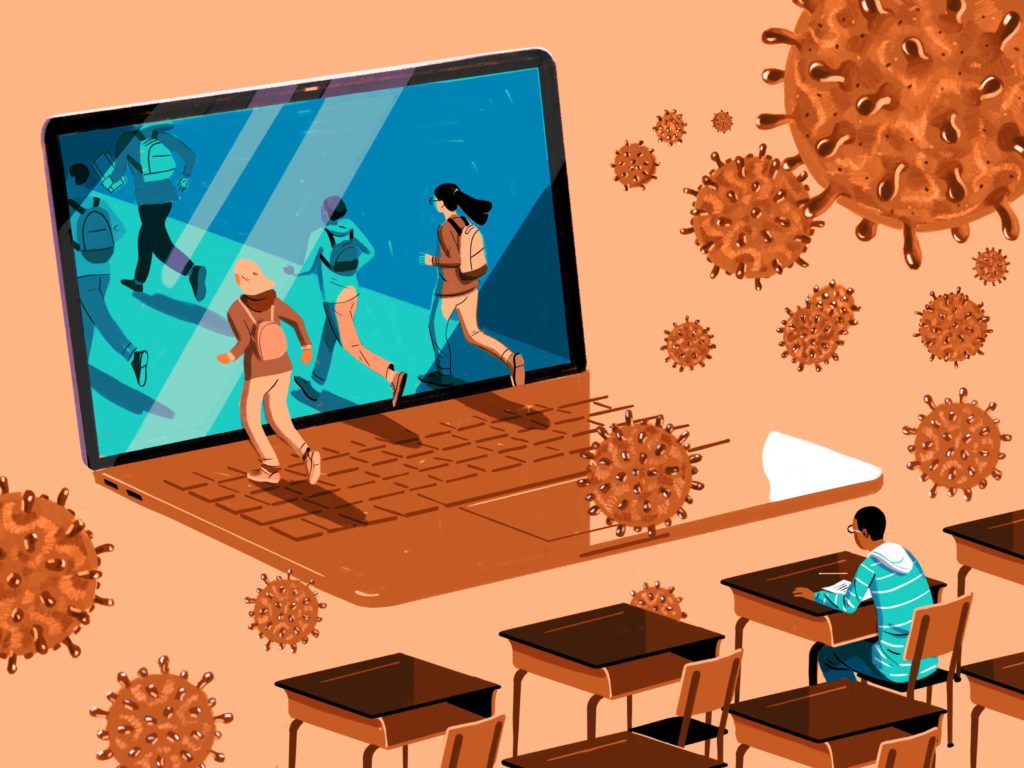 In my March 13 post "Fairfax County Schools Do Right Thing for Wrong Reason After Doing Wrong Thing," I detailed how Scott Braband, the superintendent of our kids' school district, botched the handling of the coronavirus epidemic, closing schools—for that day only—only after angry parents forced his hand. That afternoon, Virginia Governor Ralph Northam made it a moot point, closing schools statewide for three weeks. And well before the re-open deadline, Northam declared them closed for the remainder of the school year.
Braband and company declared that the schools were going to use up the "snow days" built into the calendar and offer no instruction for a month and would then reopen on April 14 with a virtual model. It didn't go so well.
WaPo's Hannah Natanson ("Failed tech, missed warnings: How Fairfax schools' online learning debut went sideways"):
As schools across America, shut down by the novel coronavirus, scrambled to kick-start online learning, one of the largest and best-ranking school systems in the nation took its time.

Fairfax County Public Schools, in Northern Virginia, waited four weeks, including a week of spring break, before launching virtual school for its 189,000 students. It finally started on Tuesday, when teachers and children sat before screens to embark on a plan the superintendent promised would allow students "to continue learning . . . while being mindful of their health and wellness."

The trouble started immediately, as many students and teachers found it impossible to log on. For some who could get online, things only got worse: Classes were hijacked by racist, homophobic and obscene language. Students appeared on screen naked or flashed weapons.

Fairfax canceled school for the rest of the week. In the days since, teachers and families have demanded to know how and why things went so wrong.

"Our families patiently waited for us to roll out this distance learning," said Fairfax County School Board member Megan McLaughlin. "What happened this week — it just never should have happened. There's going to be a great deal more of extensive review by this board of why and how it did happen."

Interviews with more than a dozen Fairfax employees and families suggest initial answers: Needed technology updates were neglected for more than a year. Basic privacy features were ignored. And teachers were left adrift with scant guidance.
There's a lot more there but it's a story of rank incompetence and criminally poor leadership.
At any rate, after yet another week with no teaching whatsoever, they tried again yesterday. Let's just say things didn't improve.
Natanson again ("Fairfax temporarily cancels face-to-face video instruction, retains law firm to review botched debut of online learning"):
Fairfax County Public Schools is canceling face-to-face virtual instruction for now and launching an outside review of its distance learning, as a second attempt to launch online offerings sputtered Monday morning and as new evidence emerged that employees warned of possible technical troubles weeks ago.

After abruptly canceling online learning last week, Fairfax, one of the country's largest school districts, tried again Monday morning. But parents, teachers and students reported difficulties logging in to Blackboard, the district's virtual learning platform. For some who could get online, class materials took too long to load, audio would not play or video froze repeatedly.

In a midday message to families, Fairfax administrators said the 189,000-student school district would continue "with distance learning today despite the continuing problems." The message noted that system updates implemented by Blackboard over the weekend had not corrected technical problems.

In a statement, Blackboard said that it was "working around the clock" to fix the problems and that the system is "currently working properly."

But late Monday, Schools Superintendent Scott Brabrand wrote in a message to families that the district would "move away from Blackboard . . . as a tool for face to face instruction." He said students and teachers would continue to use the technology to "access instructional resources and supports."

Brabrand also said he had retained a law firm, Hunton Andrews Kurth LLP, to conduct a "comprehensive, outside review" of how Fairfax rolled out distance learning. The firm, which specializes in information technology and cybersecurity, is slated to deliver a report within the next few weeks.

In addition, the superintendent said he has formed a three-member advisory council to help resolve "distance learning challenges." The council will examine best practices in the private sector, as well as suggest improved technology, Brabrand wrote.

In the immediate future, Fairfax teachers will refrain from real-time video instruction, and use tools such as Google Classroom, prerecorded videos and learning packets, Brabrand wrote. He said the system is working to replace the live instruction feature previously provided through Blackboard.

"Teachers will contact students over the next several days about virtual learning opportunities and the platform that will be used," Brabrand wrote. He added he recognizes that the ongoing stumbles are "frustrating and disappointing for everyone."
Five weeks into this mess—and it's not like we didn't know school closings were coming well before that—that's hardly sufficient.
Further, as both reports detail, Braband and company were repeatedly warned about these issues. Hell, I knew about most of them a month ago myself and I'm not in charge of a school system.
Four days after Fairfax County schools closed, our college shifted to a remote model. Granting that we're a whole lot smaller than a school system, we managed to figure it out. With less than a week's notice, we figured out how to hold synchronous sessions on Zoom, Google Meets, and Adobe Connect. Professors figured out on almost no notice how to record lectures and post them to Moodle or YouTube.
It hasn't gone without hiccups but, basically, we're continuing on. Leadership got ahead of the problem and the faculty and staff pushed information to one another swiftly so that everyone could learn from mistakes made by faculty elsewhere or how to work around glitches in the various systems.
Again, I realize that getting a faculty of 30 ready to teach 220ish students is a very different enterprise than getting a large, distributed school district ready. But we didn't take five weeks off, either.
The Blackboard is a lousy learning management system is not new news. That any number of widely available and essentially free products are much easier to use was known and communicated to leadership by Fairfax County's technical support folks and teachers alike.
That Braband has not yet been fired astounds me.