Protesting the New Superintendent
An odd kerfuffle in local education politics.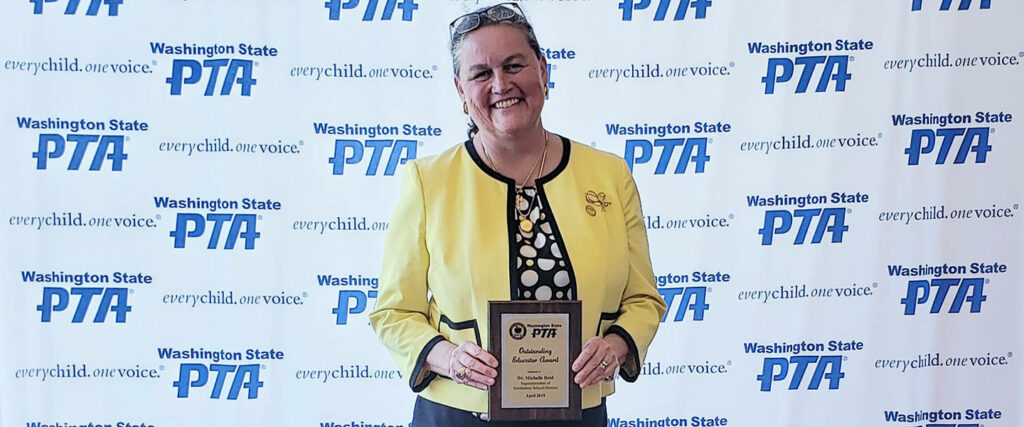 Scott Braband, the controversial superintendent of Fairfax County Schools, is "retiring" at the end of his contract in June and a months-long process to find his successor ended in a decision earlier in the week. Many groups are unhappy for different reasons.
WTOP News ("Michelle Reid named Fairfax County schools superintendent"):
Virginia's largest school system has picked its next superintendent.

The Fairfax County, Virginia, school board selected Michelle Reid during Thursday's board meeting following a 9-3 vote. Reid will take over for Scott Brabrand, whose last day is June 30. Brabrand announced plans to step down last summer — he has been named the executive director of the Virginia Association of School Superintendents.

"I'm grateful to have this opportunity and I'm thrilled to serve this community and earn the trust of each of you on the board," Reid said after Thursday's vote. "I've listened carefully and will be thoughtful and reflective about everything I've heard and you will have my best."

Reid comes to the D.C. region from the Northshore School District in Bothell, Washington, where she has served in the same capacity, overseeing the 24,000-student district.

She takes over at a time when Virginia Gov. Glenn Youngkin has launched a search for "divisive concepts" taught in schools and urged parents to report teachers who introduce "divisive topics" in class to an email tip line.

Reid will also be tasked with helping students catch up after the pandemic forced schools to temporarily close, and arrives in the midst of a legal battle between students and parents over the admission policy at the prestigious Thomas Jefferson High School for Science and Technology.

Her appointment completes a monthslong search that has been criticized in recent days. The Fairfax County NAACP released a six-page letter last weekend that included the names of two people thought to be finalists for the position — Reid and Cheryl Logan, superintendent of Omaha Public Schools, who has experience working in Prince George's and Howard counties in Maryland.

However, in an updated statement this week, the chapter said Logan withdrew her candidacy before being publicly named as a finalist. The statement prompted other organizations to express frustration with the hiring process, saying the board didn't solicit enough feedback.

During Thursday's meeting, a motion to delay the vote to allow more time for community input was introduced but ultimately failed. At-Large board member Karen Keys-Gamarra introduced the proposal, saying the timing for the board's final decision was rushed as the announcement of a vote and the contract was posted Wednesday night.

"Despite the qualifications of Dr. Reid, I happen to believe the other candidate was more qualified," Keys-Gamarra said. After naming 50 organizations and community leaders who reached out concerned about the process, she said, "to jam this vote through, in my opinion, is sending them a message that they don't matter."

The county hired search firm GR Recruiting to lead its search, and it administered a survey to parents, students, and staff and held a series of town hall meetings before screening candidates. Multiple board members voiced their support for the process, calling the search "extensive" after receiving 72 applications.

Mason District board member Ricardy Anderson was the only other member who supported the motion, saying that while it might not have impacted the outcome, it is "disappointing" that the community feels that it was not a part of the process. She mentioned students organizing walkouts Thursday and a rally before the meeting protesting the lack of student involvement in the process.
WaPo ("Fairfax chooses new superintendent as NAACP, parents, students protest pick"):
Fairfax County Public Schools has named its next superintendent — but the pick, Michelle Reid, is opposed by the county NAACP chapter, a Black educators' group, several parent groups and hundreds of students, dozens of whom left class Thursday morning to protest both Reid and how she was selected.

The Fairfax school board voted 9 to 3 to confirm Reid as the successor to Superintendent Scott Brabrand at a tense, at-times emotional meeting Thursday night. Reid, a former principal who earned a master's degree and an educational leadership doctorate from the University of Washington, will leave her job as superintendent of the Northshore School District in Washington state, a role she has held since 2016. She was named the 2021 national superintendent of the year by the School Superintendents Association.

[…]

The vote came after a turbulent final two weeks of the superintendent search, which saw students, parents, the NAACP and the Fairfax Alliance of Black Schools Educators all raise complaints that Reid is insufficiently experienced to lead the Fairfax system, which enrolls 180,000, because the Northshore district is much less diverse and smaller, with about 22,000 students.

The Fairfax NAACP and the Alliance of Black School Educators — as well as the students — also raised concerns that Reid did not do enough to improve racial disparities in academic outcomes while she helmed the Northshore system. Parent groups, meanwhile — some of which formed during the pandemic to push for reopening — blasted Reid's record on school closures, noting that the Northshore district was one of the first in the nation to close but among the last to reopen.

And everybody said they felt left out of the months-long superintendent search and asked for more chances to give input.

"We feel it's key that students should have a say," said Jaya Nachnani, an 18-year-old senior at Mount Vernon High School, where she said more than 100 students walked out to protest Reid's appointment Thursday morning. "We want to know if she'd be prepared for such a diverse and big county, because you know it's a totally different ballgame."

[…]

Fairfax's superintendent search began last summer after Brabrand announced he planned to leave the job when his contract expires June 30. It proceeded for months — and involved surveying parents, students and staff as well as holding at least three "community stakeholder meetings" and six virtual town halls.

"This board was very, very transparent in publishing what our calendar would be, what our process would be, that it would be a confidential search as we've done in recent memory," board member Megan McLaughlin said. "I don't feel that we have rushed this process or had a lack of transparency."

Added board member Elaine Tholen: "We worked as a board for months and months and months. We held public sessions. We tried to hear from the public — I'm really hurt that people feel disenfranchised."

[…]

Much of the NAACP statement focused on the fact that Fairfax is significantly larger and more diverse than Northshore. Fairfax's student body is about 37 percent White, 27 percent Hispanic, 20 percent Asian and 10 percent Black; Northshore is 60 percent White, 17 percent Asian, 13 percent Hispanic and less than 2 percent Black.

The letter also cited Washington state data on student performance in the Northshore district, noting racial disparities — including the fact that 25 percent of Black students and 22 percent of Hispanic students in Northshore passed state math assessments in fall 2021, compared with 74 percent of Asian students and nearly 50 percent of White students.

"Similarly disturbing is the data showing that despite only 34 Black students in the 2021 Senior class for the whole district, only 88% graduated on time," the letter stated. "We are very concerned about the likelihood of success for a new superintendent who has no professional experience in any capacity with a school district of the size and diversity of FCPS."

The NAACP statement also said the group asked to be included in a panel that interviewed the finalists but was denied permission. Responding to the NAACP's concerns, the Fairfax Alliance of Black School Educators on Tuesday published an open letter critiquing the superintendent search process, as well as Reid.

The alliance's president, Anthony Harris, said in an interview Thursday that he finds it "problematic" that his group was not asked to participate in the interviews of finalists. He noted alliance representatives were asked to help interview candidates for Fairfax's chief equity officer and chief academic officer positions.

[…]

Meanwhile, Fairfax parents and parent groups who have been sharply critical of school closures took Reid to task on social media for Northshore's relatively slow reopening process.

Northshore was reportedly the first district in the country to close when the coronavirus pandemic began in March 2020. It began returning some students to a hybrid form of in-person learning in March 2021 and reopened for full-time in-person learning in September 2021.

The Fairfax County Parents Association tweeted Sunday that Reid "was one of the worst in the country at reopening," linking to a local news story, published February 2021, that quoted Northshore parents frustrated with the pace of the return to face-to-face instruction.
Despite my two children being in the system, I haven't paid all that much attention to the process. I was aware that there were multiple town hall meetings and other opportunities to provide input but, frankly, those tend to generate more heat than light.
The first time the search got on my radar was a few days back when the NAACP issued a statement denouncing the process and insisting that a Black candidate be chosen. That candidate, Logan, had apparently not been public with her candidacy and immediately withdrew, presumably to preserve her current position.
Offhand, both Logan and Reid appear well qualified. Logan has experience in the DMV (DC and its Maryland and Virginia exurbs) and Reid doesn't. But it's pretty common to hire from outside a region for executive-level positions. Both have held similar positions in much smaller school districts for a similar amount of time. The consternation over one being "more qualified" than the other is unwarranted.
The notion that student groups should have had more than token input is risible. What do 17-year-olds know about what makes a good school superintendent? That various public interest groups, whether the NAACP or anyone else, should have directly participated in the interview process is even more bizarre.
The process was incredibly open to public comment for months on end. And, the end of the day, the selection was made by a democratically elected school board.
I see two substantive issues.
First, it's true that Fairfax is incredibly large and diverse and that Reid's district is much smaller and less diverse. But the criticism of her record on diversity issues is oblique. That Black and Hispanic kids do less well in school that White and Asian kids is hardly unique to Northshore or the Upper Northwest. And I simply have no basis on which to judge the fact 4 of 34 Black kids didn't "graduate on time." Compared to what?
Second, she seems to have been hyper-cautious on the matter of school closures for COVID. I find that interesting but, again, don't have much basis for assessment. That hers was among the earliest districts in the country to close is hardly surprising; the West Coast got hit by the virus first. Whether she was too risk-averse in re-opening is another matter but, again, what was the landscape? Were viral conditions worse there than here? Were parents more supportive of keeping the schools closed? Was remote learning more viable there, given that the district was mostly White and Asian and, therefore, presumably more affluent? I'd need to know those things before rendering a judgment.