Fairfax County Schools Do Right Thing for Wrong Reason After Doing Wrong Thing
Schools were going to be open today. They're closing after parent pressure.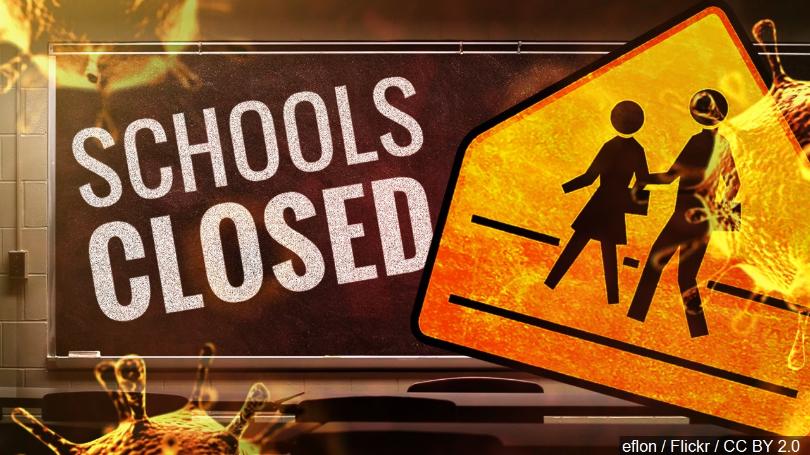 Earlier this week, we received notice that our local schools would close next Monday (March 16) so that teachers and administrators could huddle to figure out how to shift to distance learning in event schools needed to shut down in response to the COVID-19 pandemic. They also canceled a few field trips and extracurricular activities.
At 8:37 last evening, Scott Braband, the system Superintendent, sent out a mass email titled "COVID-19 Update from the Superintendent" explaining why he had not yet made the decision to shut down schools even though neighboring districts and the local community college already had. It said, in part,
I want to share with you a statement from Dr. Gloria Addo-Ayensu, Health Director, Fairfax County.

"I support the Fairfax County Public School's decision to remain open at this time. To date, the individuals who have tested positive for COVID-19 in Fairfax have been associated with travel to affected areas or are close contacts of people who have been diagnosed with COVID-19. They contracted the illness through direct exposure rather than through sustained community spread. Schools serve an important and vital function in our community. Keeping schools open, whenever possible, is critical at this time. If, and when, it is determined that our contact investigations show any connection to the school system, we would provide closure guidance and recommendations. These would be based on sound, public health principles. If a confirmed case of COVID-19 is identified in a school (staff or student), our recommendation would be to close that particular school for 2-14 days, depending on the level of exposures, for cleaning and contact tracing. We would monitor students and staff and re-open after that time."
They also announced further cancelations of after-school events.
My initial reaction to the email was to wonder why Dr. Gloria Addo-Ayensu seemingly knows less about how pandemics work than I do. Yes, I'm a Dr. But it's in political science, not epidemiology.
Every informed citizen ought to understand by now that, by the time a "contact" is identified, it's too fucking late to close the schools because symptoms don't manifest for days and people will unknowingly spread the disease far and wide, putting vulnerable people in mortal danger and risking overwhelming our health system.
I responded to the email pithily:
This isn't how pandemics work. By the time kids in the schools show symptoms it's too late. And they'll infect their grandparents, some of whom will die.
The 996 people who responded to the tweeted version of the announcement were also apparently more up to speed on how pandemics work than the Health Director of Fairfax County Public Schools.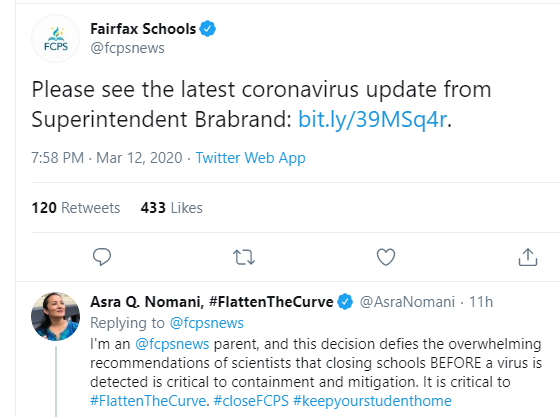 Aside from explaining the concept of flattening the curve, many pointed out that the risk of exposure from outdoor sporting events was likely lower than, say, cramming 35 kids into a small classroom with recirculated air for 8 hours.
A second email, again titled "COVID-19 Update from Superintendent," was sent at 11:43 pm. It read,
During the past several hours we continue to hear genuine concerns from parents about keeping our schools open while the coronavirus response escalates around the country. Schools are closing in Maryland and several other states and a state of emergency was declared in Virginia. As a result, and in an abundance of caution, I believe it is prudent for FCPS to cancel school tomorrow to help ease parent, staff, and student anxiety.

Therefore, all FCPS schools will be closed Friday, March 13, 2020.
This was, of course, the right move. But it was made for the wrong reason. The purpose of closing schools is to keep people alive, not "ease anxiety."
And, indeed, he hasn't even made that decision yet:
Monday, March 16, will remain a student holiday/staff development day to allow our classroom teachers to prepare for the possibility of distance learning.

This remains a very fast moving narrative and the situation Monday is likely to be very different than today. We will determine Monday how we will proceed long term with FCPS operations.
My inclination at this point is to keep the kids home regardless. It's simply incomprehensible that the school superintendent and health director are this slow on the learning curve.
UPDATE: The Governor took it out of Braband's hands, ordering all public schools in the state closed through March 27. Since FCPS is on Spring Break the following week, that means classes are suspended through April 10.
That's going to be really hard for most people to deal with, financially and socially. The schools are providing free weekday breakfast and lunch to anyone under 18 who wants them throughout the shutdown.