Virginia Democrats Call On Lt. Governor To Resign
In a replay of last week, Virginia's top Democrats are calling on a state official to resign. This time, though, it's Lt. Governor Justin Fairfax.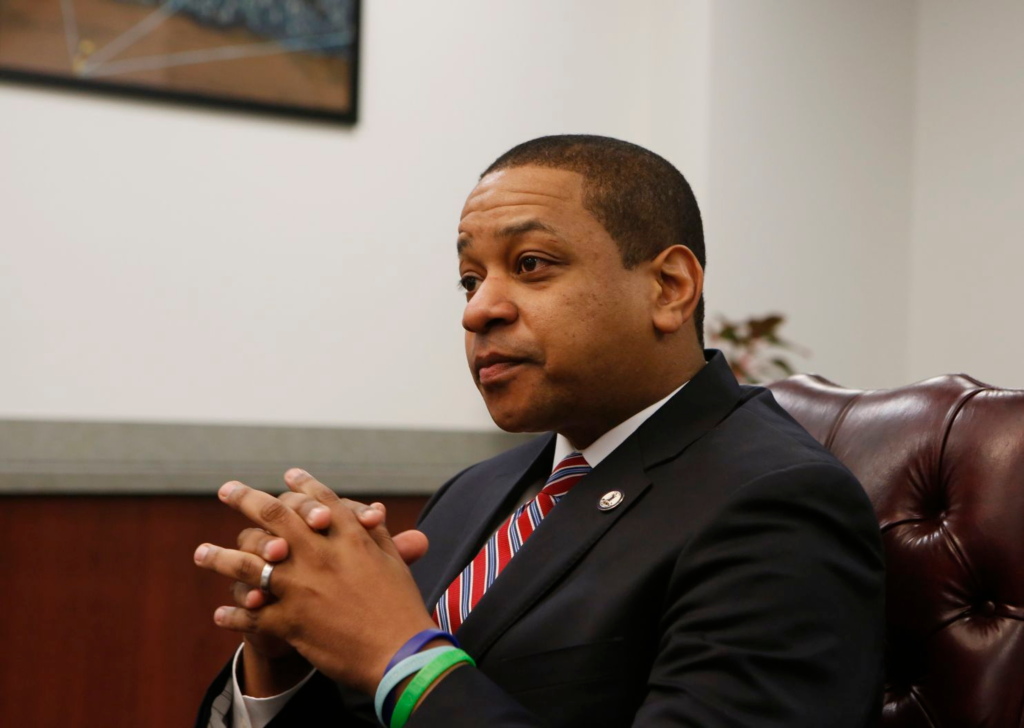 Amid a second round of accusations against him alleging sexual assault, Virginia Lt. Governor Justin Fairfax finds himself under the gun from his fellow Democrats:
RICHMOND, Va. — Lt. Gov. Justin E. Fairfax of Virginia faced a wave of demands for his resignation on Friday night — and the threat of impeachment proceedings — after a second woman came forward to accuse him of sexual assault.

His detractors included an increasing number of fellow Virginia Democrats, including Senator Tim Kaine, at least seven members of the state's congressional delegation and former Gov. Terry McAuliffe. Some raised pointed questions about whether he remained fit to succeed Gov. Ralph Northam, who has been under pressure to resign over his acknowledgment that he once wore blackface.

Mr. Fairfax, who until this week was a rising star in Virginia politics and only the second black man ever elected to statewide office, denied any wrongdoing and vowed not to quit. But his political standing appeared to be in a free fall by Friday night, when the Democratic caucuses in the state House and Senate said that Mr. Fairfax needed to quit.

"Due to the serious nature of these allegations, we believe Lt. Gov. Fairfax can no longer fulfill his duties to the Commonwealth," the caucuses said in a statement. "He needs to address this as a private citizen. The time has come for him to step down."

Mr. Kaine, a former governor, wrote on Twitter late Friday evening that the allegations against Mr. Fairfax "detail atrocious crimes" and that "he can no longer effectively serve the Commonwealth." Senator Mark Warner, also a former governor, described the day's disclosures as "devastating" and said that if the allegations were accurate "then they are clearly disqualifying and he must resign."

Earlier in the evening, Mr. Fairfax faced other calls from Washington for his exit.

"Given recent developments, I believe that it is best for the Commonwealth of Virginia if Justin Fairfax dealt with these accusations as a private citizen," Representative A. Donald McEachin, an African-American Democrat whose district includes Richmond, the Virginia capital, wrote on Twitter. "He can no longer serve us as the lieutenant governor of Virginia."

Minutes later, five more Democratic members of Congress from Virginia demanded that Mr. Fairfax step down from the job, citing a series of accusatory public statements and an NBC News report that Mr. Fairfax used a harsh obscenity to describe one of the women who accused him of sexual assault.

"Lt. Governor Fairfax has also shown exceptionally poor judgment in his handling of these allegations," the lawmakers — Don Beyer, Gerry Connolly, Elaine Luria, Abigail Spanberger and Jennifer Wexton — said in a scathing joint statement. "He repeatedly attacked his accuser, he reportedly used vile and degrading language to describe her, he mischaracterized an investigation into the encounter, and he sought to blame others for events in his own past. These actions do not meet the standard to which we hold Virginia's highest elected officers."

(…)

In interviews with voters around Richmond on Friday, Mr. Fairfax still had scattered support. The clientele at Genesis Barbershop downtown looked up at the TV and saw a man who, they said, had gotten his haircut there just a week earlier. The news about their customer — Mr. Fairfax — wasn't good.

"He's done," muttered a 59-year-old man who gave his name only as Coach. "Two women? With all that #MeToo stuff?"

Everyone agreed that the politics had gotten much dirtier, that it was all bad for the state. But they also questioned why these allegations seemed to come out in one big wave.

"It's all happening at the same time for a reason," said Patrick Jones, a 51-year-old pastor whose son was getting a haircut. This was a scheme by the Republicans, he contended.

"The people putting this out there don't care about any of this," he said. "They only care about putting a bad name on the Democratic leadership and winning back the state."

But in a telling indication of the lieutenant governor's mounting political vulnerability, many of the fiercest demands for Mr. Fairfax's resignation were coming from Democrats. And even before Ms. Watson came forward on Friday afternoon, few people at the Capitol were offering the lieutenant governor their full-throated support — a remarkable abandonment of a man who was preparing to run for governor in 2021.
More from The Hill:
The Virginia Legislative Black Caucus (VLBC) called on Lt. Gov. Justin Fairfax (D) to resign Friday after a second woman came forward to accuse him of sexual assault.

The group of state legislators had initially refrained from calling for the lieutenant governor to step aside this week, but issued the statement Friday night amid mounting calls for him to resign after a woman accused him of rape.

"In light of the most recent sexual assault allegations against Lieutenant Governor Justin Fairfax, the Virginia Legislative Black Caucus believes it is best for Lt. Governor Fairfax to step down from his position," the caucus said in a statement.

"We remain steadfast in our conviction that every allegation of sexual assault or misconduct be treated with the utmost seriousness," it added. "While we believe that anyone accused of such a grievous and harmful act must receive the due process prescribed by the Constitution, we can't see it in the best interest of the Commonwealth of Virginia for the Lieutenant Governor to remain in his role."
In what seems like an increase in the pressure on Fairfax to resign, one Democratic member of the House of Delegates said that he would introduce an impeachment resolution on Monday if Fairfax refused to step aside. In reality, though, the impeachment process is largely out of the hands of Virginia Democrats. Thanks to a slim one-vote majority, the Republicans control the House of Delegates and get the final say on what is on the agenda and what isn't. If they don't want to proceed with impeachment, then there's really nothing that Democrats can do about it. This is true with respect not just Lt. Governor Fairfax, but also Governor Ralph Northam and Attorney General Mark Herring. So far, Republicans in Richmond seem content in letting Democrats, and the Commonwealth, twist in the wind in the hope that it might help them in the midterms in November. As long as that's the case, then the situation in Richmond is going to remain stalemated.
All of this is proving to be difficult for Virginia, and to some extent national, Democrats because it is requiring them to balance two sides of their political base against each other without appearing to be playing political games.
On one side, of course, are female voters, and especially the suburban female voters that helped Virginia Democrats score big political wins in 2017 and national Democrats to score big wins last November. To no small degree, those voters were motivated by the #MeToo movement and the increasing awareness of, and respect is given, toward women who have claimed to be sexually assaulted or harassed in the past. Because of this, and especially in the wake of the Brett Kavanaugh hearings last year, it has been incumbent on essentially every Democrat asked to comment on the accusations against Fairfax to say that they believe the women making the accusations.
On the other side, of course, is the always important African-American and minority community. Justin Fairfax has been viewed as a rising star among Virginia Democrats and someone who was destined to become Governor and perhaps more in the future. Now, he stands accused of sexual assault by two women who, while they have made their names public, have yet to come forward before cameras or in some other proceeding. If they move too quickly against Fairfax they risk being accused of railroading a rising African-American politician without sufficiently investigating the charges against him. All of this is complicated, of course, by the fact that the other two statewide elected officials — Governor Ralph Northam and Attorney General Mark Herring —- both of whom are white, find themselves embroiled in scandals of their own which are dripping with the racism and prejudice that has plagued Virginia in the past. If Democrats are seen as ganging up on Fairfax while Northam and Herring are allowed to survive, it could pose a real problem for Virginia Democrats going forward. How they resolve those conflicts will go a long way toward determining what happens next in the Commonwealth of Virginia.