What About Henry Ford?!
Do his achievements and good works outweigh his virulent antisemitism?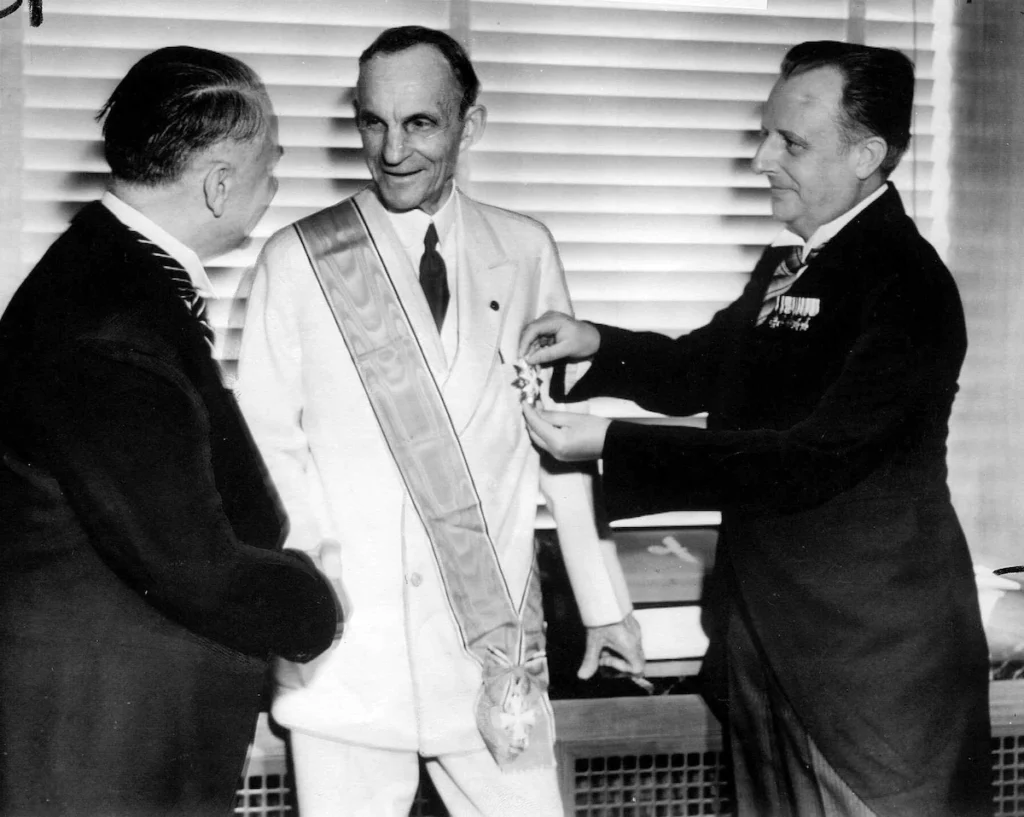 In an op-ed for the Washington Post, Detroit-based writer Rebecca Sonkin muses, "Kanye West's antisemitism is bad for business. Now how about Henry Ford?" Given that the tycoon died 75 years ago, I was expecting something rather eyeroll-inducing. Instead, it's a niche local issue:
Henry Ford, the most prominent, virulent antisemite the nation has ever known, is omnipresent in Detroit. Yes, Ford is famous for implementing the moving assembly line and founding the automaking business that put the Motor City on the map. But Ford was also a powerful driver of anti-Jewish hatred, using his wealth and influence to promote antisemitism in the interwar era, before World War II and the Holocaust.

Ford, a friend wrote in his diary in 1919, "attributes all evil to Jews or to the Jewish capitalists."

To advance his views, Ford had purchased the Dearborn Independent newspaper in 1918, which soon began publishing a weekly front-page column, "The International Jew: The World's Problem." It ran for 91 issues of a paper that, at its peak in the mid-1920s, claimed a circulation of 700,000 to 900,000, distributed across the country at Ford auto dealerships.

In that period, Ford also paid for the printing and distribution of 500,000 copies of "The Protocols of the Elders of Zion," a stubbornly persistent forgery that purports to describe a Jewish plot for world domination.

For these efforts, Adolf Hitler praised Ford by name in "Mein Kampf" and in 1938 awarded him the highest Nazi honor bestowed upon a non-German. Although Ford had apologized for his antisemitic campaign in 1927 amid mounting public criticism — his remorse was met with much skepticism — he gladly accepted the honor.

Today, how is it that Ford's malevolence toward Jews is dwarfed in Detroit by the urge to celebrate his automotive achievements?
Honestly, it's always hard for me to square these things. On the one hand, Ford all but started the American automobile industry and was surely the leading force in turning Detroit from a sleepy town of 285,704 people in 1900 to a city of 1,849,568 three years after his death. The industry employed huge numbers of people in good-paying jobs for decades. And he was a massive philanthropist even by the standards of the uber-wealthy of his day. On the other, he fomented a horrible ideology that made life worse for a lot of Americans, in Detroit and elsewhere.
While he explicitly declaimed violence against Jews, his works were celebrated by the Nazis and are said to be a major inspiration for Hitler's vision. By that time, Ford had long since apologized and recanted his views but most believe that was because of economic and social pressure, not actual remorse. And, while his mental state was said to have diminished by a series of strokes, he nonetheless accepted a medal from Hitler's government not long after Kristallnacht.
It seems weird to celebrate such a man but he was celebrated along with Founding Fathers and Presidents on US postage stamps in my lifetime; indeed, within my early memory and inducted into various halls of fame as recently as 1996.
That Detroit still has a lot of monuments to his name isn't shocking. But I can understand Sonkin and others being uncomfortable with that.