What Have the Rich Ever Done For Us?
People who make a lot of money should whine less. But many of them are actually do create jobs.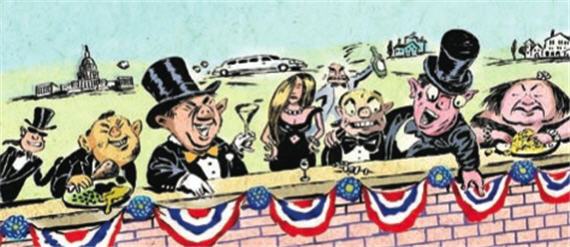 In a column titled "The Plight of the 1%," Felix Salmon aptly demonstrates that very rich people whining about how much they pay in taxes come across as churlish, indeed. Whatever the merits of their arguments, attacking those far beneath them on the economic ladder is unseemly.
Of an extraordinarily successful investor who recently complained about the 45 percent of Americans who pay no federal income tax, Salmon notes that 61 percent of said individuals earn under $20,000 a year whereas said CEO is worth almost $6 billion. Doing the math, he points out "that works out at $20,000 an hour, every hour of every day, even when he was sleeping, since the day he started working."
Again, whatever the merits of that degree of earning disparity, it's probably best to leave that argument to someone else.
Salmon closes the column, though, attacking former BB&T CEO  John A. Allison IV, who says that any rule requiring public companies to disclose the ratio between the compensation of their CEO and their median employee would constitute "an attack on the very productive." While that's a rather silly argument, Salmon makes a far sillier one:
I'd love to know how John A. Allison IV measures his own personal productivity and determines that it's extremely high. Because, speaking as someone who earns a very healthy salary myself, I have no idea where I'd even start on such a quest. I could measure words written per day, I suppose, but how much is a word worth?

The fact is that the ultra-rich really aren't productive, and instead mostly collect rents from people who are. This is what capital always does, of course: it buys labor (some people call that "job creation", even if the jobs being created are mostly in China), and then extracts dividends from it.
It's no doubt true that running a bank or writing a financial column for a prestige outlet is a more enjoyable way to make a living than working an assembly line, mining coal, operating a jackhammer, or any number of other physically demanding jobs that pay a whole lot less in both dollars and prestige.
As Chris Rock has pointed out, those of us with careers need to pipe down in the presence of those with jobs.
But that doesn't mean that only those with jobs perform valuable services for society. Salmon's work may not be as demanding as that of a longshoreman or long haul trucker. But far fewer people have the requisite skills to do it and, surely, the ability to explain complex financial issues to lay readers is worth something.
As to Allison, he isn't some yahoo who got hired to head up an already-profitable company, ran it into the ground, and still made out like a bandit. No, he spent almost four decades at BB&T, working his way up from manager to  CEO and grew the bank from less than $5 billion to over $150 billion in assets.  While much of that came through shrewd mergers and acquisitions, he's almost certainly a net job creator.
If he's netted a few billion along the way, I'd say he's earned it. Feel free to bust his chops over his Ayn Rand fetish, though.