Paul Revere's Ride: Don't Know Much About History
If there's anything all sides should be able to agree on after several days of back-and-forth is that most of us didn't really know the story.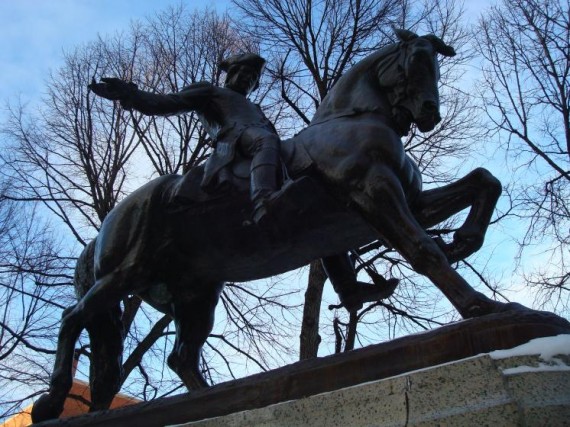 If there's anything all sides should be able to agree on after several days of back-and-forth on Sarah Palin's account of Paul Revere's ride is that most of us didn't really know the story.
In, "How Accurate Were Palin's Paul Revere Comments?" NPR's "All Things Considered" provides a fair treatment of the facts.  Palin got almost everything wrong. Her critics haven't done much better, even with the help of Google.
MELISSA BLOCK, host: We are going to fact-check Palin's Paul Revere history now with Robert Allison. He's chair of the history department at Suffolk University in Boston.

Professor Allison, welcome to the program.

Professor ROBERT ALLISON (Chairman, History Department, Suffolk University): Thanks, Melissa.

BLOCK: And let's review Paul Revere's midnight ride, April 18, 1775. He's going to Lexington, Massachusetts. And according to Sarah Palin, he's riding his horse through town sending warning shots and ringing those bells. True?

Prof. ALLISON: Well, he's not firing warning shots. He is telling people so that they can ring bells to alert others. What he's doing is going from house to house, knocking on doors of members of the Committees of Safety saying the regulars are out. That is, he knew that General Gage was sending troops out to Lexington and Concord, really Concord, to seize the weapons being stockpiled there, but also perhaps to arrest John Hancock and Samuel Adams, leaders of the Continental Congress, who were staying in the town of Lexington.

Remember, Gage was planning – this is a secret operation, that's why he's moving at night. He gets over to Cambridge, the troops start marching from Cambridge, and church bells are ringing throughout the countryside.

BLOCK: So Paul Revere was ringing those bells? He was a silversmith, right?

Prof. ALLISON: Well, he was – he also was a bell ringer. That is, he rang the bells at Old North Church as a boy. But he personally is not getting off his horse and going to ring bells. He's telling other people – and this is their system before Facebook, before Twitter, before NPR, this was the way you get a message out is by having people ring church bells and everyone knows there is an emergency.

And by this time, of course, the various town Committees of Safety, militia knew what the signals were, so they knew something was afoot. So this is no longer a secret operation for the British.

Revere isn't trying to alert the British, but he is trying to warn them. And in April of 1775, no one was talking about independence. We're still part of the British Empire. We're trying to save it. So this is a warning to the British Empire what will happen if you provoke Americans.

BLOCK: And Sarah Palin also was saying there that Paul Revere's message to the British in his warning was: you're not going to take American arms. You know, basically a Second Amendment argument, even though the Second Amendment didn't exist then.

Prof. ALLISON: Yeah. She was making a Second Amendment case. But, in fact, the British were going out to Concord to seize colonists' arms, the weapons that the Massachusetts Provincial Congress was stockpiling there.

So, yeah, she is right in that. I mean, and she may be pushing it too far to say this is a Second Amendment case. Of course, neither the Second Amendment nor the Constitution was in anyone's mind at the time. But the British objective was to get the arms that were stockpiled in Concord.

BLOCK: So you think basically, on the whole, Sarah Palin got her history right.

Prof. ALLISON: Well, yeah, she did. And remember, she is a politician. She's not an historian. And God help us when historians start acting like politicians, and I suppose when politicians start writing history.

BLOCK: Are there other historians, Professor, whom you've talked with who say you're being entirely too charitable towards Sarah Palin here, and she really did misread American…

Prof. ALLISON: I haven't talked to many – well, I don't know. I mean, I haven't talked to too many historians today. And, you know, Sarah Palin is a lightning rod. I just was thinking about how many times, you know, I've spoken about Paul Revere. I've organized events about the American Revolution. No one ever pays any attention. Suddenly, Sarah Palin comes to town, makes an off-the-cuff remark about what she learned, and suddenly, you're calling me to find out what I think about Paul Revere and the American Revolution.

It's a great honor to talk to you, Melissa.

(Soundbite of laughter)

Prof. ALLISON: I wish it didn't take Sarah Palin coming to town to bring us together.
The "basically" is doing a hell of a lot of work in "basically, on the whole, Sarah Palin got her history right." In fact, she got every single disputed fact wrong.
No, Revere wasn't warning the British, which was the central fact in dispute. (Which, incidentally, I don't think Palin believed. Rather, I'd bet anything that she simply misspoke and stuck with her story when obscure bits of history seemed to prove her right.)
No, Revere wasn't ringing bells and firing shots. On the other hand, bells were being rung and shots were being fired. Did Palin actually know this and just jumbled it up? I can't say.
No, the ride wasn't motivated by protecting gun rights. But, yes, it was partly motivated by securing the guns themselves–which were about to be needed for a fight that was long brewing.
But it's also fair to say that the critics, who were basing their understanding of the Revere ride on a poem, found out how little they knew, too.
Palin's stumbling delivery–which frankly jumped out at me more than the odd version of the Revere ride when I first heard it–made the whole thing seem worse and, as noted in the discussion, she's an awfully polarizing figure. But it's a good bet that most of the other candidates didn't really know the Revere story before now. I'm guessing they'll study it, though, in anticipation of being asked in the future.
UPDATE: ABC News ("Experts Dispute Sarah Palin's Midnight Ride Account, Agree Paul Revere Did Not Warn the British") interviews several other historians which confirm Allison's version of the facts but don't say they amount to Palin being almost right.
"He didn't warn the British," said James Giblin, author of "The Many Rides of Paul Revere." "That's her most obvious blooper."

[…]

Experts agree that warning the British — Revere was an American patriot, remember, he was against the folks across the pond — was not crucial to the midnight ride.

"Revere's assignment that night was to go to Lexington to warn Samuel Adams and John Hancock that British troops were moving in that direction from Boston," explained Kristin Peszka, director of interpretation and visitor's services at the Paul Revere House, which Palin visited Thursday. (Peszka noted that Palin offered her convoluted account beforetouring the historic site.)

"People did ring bells that night," she added. "It was a common way of alerting people to come out. But Revere was not the person ringing the bells."

Peszka offered her own halting take on Palin's explanation.

"I think she's … being accused of being caught in an error and she's trying to correct herself," she said. "I think the story of the midnight ride is one that's confusing to lots of people."

Indeed, since Revere-gate (or would it be Revere-gait?) started at the end of last week, many questions have been raised about what actually happened during the midnight ride.

"It was an extremely complicated situation which she sort of regurgitated in a garbled way," Boston University's Brendan McConville said. "It has been, as an American history professor, disconcerting to realize that no one seems to know what happened in this iconic event."
Which, again, is the key takeaway. I don't care much one way or the other about Palin's knowledge of a bit of historical trivia. I'm more concerned that she can't admit that she misspoke. I'm gravely worried, however, that legions of her supports can't.