One More on Palin and Revere's Ride (and Back to the Politics of History)
Two things: 1) one of the best things I have seen on this topic and 2) and a re-iteration on what I think is the broader issue here.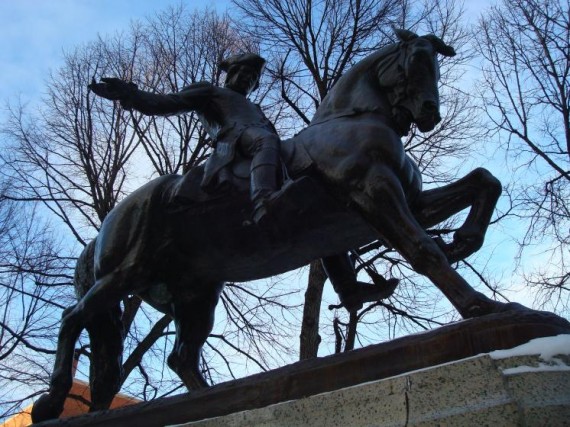 Yes, I know we are all sick of this (or, at least, we say we are—if we were really sick of it, we would neither blog about it or comment on said blog posts), but I think that the following from the Corner is one of the clearest, and best, written pieces about the Palin/Revere bit.
And it is a piece that has credibility, insofar as the author a) wrote a book on Revere, and b) strikes me as having pretty strong conservative cred (as he is writing on NRO and works for Thomas Nelson Publishing).
So, I give you, Joel J. Miller:  What Sarah Palin Got Wrong — And We Did, Too.
His basic position on what Palin got wrong:
As the author of a book about Revere's life, when I heard this, I groaned. From Revere's own account, it's clear that he didn't fire a shot, he didn't ring a bell, and he didn't intend to warn the British of anything (unless you count the townsfolk as British, which they technically were for a little while longer).

The unarmed Revere left Boston in total silence. He muffled the oars of his boat as men rowed him to Charlestown, and he rode in silence after leaving Charlestown by horseback. He was, after all, on a secret mission to alert John Hancock and Samuel Adams in Lexington that they were in danger.

Only after scaring up two redcoats on horseback and turning away to Medford did he begin waking the countryside. He first woke the militia captain in Medford and then rode to Lexington raising the alarm — by shouting, mind you, not shooting or ringing bells.

In short, Palin basically got the whole story wrong.
This should be perfectly clear (although I expect argumentative responses nonetheless).
His view on what others got wrong:
But then there's us, we who revel in the cheap shot and the takedown. People make mistakes. People say cockamamie things. But high-vaulting and jumping down their throats is rarely called for. Still, we've cultivated a whole media culture of such acrobatics. That is also prideful and unattractive.
All fair enough, although as he also said:
Palin should have been humble and admitted she got the story wrong. She could have spun it to say that she got the spirit of the thing right. She could have done a lot of things. But persisting in a flashing-neon error as she's done is prideful, and that kind of pigheadedness is very unattractive in someone vying for public office. Sarah's sin was in her lack of humility.
This, too, is fair.  Ultimately, Palin opponents can be criticized for piling on, but really, the attempt to explain away Palin's statement as being accurate is simply problematic (and not really worth the energy of the defense, I would argue).  Why Palin appear unwilling to ever admit she was wrong is a mystery, as it if done properly, could probably be an advantage to her.
For my own part, my reason for writing about the statement was not as a "gotcha," although I did find the "ringing those bells" bit to be rather amusing* but rather because I thought it fit a broader pattern.   I never even bothered with the "warn the British" part, as I figured that what she meant (in a convoluted way, granted) was that Revere's ride would mobilize the colonists, and that uprising would be a warning to the British government.
I still think, as I noted in my original post on the subject, that the more significant issue here is the ongoing appropriation (and recasting) of American history to validate contemporary views (and I cited or linked several examples beyond just Revere**).  In that light, the assertion about how the "they weren't gonna be takin' away our arms" is a statement that sounds, to a contemporary ear, like the seizure of personal weapons.  Now, it may well be that Palin was referring to the threat to weapons stored at an armory, but I have my doubts.  There is a prevailing myth that is a favorite of the Tea Party faction that the Second Amendment exists to protect the citizens from the government.***  This view is often linked to the notion that it was because we had armed civilians in the colonial era that it was possible for the colonists to win independence from the British.  Without getting into question of whether that interpretation of history is correct, it strikes me as far more likely that that view is what Palin was trying to tap into in her statement.
At any rate, I think that the broader story here is the misapplication of history to try to score political points.
I do recognize, by the way, that this is a time-honored tradition in American politics, and not one that I expect to go away soon.  I do, however, think that it has reached as especially problematic level in the Tea Party faction of the GOP at the moment, as is often seems that appeals to an imagined past are far more central to their rhetoric than are real policy ideas.
____
*And, really, I am not sure how anyone could not find that part amusing.
**I noted two different Palin quotes about the Statue of Liberty, a link to Sharron Angle's views on the Second Amendment, a link and a quote regarding a Tea Party candidate from a congressional race in Alabama and his problematic appropriation of American history, as well as a discussion of the Tea Party label itself.
***And yes, the word "myth" is both purposeful and accurate.