Whatever Happened To The Housing Recovery?
Three years later, there are no signs that the real estate market is anywhere close to recovering.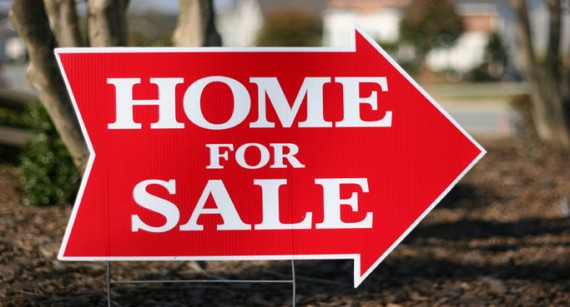 In today's New York Times, Floyd Norris points out that the real estate market remains as distressed as it was when the Great Recession started, and shows no signs of turning around any time soon:
PRICES for both homes and commercial real estate are falling again. Meaningful improvement may have to wait until there are many fewer distressed properties for sale.

Indexes of the two markets showed this week that the latest declines had almost wiped out the mild gains the two markets had shown after prices appeared to have hit bottom.

The Standard & Poor's/Case-Shiller index of home prices ended February 3.3 percent below where it was a year earlier, and just 0.5 percent above the low reached in May 2009. The Moody's/REAL Commercial Property Price Index was reported to be down 4.9 percent over the last 12 months, but still 0.8 percent above its low, reached last August.

In both cases, sales volumes are far below what they were when the markets were booming, and a large proportion of the properties that are being sold were in trouble before the sale. The National Association of Realtors estimates that about 40 percent of existing homes that changed hands in March were either in foreclosure or were so-called short sales in which the house was sold for less than was owed on the existing mortgage.

The commercial property index, which is based on data collected by Real Capital Analytics, shows that 29 percent of transactions in February involved distressed properties — including those already in foreclosure or default, as well as those whose owners had filed for bankruptcy.

"Only when the share of distressed sales meaningfully drops off will we be able to enter the recovery phase," said Tad Philipp, Moody's director of commercial real estate research.
This has been a problem in the real estate market ever since the housing bubble burst. As people started walking away from upside-down mortgages and bank portfolios started filling up with properties, home prices around the country dropped like a stone. Three years later, the inventory of foreclosed properties still hasn't been exhausted, with the result being that prices has been essentially flat, as this chart shows: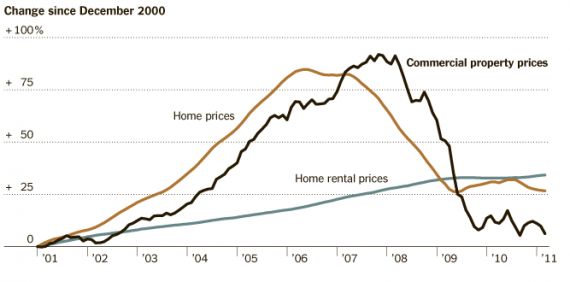 While there have been some fluctuations, home prices have been essentially flat since 2009, this despite the fact that during that period home prices were actually below the price it would cost to rent a home (as opposed to an apartment). Clearly, there's an overabundance of supply on the market that is combining with an economy that remains stubbornly weak is keeping buyers from even thinking about making an investment in a  home that, if the last few years are any indication, may not be worth as much as you paid for it in a few years.
And then there's the commercial real estate market. As the chart shows, prices there continued to rise for some time even while the housing market was starting to collapse, but the plunge came there as well, and when it did it was faster and deeper than what happened to residential real estate. You can see the impact of that in various parts of Northern Virginia, where newly built strip malls remains almost completely empty after several years. Moreover, just as in the residential market, there are a good number of commercial properties in distress:
According to data from Moody's, hotels and apartments are in the most distress, with about 16 percent of loans in each category classified as delinquent. About 10 percent of loans on industrial property are in trouble, while the figures for offices and retail properties are lower, at around 7 percent.

Over all, the proportion of commercial loans in distress climbed from under 1 percent at the end of 2008 to over 9 percent now. But it has been stable in recent months, providing some hope that the market is no longer deteriorating.
Perhaps, but with increasing signs that the economic recovery may be stagnating, it won't take much for the businesses that have to pay those commercial real estate loans to find themselves in trouble again. and if that happens all bets are off.