What's up with Chávez?
The normally loquacious Chávez has been almost silent since emergency surgery in Cuba on June 10th.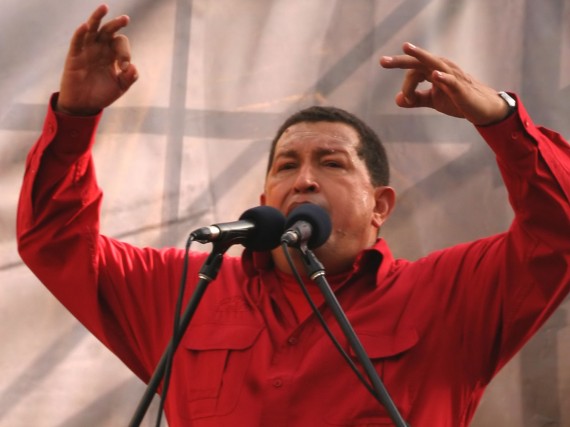 Via the BBC:  Absence of ill Hugo Chavez sparks speculation:
There is growing uncertainty in Venezuela over President Hugo Chavez's health, two weeks after he underwent an operation in Cuba for what the authorities said was a pelvic abscess.

On Friday the Venezuelan Foreign Minister Nicolas Maduro said Mr Chavez – who is still in Cuba – was in what he called a "great battle" for his health.

But Vice-President Elias Jaua accused the media of stoking speculation.

"We will have Chavez for a long time!", he said on Saturday.

The normally loquacious Mr Chavez, 56, had been uncharacteristically quiet since apparently undergoing surgery on 10 June in Cuba. He had been visiting the island as part of an international tour.

He had fallen silent after making a telephone call to state media on 12 June to tell them he was recovering quickly, and that medical tests showed no sign of a "malignant" illness.
First, "pelvic abscess"sounds like no fun at all.
Second, the whole thing is quite curious.
More from WaPo:
The government has treated the president's departure since June 10 as a state secret, providing scant details about his condition. What Chavez's closest associates have publicly said has only fueled speculation about the health of the man who has so dominated politics in his 12 years in power that no one successor has ever emerged, even from within his populist Bolivarian movement.

[…]

The departure of Chavez for so long, particularly from the airwaves that he commandeers frequently in Venezuela, has prompted a heated debate over who would, or should, be in charge of the country. In a government that political analysts say is filled with yes-men who rarely question his decisions, Chavez's illness has exposed the lack of any reliable leader to replace him.

"He has been centralizing power during 12 years now, putting himself in the foreground as the only and indispensable leader," Demetrio Boersner, a historian and former Venezuelan diplomat, said by phone from Caracas. "So right now, there is no personality within the governing party that seems like the logical substitute in case it would be necessary to replace him."

The government's official account is that Chavez began suffering from abdominal pain during a meeting with Fidel Castro in Havana and was rushed to surgery.
There is little doubt that if Chávez were to that it would cause a serious political crisis in Venezuela.  For one thing, it is undeniably the case that he has been the political figure of significance in Venezuela since the collapse of the old party system in the the 1990s—the very collapse that allowed him to win the presidency in the first place.  Further, his dominance of politics has been so complete that he has no peers of significance within his own party nor has a significant opposition of any type emerged.
There is also the lack of clear guidance in the constitution as to what to do in a case like this.  According to WaPo:
The Venezuelan constitution says the vice president would take the president's place during a "temporary" absence. But Vice President Elias Jaua rejected the demands of some government foes that he be sworn in on an interim basis.
The difficulty is whether this current situation qualifies as a "temporary absence" and, more importantly, who would get to make such a determination.  The constitution does provide for permanent vacancies (either a new election or the veep taking over, depending on when in the president's term the vacancy occurs).
The entire situation underscores the ultimate fragility of politics based on personality:
Luis Vicente Leon, who heads the Datanalisis polling firm and has been a close observer of the government, said that no one with Chavez's charisma or ability to unite a broad political base has ever emerged.

"I don't think Chavez has thought that something like this would ever happen," Leon said by phone from Caracas. "Chavez has overshadowed everyone in his movement. And he has not permitted that other independent-minded leaders rise up."
Of course, should Chávez recover, the issue will be moot, as he will stand for re-election next year and win.
And I conclude with the line of the day:
"You cannot run a country via Twitter," said Antonio Ledezma, the mayor of Caracas and one of Chavez's most determined political foes.
Indeed.
Chávez is big Tweeter and the fact that his Twitter account went silent was one of many reasons that the public knew something was up.  He (or someone in his name) has starting tweeting again, however.
Update:  See also, Fox News: Report: Hugo Chávez in Critical Condition In Cuban Hospital.
Read more: http://latino.foxnews.com/latino/news/2011/06/25/report-hugo-chavez-in-critical-condition-in-cuba/#ixzz1QOuvemCe