Which Arm Should You Get Your Vaccine In?
It may actually matter.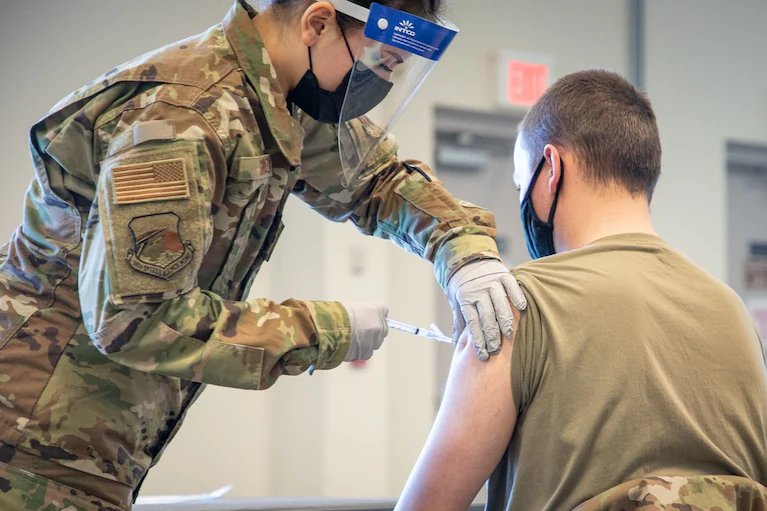 USA Today ("Left or right arm: Choosing where to get vaccinated matters, study suggests. Here's why"):
When you roll up your sleeve to get routine vaccinations, do you prefer a jab in your right or left arm? New data suggests the choice you make matters.

Researchers in Germany found people who got all their shots in one arm had a stronger immune response than those who distributed shots between both arms, according to a study published last week in eBioMedicine, a peer-reviewed journal from The Lancet Discovery Science.

In the observational study, authors analyzed immune responses from about 300 people who never had COVID-19 and received two doses of Pfizer-BioNTech's COVID-19 vaccine between March and September 2021.

Study participants were randomized to receive both doses in one arm or the second dose in the opposite arm. Two weeks after receiving the shots, researchers discovered certain immune cells – commonly known as "killer T cells" – were detected in 67% of people who received both injections in the same arm versus only 43% of those who got them in different arms.

People may respond better to sequential shots in the same arm because the vaccines are targeting the same lymph nodes, making them more active in producing immune cells to fight off infections, study authors suggest. While researchers detected a difference in these cells, they didn't see a similar trend in spiked protein antibodies.

Although preliminary and small, the study shows how the reason why some people react differently to vaccines could go further than just age, sex and medical conditions, said Dr. Ofer Levy, a pediatric infectious disease specialist and director of the Precision Vaccines Program at Boston Children's Hospital.

"This speaks to precision vaccination in the sense that everything matters," said Levy, who is not affiliated with the study.

More research and data is needed but he says the study's findings could have implications for vaccines outside of COVID-19 and help standardize how routine vaccinations are given.

"We need to be precise about how we discover, develop and deliver vaccines," Levy said.
I'm always a wee bit skeptical of reporting on medical studies but this finding seems at least plausible.
I've always gotten shots in my left arm, since I'm right-handed and figure it makes sense to isolate soreness to my non-dominant side. I'm mildly surprised that people don't always get their shots in the same arm.