White Supremacist Steve King Ousted in GOP Primary
Iowa Republicans have had enough of being represented by a racist buffoon.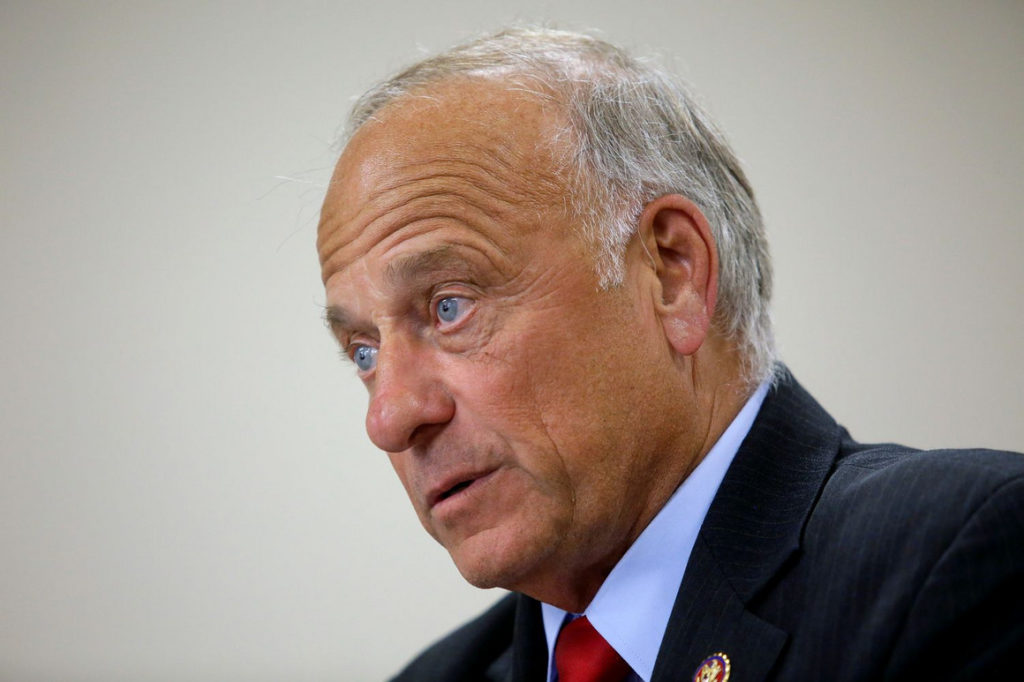 NYT ("Steve King, House Republican With a History of Racist Remarks, Loses Primary"):
Representative Steve King of Iowa, the nine-term Republican with a history of racist comments who only recently became a party pariah, lost his bid for renomination early Wednesday, one of the biggest defeats of the 2020 primary season in any state.

In a five-way primary, Mr. King was defeated by Randy Feenstra, a state senator, who had the backing of mainstream state and national Republicans who found Mr. King an embarrassment and, crucially, a threat to a safe Republican seat if he were on the ballot in November.

The defeat was most likely the final political blow to one of the nation's most divisive elected officials, whose insults of undocumented immigrants foretold the messaging of President Trump, and whose flirtations with extremism led him far from rural Iowa, to meetings with anti-Muslim crusaders in Europe and an endorsement of a Toronto mayoral candidate with neo-Nazi ties.
POLITICO ("Steve King ousted on historic primary night") adds:
Rep. Steve King will leave Congress after this year, ending a nearly two-decade-long career that included numerous inflammatory comments on race and immigration.

The Iowa Republican lost his bid for a 10th term on Tuesday, when GOP voters in his northwest Iowa district awarded state Sen. Randy Feenstra with the nomination after a fierce primary battle with King.

Feenstra led King by 10 points, 46 to 36 percent, with nearly all precincts reporting late Tuesday night. His decisive victory is a boon to leaders in both parties, including Republican leaders who stripped King of his committee assignments last year and had long felt his offensive and racist rhetoric cast a shadow on the party.

GOP heavyweights from the U.S. Chamber of Commerce to evangelical leaders and the Iowa political establishment united against King. But they did not hone in on his decades-long penchant for abrasive comments. Steering clear of direct attacks on the congressman, they largely painted him as an ineffective member of Congress, who had no sway in Washington.

[…]

Feenstra's victory will likely boost the GOP's chances of keeping the seat. Though he holds a district Trump won by nearly 30 points, King barely beat his 2018 Democratic opponent, J.D. Scholten, who is running again.

[…]

The fate of King, an opponent of immigration and multiculturalism who has supported white nationalist candidates abroad, was sealed amid massive social protests in the wake of the killing of an unarmed black man by a Minneapolis police officer last week.

A remark he made to The New York Times in 2019, questioning when white supremacy and white nationalism had become negative terms, launched a maelstrom that got him booted off congressional committees.

King's detractors claimed he is not able to effectively advocate for northwest Iowa. As polls tightened in the final weeks between King and Feenstra, outside groups dumped money into the race in a last-ditch effort to oust the incumbent.
While I'm happy with the result, I'm a bit bemused that a district that overwhelmingly voted for Donald Trump finally tired of King's boorishness. If anything, Trump is a more bombastic version of King.