Why Are All You People Such Jerks Online?
A new study looks at the reasons why people are so belligerent in their online communications.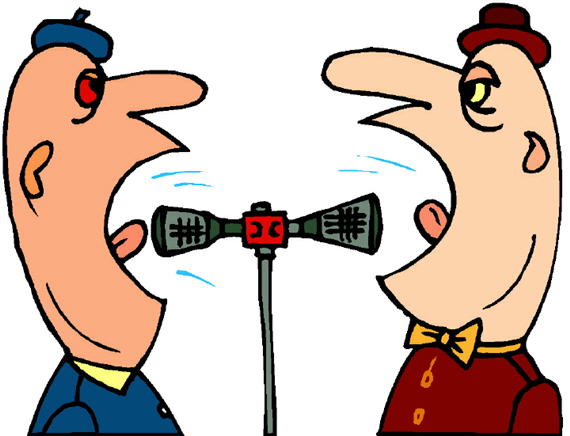 The problem of rude, insulting, and often downright demeaning conduct in online interaction is one that has existed since the days of USENET. Indeed, I remember watching people get into heated arguments over relatively trivial issues in the Science Fiction forums on Compuserve back in the day, to the point where people were insulting each other over something that, in the end, really didn't matter. The advent of blogs and, especially blog comment sections, saw that activity find a new forum notwithstanding the efforts of all of us to do our best to bring such things under control. Any newspaper article on the web that has a comment thread attatched seemed to inevitable devolve into an insult session, especially if it's about a heated political topic. Facebook and Twitter have both become a haven of rancor and attack that at times resembles a middle school playground. The odd thing I've discovered is that many of the people I've encountered online who are known for vociferous and confrontational argument are completely different when you meet them in person.
The Wall Street Journal cites a new study that explains why this may be the case:
Why are we so nasty to each other online? Whether on Facebook, Twitter, message boards or websites, we say things to each other that we would never say face to face. Shouldn't we know better by now?

Anonymity is a powerful force. Hiding behind a fake screen name makes us feel invincible, as well as invisible. Never mind that, on many websites, we're not as anonymous as we think—and we're not anonymous at all on Facebook. Even when we reveal our real identities, we still misbehave.

According to soon-to-be-published research from professors at Columbia University and the University of Pittsburgh, browsing Facebook lowers our self control. The effect is most pronounced with people whose Facebook networks were made up of close friends, the researchers say.

Most of us present an enhanced image of ourselves on Facebook. This positive image—and the encouragement we get, in the form of "likes"—boosts our self-esteem. And when we have an inflated sense of self, we tend to exhibit poor self-control.

"Think of it as a licensing effect: You feel good about yourself so you feel a sense of entitlement," says Keith Wilcox, assistant professor of marketing at Columbia Business School and co-author of the study. "And you want to protect that enhanced view, which might be why people are lashing out so strongly at others who don't share their opinions." These types of behavior—poor self control, inflated sense of self—"are often displayed by people impaired by alcohol," he adds.

(…)

We're less inhibited online because we don't have to see the reaction of the person we're addressing, says Sherry Turkle, psychologist and Massachusetts Institute of Technology professor of the social studies of science and technology. Because it's harder to see and focus on what we have in common, we tend to dehumanize each other, she says.

Astoundingly, Dr. Turkle says, many people still forget that they're speaking out loud when they communicate online. Especially when posting from a smartphone, "you are publishing but you don't feel like you are," she says. "So what if you say 'I hate you' on this tiny little thing? It's like a toy. It doesn't feel consequential."

And for Facebook, its very name is part of the problem. "It promises us a face and a place where we are going to have friends," says Dr. Turkle, author of the book "Alone Together: Why We Expect More from Technology and Less from Each Other." "If you get something hurtful there, you're not prepared. You feel doubly affronted, so you strike back."
Much of this is not new, of course. The idea that the anonymity of the Internet makes it easier to act in a manner that one would not do in public is one that any of who have been online has seen far more times than can be counted.  Someone having a political discussion over the back fence with a neighbor isn't likely to start cursing them out and calling them an idiot (although I have some doubts about that in our hyperpartisan world), but put them in front of a computer and those social restraints are gone.
One of the sadder examples I ready about recently came from a random post I happened to stumble upon over on WordPress.com from a guy whose brother happens to be gay and happens to have recently gotten married:
They married in May. It was a wonderful ceremony in which I was honored to stand by my brother, supporting him in his vows. My eyes teared up like they always do at weddings. I had the joy of watching two people commit to a lifetime together. It filled my heart.

Folks started posting photos from the wedding on Facebook, and I proudly reposted photos of the ceremony (with me looking awesome in my new suit, of course). Shortly after that, I received this message from a FB friend:

"Hey David, I am removing you from my friends list…sorry man, that latest post is way over the top! Homosexuals joining in "Holy" matrimony…I don't think so??? The Holy Bible speaks out against homosexuality and speaks highly of Holy matrimony between a man and a woman. It's nothing more than a slap in the face to those who choose God's Word, for homosexuals to join in a Holy marriage. I'm only defriending you so I don't have to look at your anti-God stuff anymore…nothing personal!"

Wow.

This came from a man I used to work with. A man I respect in his dedication to his family, and in his desire to live a moral and ethical life. A man with whom I have had some very interesting religious debates. He has become a Baptist preacher since we last spoke in person, and I suppose that makes this message unsurprising.

But, I was still surprised. I was taken aback. I needed a moment. I was hurt.
What kind of  a person sends a note like that just because someone posted a picture of his brothers wedding? I'm pretty sure I know the type, because I run into many of them online myself. They like to use their online persona to push an agenda and react vociferously anytime they see anything that opposes it, although I guess I cannot really see why a picture of happy people at a wedding opposes anyone's agenda. I might be wrong about this, but if these two men had encountered each other face-to-face, I have to doubt that there would have been the same kind of reaction, and I doubt that post author would've been bothered by the incident if it hadn't been someone he knew personally. I've gotten similar messages from people on Facebook or Twitter, but since they've invariably been people I don't know personally, I've basically just ignored it.
I don't think there's really any solution to the problem of how people behave online. In some ways, you could argue that they are revealing their true personalities when they do so, and perhaps that's just another piece of information we can take into account when evaluating a person's character. On the whole, though, though it'd be great if all of you just stopped acting like jerks. (Just kidding)