Why Can't We Just Bury All The Power Lines?
Wouldn't it be easier to bury the power lines instead of dealing with storm damage and week-long power outages seemingly every year?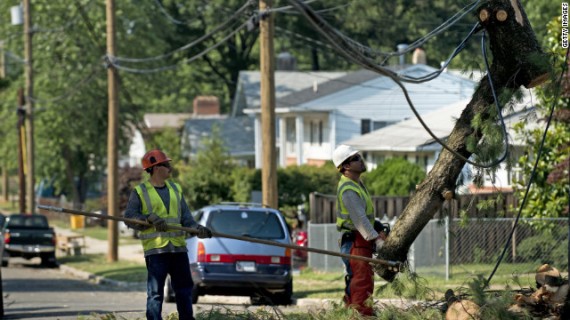 Many people in the Washington, D.C. and Baltimore areas are in their third day without power thanks to Friday night's Derecho. The latest reports from utility companies are saying that it's likely going to be the end of this week before all the power is restored (assuming we don't get more storms between now and then, of course) and the weather if forecast to remain hot and humid from now until Saturday at least. Some elected officials are publicly trying to berate the utility companies into fixing things faster, which seems like little more than foolish grandstanding to me but then that's what politicians do isn't it. For those who have lost power, it's all been very frustrating. Whatever food was in refridgerators and freezers has long ago spoiled, and unless there are alternate living arrangements available, one must suffer through some pretty unpleasant weather.
All of this leads David Frum to ask a question that I'm sure many residents of the D.C. area asking, why can't we just bury the power lines:
Outages are not inevitable. The German power grid has outages at an average rate of 21 minutes per year.

The winds may howl. The trees may fall. But in Germany, the lights stay on.

There's no Teutonic engineering magic to this impressive record. It's achieved by a very simple decision: Germany buries almost all of its low-voltage and medium-voltage power lines, the lines that serve individual homes and apartments. Americans could do the same. They have chosen not to.

The choice has been made for reasons of cost. The industry rule of thumb is that it costs about 10 times as much to bury wire as to string wire overhead: up to $1 million per mile, industry representatives claim. Since American cities are much less dense than European ones, there would be a lot more wire to string to serve a U.S. population than a European one.
Frum goes on to question the industry cost estimates and point out that there would be benefits to the project as well:
1. There's reason to think that industry estimates of the cost of burying wires are inflated. While the U.S. industry guesstimates costs, a large-scale study of the problem conducted recently in the United Kingdom estimated the cost premium at 4.5 to 5.5 times the cost of overhead wire, not 10.

2. U.S. cost figures are a moving target. American cities are becoming denser as the baby boomers age and opt for central-city living, as I discussed in a previous column. Denser cities require fewer miles of wire to serve their populations.

3. Costs can only be understood in relation to benefits. As the climate warms, storms and power outages are becoming more common. And as the population ages, power failures become more dangerous. In France, where air conditioning is uncommon, a 2003 heat wave left 10,000 people dead, almost all of them elderly. If burying power lines prevented power outages during the hotter summers ahead, the decision could save many lives
All of this is well-taken, and as someone who has lived almost exclusively in newer communities where the utilities that used to be delivered by above-ground wires are all buried, I've often wondered myself why this isn't more common. Of course, it's true that living in a community where the lines are buried doesn't always guarantee that you won't lost power, because the  power still has to get to your community somehow and, unless you're fortunate enough to live close to a utility substation that transmits the power right into underground lines, that means that you're relying on above-ground transmission lines somewhere along the chain, and if they go down your underground lines aren't worth a hill of beans. Indeed, many of the communities that were hit with power outages in Fairfax and Prince William Counties in Virginia this past weekend were newer communities with underground power lines. Because the storm had knocked down lines outside the community that they depend on, though, they were in the same boat as if there had been telephone poles in their front line.
Nonetheless, there's no denying the advantages of having underground power lines, and the aftermath of the storm demonstrates it clearly. Older communities in areas like Arlington and across the river in Bethesda, Chevy Chase, and Rockville, Maryland, are likely to have longer to wait than newer communities thanks to their combination of above-ground power lines and large, older trees. Indeed, when local utilities have attempted in recent years to go through neighborhoods and cut back trees in order to protect power lines from the impact of storms, they have gotten complaints from homeowners who don't want their trees cut back. Of course, these are probably the same homeowners who complain most loudly when their power goes out and it takes longer for it to come back on than it does on newer communities.
So, in the abstract at least, life in these types of community would be improved to some degree by burying the lines.  The problem I see, however, is that I don't think this project would be nearly as easy as Frum seems to think that it is. For one thing, the United States is far larger than Germany and has many more miles of power lines to worry about. A project to bury every single line in the country would take a very long time and, Frum's reassurances not withstanding, cost utilities a lot of money. That money would either have to come from increased rates, or from taxpayer dollars. Add into that the fact that we're not just talking about electrical lines here, but also telephone and cable transmission lines, and you've just increased the number of potential players by a pretty significant degree. It took us decades to wire the country for electricity. Turning around and burying those lines is going to take just as long I would submit, although that's not necessarily not a reason to dismiss the idea.
Another problem I foresee here is a NIMBY problem. As I noted above, a lot of people complain any time a utility comes through to do the tree cutting they need to do to keep power lines safe from storms. How thrilled do you think these homeowners are going to be when the same utility company comes through the neighborhood tearing up the street and their front yards for lord only knows how long. Legally, there would be very little that could be done to stop it since pretty much every piece of residential property includes utility easements, but that doesn't mean there wouldn't be people who would try to stop it, or bug their local political leaders about it every chance they got.
There's a final piece of the puzzle that would need to be dealt with. The high-powered transmission lines that are so prevalent to in rural areas are just as vulnerable to the dangers of wind storms as that telephone pole in your front yard. Indeed, when a Hurricane swept through Central Virginia several years ago it caused major havoc with a major transmission line in that neck of the woods that took weeks to repair completely. I'm not even certain that its possible to bury lines that carry that much electricity safely, but even if it could be done it would be a major engineering project that would be locked up in battles over easements for years no doubt.
This is a good idea, but I get the impression that it's not nearly as simple a solution as Frum, and others, think that it is. It would be nice if it were, though.  I'm not saying don't do it, but I think we need to have a more realistic idea of what we're talking about undertaking before we move forward.