Why Doesn't Biden Get More Credit?
Some people say there's a reporter to blame.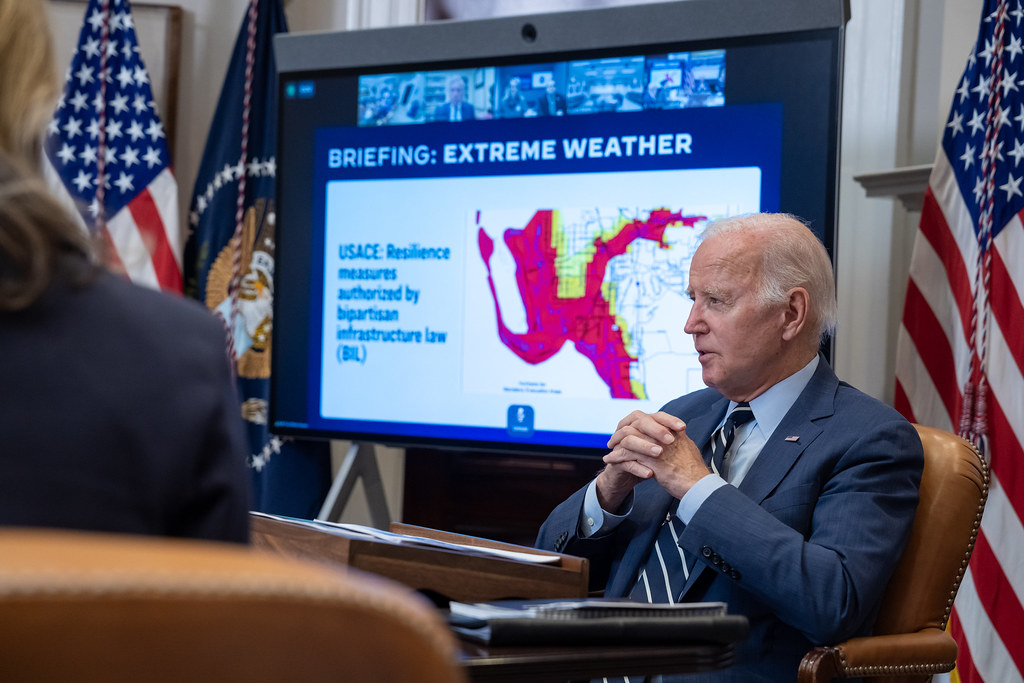 In an Atlantic Radio conversation with Franklin Foer and Elaina Plott Calbro, Hanna Rosin purports to identify "The Real Reason Biden's Political Wins Don't Register With Voters." The setup:
Objectively speaking, President Joe Biden has presided over some significant, even historic, accomplishments: a massive vaccine rollout, the biggest infrastructure investment since the Eisenhower administration, the lowest unemployment rate in over 50 years. Yet, when voters are asked about these things, their responses are perplexing. Poll after poll show that voters have never heard of these programs, are annoyed the media isn't reporting about them more, or they just don't care. Why don't Biden's political and legislative victories penetrate the public consciousness?
So, first off, while I have zero doubt that the vaccine rollout ran much more smoothly than it would have if Donald Trump had served a second term, the fact of the matter is that "Vaccinations in the United States began on December 14, 2020," more than a month before Biden took office. They were developed under Operation Warp Speed, a Trump initiative. So, it's natural that Biden doesn't get a ton of credit.
Similarly, while unemployment is indeed considerably lower (3.8%) than when Biden took office (6.3%), pretty much anyone with half a brain understood that the spike was caused by a global pandemic. Here's the trendline from Trump's taking office in January 2017 to now:

The current 3.8% is exactly what it was in May 2018 and slightly higher than it was in February 2020 (3.5%), before the pandemic hit our shores. It's not shocking that Biden isn't getting credit for what most of us think of as the normal state of affairs.
That he's not getting credit for "the biggest infrastructure investment since the Eisenhower administration" is a much more interesting question. But the obvious answer is that it takes a long time for the investment to materialize in jobs, much less completed projects.
But Rosen and her guests have a different take:
Political insiders point the finger at Biden. He isn't a great communicator, they say. He tends to defer and give other people credit. He doesn't have enough energy. But part of it is also how voters consume political news.
From the interview itself:
Elaina Plott Calabro: I think it's not natural for someone like President Biden to try and go out and focus on shaping the narrative that way. At the end of the day you'll talk to pollsters who say I go in and say, Did you know that this administration kind of executed the largest investment in infrastructure, really since the Eisenhower era? When they do bring this up with voters and focus groups, they're almost angry that they haven't heard about it.

Rosin: What do you mean, they're angry?

Plott Calabro: Why didn't I know about this? Why didn't this break through the media for me? And it's interesting because reporters do cover these things, but that, I think is, kind of a dynamic that's become really pronounced in the Trump era. What does it mean to achieve ubiquity as a politician when you are not Donald Trump? And when has that become the standard for how one breaks through?

Rosin: Why aren't they pleased? Like, why isn't it a Oh, this is wonderful.

Plott Calabro: I think it's more of just, I feel that I should have known about this. Why is this not something I'm seeing on TV every day? Or that when I just, like, log on to the homepage of whatever news source I use is the banner of the day?
I'm skeptical that the focus groups are reacting this way. But more befuddled that they think the front page of the daily news should consist of repeating over and over something that happened months ago. That's the job of political actors, not local journalists.
I'd say a more fair critique is that when the projects do get built—to the extent that it's already happened—the reporting doesn't emphasize that they were made possible by various Federal government programs. People will naturally notice the inconveniences associated with, say, the expansion of a highway or the replacement of an old bridge, but somehow still wonder, "What is it that the government is doing with all that money I pay in taxes?" But, again, that's what the Bully Pulpit is for.
Franklin Foer: Yeah, well, I think, as a nation we're suffering through some sort of equivalent of a long COVID, where even though the pandemic is gone, there's a lot that still feels bad about its aftermath. Whether it's inflation, which is something that you're reminded of constantly, and whether the administration contributed to it in a somewhat meaningful way or an extremely meaningful way, it's there and people are pissed off about that.

Like, when was the right moment to crow about the vaccine? Like, was it while people were getting vaccinated, but there were different variants that continued to rage across the country? Was it after we returned to normal? Returning to normal wasn't something. I read The Plague by Camus, and there was actually a fireworks display at the end of that pandemic when the quarantine was lifted. They tried that fireworks display on July 4, 2021, and they got lashed roundly for that. So I think there's something about the times that we're living in. And then I do think that there is something about his age that ends up compounding this impression that he's not governing in a competent sort of way. So when you read my book, you would see that he's a micromanager. He's involved in a lot of decision making, but the public impression is that he's not an energetic president. Is that persuasive?

Rosin: That's almost persuasive, but I think my fear is that we don't have tolerance to take in good news. Like, our senses are heightened to conflict in such a way now that we can't even hear anything that's below the decibel of that. And so if he were to somehow say, Look I've accomplished, I've done this great thing. I've, you know, done this with inflation. I've done this with vaccines, it just comes in as noise, you know, dull noise.
I think these are indeed fair critiques of the way journalists frame stories. Bad news is simply more interesting. Conflict sells more papers than compromise. Joe Manchin and Kyrsten Sinema probably got more coverage in the first two years of the Biden administration than any other Senator.
But, as Foer points out, it's also true that the COVID vaccine was much less than we'd hoped. Rather than creating immunity from the virus, it made it more survivable. We were still losing hundreds of people a day at the time of the 2022 midterms, so it's really hard to crow about that.
As to inflation . . .

it's just going to be really hard to get credit for bringing it down when it's skyrocketed during your tenure. That we're doing better at managing it than most OECD countries should certainly be getting more attention. And, as Kevin Drum has been banging the drum (no pun intended) for a while now, we should indeed note that most Americans have gotten raises that have more than compensated.
But, as we've discussed before, we pay outsized attention to a handful of indicators, notably the price of gas and groceries and the cost of buying and selling a home. And those have gone way up under Biden. That these things are almost entirely outside his control is frustrating, to be sure, but Presidents are like quarterbacks: they get far more credit for wins and blame for losses than they deserve.
Plott Calabro: I would say Celinda Lake, who's a pretty prominent Democratic pollster, has done a lot of work for the Biden campaign. She put it to me pretty succinctly, which was that when you understand that people feel day to day, like the vibes are off in the country, they don't want to see their politicians taking a victory lap, even if it's deservedly so, for example. When it's not matching, sort of, their day-to-day experience in the country, it just—it's a recipe for disaster. Like fireworks not going so well for instance.
Granting that, in our extremely charged political climate and tendency to live in news bubbles, there's probably only limited room for movement, anyway. But it's really hard to convince people it's all sunshine and rainbows during a thunderstorm.
Plott Calabro: I think that's something important to think about. But the second thing that's interesting about whether voters today have the capacity to, I don't know, register good news or even seek it out, you know, on their own—that's, I think, something that Democrats are confused by too, because, you know, Biden was swept in ostensibly on this idea that voters want a return to normalcy.

They want to get back to a place where they're not actively, like, wondering what their president is saying or doing every day. In some ways, that is what this president has been able to provide, but even if voters were saying back in 2020, That is the dynamic we want, it's not the one that seems to compel them day to day in terms of, like, wanting to be engaged with what is happening.

Rosin: So this is one of those cases, I can't remember the psychological, sociological term for when there's a gap between what you say you want in a poll and what you actually want, and you're not even aware of that, your desire, because it's subconscious. So you're like, Check. I want to go back to normal. But it's not actually….
Would things be radically worse almost seven years into a Trump presidency? Almost certainly. But that's now how most people think—much less feel.
Further, while Biden is very much a normal President, the fact of the matter is that he hasn't been able to restore normalcy to our politics. That this is almost entirely a function of an opposition party that refuses to give him a single vote even on policies they support is frustrating.
And, again, this is a place where the media critique is valid. Despite the problems being primarily caused by one of our two viable political parties being completely dysfunctional, the press mostly reports on the crisis as though we still lived in a normal world. So, it's Congress that can't pass a budget, not a fractured Republican caucus.