Why Not Direct Democracy?
Would bypassing politicians altogether make the system more just?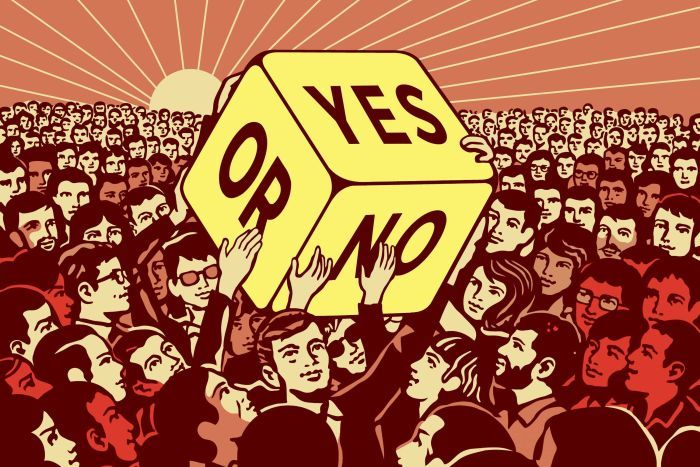 Dave Schuler asks the titular question:
For all of the pontificating about how undemocratic our political system is and how much better a strictly majoritarian system would be, I'm not seeing any calls for direct democracy. Has anyone wondered why? I would think that if you believe in a strictly majoritarian system (1/2 + 1 votes rules) that direct democracy would be the ideal.
Speaking for myself, I don't "believe in a strictly majoritarian system." I prefer a government that is limited in its power over the individual and which is required to recognize fundamental rights. I think that's true of the vast majority of Americans, including those calling for reform of our democratic institutions.
Outside of very limited settings (mostly small private clubs and the like) I'm not a fan of direct democracy, either. Governing anything large and complex is better delegated to people with the talent and time to devote to it.
That leaves the form that essentially all governments that practice democracy in modern times have taken: some form of representative government, in which people vote for leaders who will, well, represent them. This in turn can take many forms, none of which we need to go into here.
I gather from the discussion in the comments section, though, that Dave's concern isn't some variant of the "a Republic, not a democracy" trope but rather that powerful interests dominate our current system. He contends that, at least Illinois and Chicago, in particular, "Corporations and labor unions, particularly public employees' unions, rule. The actual views of the people are quite different than might be inferred from our elected representatives." Later in the thread, he labels the system "Hobson's choice."
Some of the reforms that Steven Taylor (particularly) and I have touted here over the years, whether enlarging the size of the US House of Representatives, going to direct election of the President rather than filtering the vote through the Electoral College, or more radical changes like getting rid of single-member districts would help make the representatives better align with the will of the people. Given that most seats aren't competitive (and that's often just as or more true at the state and local level), politicians only have to worry about the party primaries and keeping the powerful elements of the base happy.
I suppose having more referenda, which have been popular in the Western part of the country for generations, would also make the system more representative in some ways. But, given that the voters would have very little understanding of most of the issues, I suspect that the organized, monied interests that frustrate Dave under the current system would tend to dominate that process as well. They would not only fund most of the advertising but are much better able to organize turnout.