Missouri Voters Overwhelmingly Reject 'Right To Work' Law
In a rare red-state victory for labor unions, Missouri voters rejected a right to work initiative by an overwhelming margin.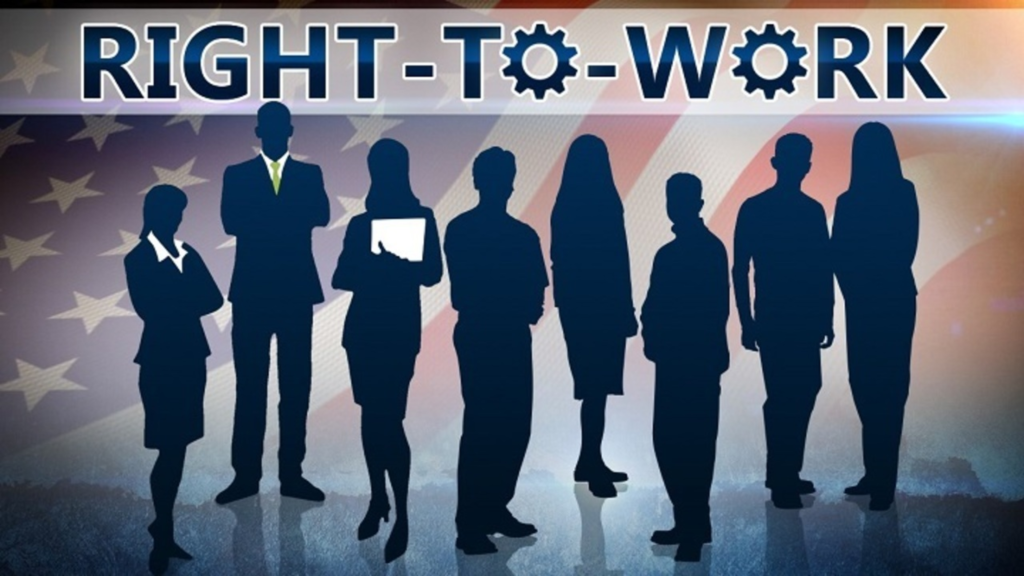 In what amounts to a surprising win in an increasingly red state, pro-union forces in Missouri scored a victory last night with the defeat of an initiative that would have made Missouri the latest state to adopt a right-to-work law that would have applied a recent Supreme Court decision to private-sector unions:
After a succession of political setbacks in onetime strongholds and a landmark defeat in the Supreme Court, organized labor has notched a hard-won victory as Missouri voters overrode a legislative move to curb union power.

A measure on the ballot on Tuesday asked voters to pass judgment on a prospective law barring private-sector unions from collecting mandatory fees from workers who choose not to become members. The law was rejected by a 2-to-1 margin.

The Supreme Court in June struck down such fees for public-sector employees, achieving a longstanding goal of conservative groups and overruling a four-decade precedent.

Labor leaders argued that the rare opportunity for voters to weigh in directly on a so-called right-to-work measure — which several states have passed in recent years — revealed how little public support the policy has, at least once voters get beyond the anodyne branding.

"It shows how out of touch those institutions are," said Richard Trumka, president of the A.F.L.-C.I.O. "How out of touch the Republican legislature in Missouri is, how out of touch the Supreme Court is."

But Jake Rosenfeld, a sociologist who studies unions at Washington University in St. Louis, cautioned against overstating the victory. A mere 8.7 percent of workers in Missouri were union members last year, below the national average and down from more than 13 percent a decade-and-a-half ago.

"A 'win' just returns the situation to the status quo," Mr. Rosenfeld said by email, though he acknowledged that it was "a huge morale boost to a beleaguered movement."

The victory in Missouri aligns with other tentative signs of a labor revival. Among them are polls showing rising popular support for unions and an uptick in membership in teachers' unions after walkouts in several states during the past school year.

The examples of Michigan and Indiana, where right-to-work laws took effect earlier this decade, suggest that the legislation could have cost unions thousands of members and millions in revenue.

One question is the extent to which the victory could reverberate beyond Missouri.

"I think this will build momentum and send a message to all legislators," Mr. Trumka said, "that if you vote against the people, go against the will of the vast majority of working Americans, it's going to cost you."

But it was not immediately clear that the forces driving the impressive showing for labor in Missouri could be reproduced elsewhere.

One reason is that Republican voters who buck their party on a ballot measure, as many appeared to do in Missouri, may be unwilling to vote against Republican candidates in a general election, even when those candidates are hostile to labor.

"There's a big difference between overturning the law itself and defeating legislators who supported it," said Jonathon Prouty, a Missouri political consultant and former executive director of the state's Republican Party. "It's a lot easier for unions to energize their base around the issue, which is right to work, rather than against candidates."

T. J. Berry, a Republican state representative whose district includes some outer suburbs of Kansas City, said that many of his constituents were proud union members who opposed right to work but nonetheless voted Republican because they were conservative on issues like abortion and guns.

"I have four guys who are Ford workers in my Sunday school class," Mr. Berry said. "And they fit exactly what I've told you: Pro-life, pro-gun and pro-worker. All of them voted for Trump."

(…)

[Former Governor Eric] Greitens had signed a right-to-work bill into law after the legislature passed it in early 2017.

Supporters argued that the measure was essential to the state's economic competitiveness.

"Companies that have a choice of expanding or choosing where they locate to begin with, they will generally choose — especially in the manufacturing sector — a right-to-work state," said Daniel Mehan, president and chief executive of the Missouri Chamber of Commerce and Industry. He cited the manufacturing boom in the South in recent decades as a key data point.

But shortly after the law's passage, unions and their allies in the state started a campaign to keep it from taking effect. They submitted about three times the roughly 100,000 required signatures by last August, setting up the statewide ballot vote, then began aggressively campaigning this spring for a "no" vote — that is, a reversal of the legislative move.

"I've been out knocking on doors, walking, since the middle of May," said Mark Staffne, an electrical construction mechanic and union member, who lives in St. Charles County, which is heavily Republican.

"I met both Republican voters who voted for Trump and labor Democrats who voted for Trump," he said. "By a vast majority, a huge amount of people I talked to said they're voting no."

Labor groups characterized right-to-work laws as an attack on workers' livelihoods, because, they said, they undermine unions' ability to negotiate wages and benefits. A 2015 report by the liberal Economic Policy Institute found that the typical full-time worker, not just the typical union member, earned about $1,500 per year more in states where mandatory union fees are allowed than in right-to-work states.

If union fees are not mandatory, workers can enjoy the benefits of union representation without having to chip in for unions' work on their behalf, often known as the "free rider" problem.
More from The St. Louis Post-Dispatch:
ST. LOUIS • Fueled by more than $15 million in campaign spending and laser-sharp attention from national labor unions, voters solidly rejected an attempt to make Missouri a "right to work" state.

With 100 percent of precincts reporting early Wednesday, unofficial results showed the ballot question asking whether the Show-Me State wanted to join 27 others in allowing private-sector workers to not pay dues to a labor organization had flamed out about 2 to 1.

"We are hopeful that the outcome of today's election will put an end to attacks on Missouri's working families and give our state a fresh start at working together to help and support all Missourians," noted a statement from the We Are Missouri coalition, comprising labor unions and affiliated organizations. "In every corner of the state, voters rebuked the efforts of powerful, out-of-state corporate interests and dark money to control the future of Missouri's economy."

Dan Mehan, executive director of the Missouri Chamber of Commerce and Industry, said the push by Republicans and business groups who supported the law was not a mistake.

"No miscalculation. It was a deluge of money coming in from out of state that helped them get to $20 million to buy the election," Mehan said. "We just got blown out."

From the start, pro-business groups supporting the law failed to keep pace with the millions of dollars that the unions pumped into the referendum. Yard signs, television ads and a radio ad by actor John Goodman — a Missouri native — dominated the campaign.

While supporters of Proposition A said states with similar laws had seen positive job growth, opponents said myriad other factors had played into boosting the business climate in those states. Opponents also said wages in right-to-work states were lower.

"I've seen the facts of states that have laws like right to work," said United Auto Workers union member Michelle Whitley of Wright City. "It's just not a good thing for our state."

Whitley told the Post-Dispatch that she and other union members would continue to play defense against similar efforts by lawmakers.

"I don't think we'll ever stop fighting," said Whitley, who works on the pickup and van assembly line at General Motors in Wentzville.

Missouri Democratic Party Chairman Stephen Webber called the push for right to work a "shameless attack on the middle class."

"Tonight, Missouri voters rejected a top Republican priority and sent a resounding message that we will not leave working people behind," Webber said.

U.S. Sen. Bernie Sanders, I-Vt., also got in on the celebration.

"I'm glad to hear Prop A was defeated tonight in Missouri," he said on Twitter. "Right-to-work legislation must be defeated nationwide. We must stand together, beat back union busters, and continue to build and grow the trade union movement in this country."

In 1978, the last time right to work was on a statewide ballot, 60 percent of Missouri voters turned it down.

Despite steep declines in the union workforce, Tuesday's measure was defeated in both urban and rural areas. Unofficial returns showed just 14 of Missouri's 114 counties supporting the law.
As noted, this vote comes just about two months after the Supreme Court dealt public-sector unions a potentially devastating blow with a ruling that found that it was unconstitutional to require government employees to pay union dues as a condition of employment. As I noted at the time, though, this decision does not have any impact on private-sector unions since the First Amendment, which formed most of the basis for the ruling, does not apply in the private employment context. In that case, the major threat to unions has come in the form of right-to-work laws that are on the books in twenty-seven out of the fifty states and which, generally speaking, prohibit so-called "closed shop" agreements between unions and employers and prohibit unions from collecting mandatory fees from non-members. This, effectively, is what the Missouri law would have done.
In the end, the outcome of the referendum wasn't even close. The "no" vote ended up getting 937,241 votes (67.5%) compared to 452,075 votes (32.5%) for the "yes" side of the ledger. In retrospect, this arguably vindicates the decision of the Republican-controlled state legislature to put the measure on the primary ballot rather than on the November General Election ballot. At the time, pro-union forces accused Republicans of scheduling the referendum in the manner that they did in order to benefit from what would otherwise be expected to be a lower-turnout election. While it's likely that this is at least part of the reason for the scheduling of the vote, it has also been suggested that the GOP wanted to avoid scheduling the vote for November out of concern for the impact its presence on the ballot might have had on other races on the ballot, specifically including the race for Senate and the GOP effort to unseat incumbent Senator Clarie McCaskill. Arguably, a measure like this on the November ballot would have motivated pro-union voters inclined to support McCaskill to get out and vote and thus made it harder to take out McCaskill, a task that isn't going to be easy in any case.
Union supporters are likely to take no small degree of solace from the outcome of this vote since it pushes back against what has been a difficult several years for unions in general. In addition to the loss earlier this summer at the Supreme Court, the union movement has also seen defeats for public sector unions in Wisconsin, Ohio, and Michigan in recent years. Additionally, until this referendum, right to work laws have slowly advanced through state legislatures to the point where they are now on the books, in one form or another, in a majority of the states in the United States. In that respect, this victory is a small one given the overall trend, especially since there is no reason to believe that it represents the beginning of a turnaround the fortunes of labor unions to begin with.