Why Obama's Osama Bounce Didn't Last
President Obama's approval numbers shot up after Osama bin Laden was killed two weeks ago. They've already settled back to where they were
President Obama's approval numbers shot up after Osama bin Laden was killed two weeks ago. They've already settled back to where they were, Hotline reports:
Obama's approval rating is now at 46 percent, equal to his approval rating in the last tracking poll conducted before Obama addressed Americans late on May 1 and informed them of bin Laden's death. Forty-four percent of Americans now disapprove of the job Obama is doing as president.

According to the Gallup poll, Obama's approval rating crested at 52 percent after the bin Laden killing. His disapproval rating never fell lower than 40 percent.

Obama's bounce is smaller in magnitude and shorter in duration than the bumps enjoyed by other presidents over the past 70 years, according to a study by Republican polling firm Public Opinion Strategies. For example, George W. Bush received a 15-point bump after the capture of Saddam Hussein in 2003 — a bounce that lasted seven weeks.
The graphic National Journal produced on that is interesting: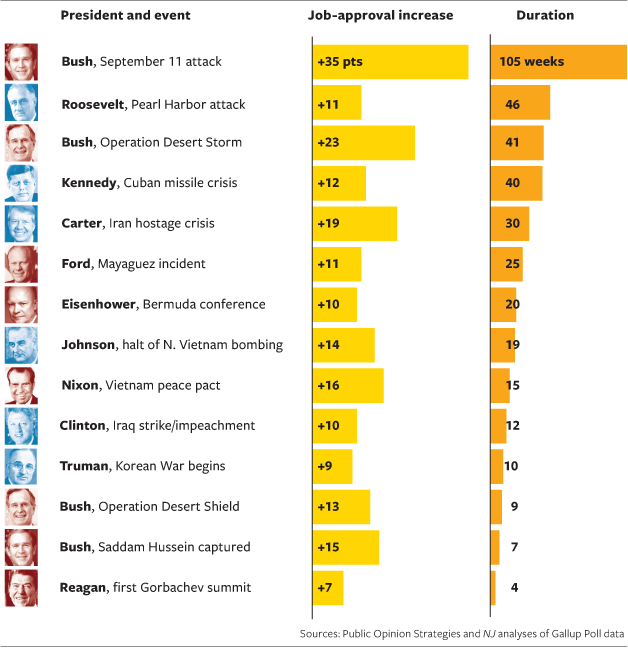 It's somewhat misleading, however.  The 9/11 bump was, of course, massive. Not only was it a nationally catalyzing event but Bush's numbers were fairly low before it, owing to the hangover from the bitter post-election fight over Florida, making the bounce bigger. But the bounce wasn't sustained by 9/11 alone but by the national frenzy that followed it, including two wars and other major policy reactions that kept it in the news. The wars, especially Iraq, eventually made Bush quite unpopular. But there was an enormous rally effect in the early days and the initial success in both places was awe-inspiring.
Contrast that with the bin Laden raid. It was spectacular and, one hopes, a less ephemeral success. One presumes, too, that it will permanently put to rest doubts about Obama's ability to make tough decisions about the use of military power–something that will doubtless help with swing voters who tend to vote Republican in a tie because of national defense.
But, unlike 9/11 or Pearl Harbor, the narrative wasn't changed. National security hasn't become the main story as it did with the World War II, Vietnam, the Iran Hostage Crisis, or the Global War on Terror. The economy remains and is likely to remain the main act.