Why We Can't Have Nice Things
Pledges from wealthy men to help rebuild Notre Dame cathedral after a devastating fire is generating backlash.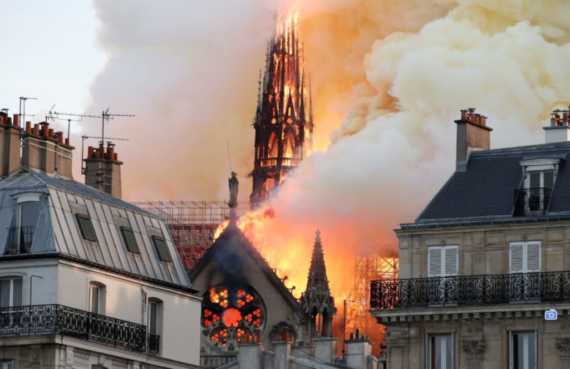 Much of the world mourned the destruction of the cathedral at Notre Dame from last week's fire. Several wealthy donors pledges large sums to help finance the restoration.
The eventual reconstruction of Notre Dame is now a foregone conclusion. Within hours of the fire that destroyed much of the cathedral on Monday, donors pledged more than $1 billion to restore the Parisian icon to its former glory.


Even before the smoke had cleared, Luxury goods magnate Francois-Henri Pinault announced his family would donate 100 million euros ($112 million) to the effort. Not to remain on the sidelines, his rival Bernard Arnault — the chief executive of LVMH and the richest man in Europe — pledged twice that amount on Tuesday morning. The Bettencourt Meyers family, which controls L'Oreal, quickly matched that pledge. And Patrick Pouyanne, chief of executive of French oil giant Total, offered another $112 million.

Officials are still assessing the extent of the damage, so the cost of Notre Dame's reconstruction remains unknown, but these and the many other donations coming in should pretty well cover it.

– WaPo, "Billionaires raced to pledge money to rebuild Notre Dame. Then came the backlash."
If there were ever such a thing as unalloyed good news, this would surely qualify. Not only is an iconic structure going to be restored but it shouldn't come on the backs of the poor.
But, of course, that's not the whole story.
[T]he cascade of cash that materialized overnight to save the cathedral has raised eyebrows in France, still in the throes of a crippling protest over rising social inequality and whose leader is regularly decried as the "president of the rich."

"Of course, I find it nice, this solidarity," said Ingrid Levavasseur, a leader of the yellow vest movement that has protested inequality in a series of often violent Saturday demonstrations since mid-November. The stream of donations essentially confirmed the movement's broader social critique, Levavasseur said.

"If they can give tens of millions to rebuild Notre Dame, then they should stop telling us there is no money to help with the social emergency," Philippe Martinez, head of the CGT trade union, said on Wednesday.
The cash flow has also furrowed brows abroad, with critics emphasizing that destroyed landmarks in non-Western locales — like the ancient sites destroyed by the Islamic State in Syria — have hardly inspired such a global groundswell.

"In just a few hours today, 650 million euros was donated to rebuild Notre Dame," South Africa-based journalist Simon Allison tweeted. "In six months, just 15 million euros has been pledged to restore Brazil's National Museum. I think this is what they call white privilege."
Oh, for Pete's sake.
First off, this hasn't a blessed thing to do with "white privilege." Using it to mean "rich guys can get what they want" is to commit the same mistake that conservatives use to dismiss the concept that simply being white conveys enormous, if subtle, unearned advantage. ("How dare they say I have white privilege. Why, my father was poor and I had to work for everything I've got!")
Second, that rich Frenchmen are rallying to the cause of one of their own national icons over that of more ancient ones from other parts of the world is neither surprising nor worthy of raised eyebrows, much less scorn. It's the way community works.
Third, there have been all manner of stories written and lamentations over the destruction of antiquities by the Taliban, Islamic State, and by war and conflict more generally. I myself have mused, to outrage from the commentariat here, that this is more tragic from a civilizational standpoint even than the massive near-term loss of life.
Now, it's certainly worthy of debate whether titans of industry should control so much wealth as to be able to make such big gestures on their own volition. Or whether their generosity might be better spent on things with more concrete advantage to the less-well-off. But it's absurd to condemn rallying around a national—even civilizational—tragedy by putting their money where their mouth is.