WikiLeaks Booted From DNS, Reappears Elsewhere
WikiLeaks domain name service was terminated for violating terms of use.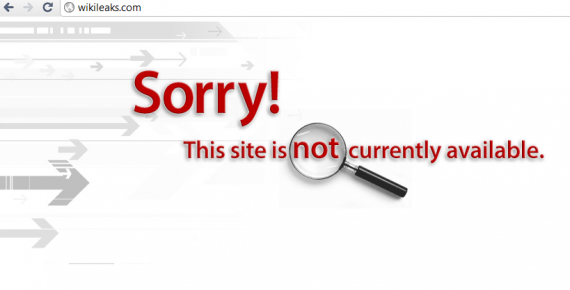 WikiLeaks is down yet again, this time because it was kicked off by its DNS provider.  Jeff Dunetz found this message when he visited:
EveryDNS.net provided domain name system (DNS) services to the wikileaks.org domain name until 10PM EST, December 2, 2010, when such services were terminated. As with other users of the EveryDNS.net network, this service was provided for free. The termination of services was effected pursuant to, and in accordance with, the EveryDNS.net Acceptable Use Policy. See more.

More specifically, the services were terminated for violation of the provision which states that "Member shall not interfere with another Member's use and enjoyment of the Service or another entity's use and enjoyment of similar services." The interference at issues arises from the fact that wikileaks.org has become the target of multiple distributed denial of service (DDOS) attacks. These attacks have, and future attacks would, threaten the stability of the EveryDNS.net infrastructure, which enables access to almost 500,000 other websites.
All I found was the image that's atop the post.   It's mildly amusing, however, that the terms of service violation was a result of WikiLeaks being the victim of DDOS attacks rather than its own misconduct in posting illegally obtained materials.  (Indeed, irrespective of the classified nature of the documents in question, one would think that posting them would constitute intellectual property theft and a takedown notice issued.)
While I understand a provider booting a site that's causing its other customers trouble, this amounts to a heckler's veto.  Any unpopular site could be similarly targeted and silenced.
UPDATE:  Literally as soon as I finished posting this, I learned that the site had moved to wikileaks.ch, a Swiss domain, and is already back up.  Indeed, DeepTech's Stephen Shankland reports that there's a move afoot to create a permanent DNS to sidestep the ability of governments and firms susceptible to government pressure from shutting down sites.
The DNS, centrally administered by a non-profit group called ICANN, the Internet Corporation for Assigned Names and Numbers, is a critical service when it comes to publishing and finding information on the Internet. Rerouting addresses through the DNS is how the U.S. government seized 82 domains associated with copyright infringement.

One response to this situation involves a new effort to create a decentralized DNS, also using peer-to-peer technology. Peter Sunde–one founder of a site called The Pirate Bay that indexes content shared with the peer-to-peer BitTorrent technology–is involved in the project, called P2P-DNS.

"Alternative DNS system based on P2P," Sunde said about the effort in a tweet, though he later took pains to say he was only interested, not the person behind the effort. He added that the "core of the DNS problem is not ICANN. It's that governments and companies can control ICANN (i.e. it's centralised)."
Technically savvy, well financed groups have plenty of means to sidestep takedown attempts.