Will Video Chat Take Off?
Video calling is becoming widely available. Will it become as common as talking on the phone?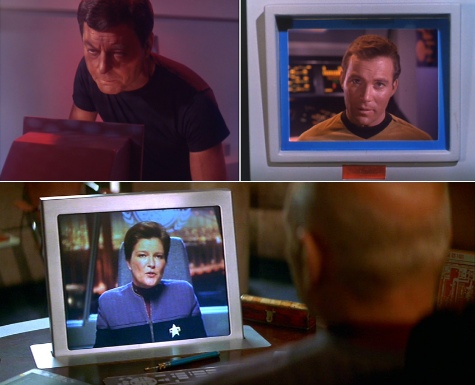 Over at his Forbes blog, Alex Knapp asks, "Why Doesn't Anyone Video Chat?" Answering his own question, he concludes:
I think it's a bit early to write off video chatting. It's only been in the past couple of years that the necessary bandwidth has been ubiquitous enough for people to take advantage of. And as bandwidth capabilities improve, so will video chatting applications and other hardware.

I think that it's possible that it's just one of those things that snowballs quickly. At first, only a few people video call. Then a few more. Then a few more. Then the next thing you know, almost everyone is. It may be, too, that there need to be one or two definitive video chatting platforms established before it becomes really common – just like it took Facebook and Twitter to be the dominant social media platform for social media to really take off.

But even as it becomes more common, I think there's still going to be a lot of voice only calls. Heck, even on Star Trek using viewscreens was less common than using communicators.
Indeed, I'd argue that the overwhelming number of calls will remain voice-only.
Video is great for some things. We've been using Skype to video-chat with my parents/my mother since our first child was born more than two years ago. We only see each other in person three or four times a year, so it's great to have a weekly chat where Katie can see her grandmother and vice-versa. At that age, kids change fast so seeing them is special. But it would never occur to me to set up the cameras to make a quick call to my mother. What would be the point?
Similarly, I'm shocked that videoconferencing hasn't taken off more than it has in business. With air travel getting more expensive and aggravating all the time, video is a great way to gain productivity while still getting the personal connection that comes with putting a name to a face. At the same time, though, I prefer most of my business calls be voice-only so that I can multi-task. That's especially true of long conference calls where I only half need to pay attention.
Despite the fact that everyone over the age of 3 apparently has a smart phone now, communication is increasingly moving to texting, emailing, direct messaging and the like rather than voice. With so many other avenues available, calling people up on the phone unexpectedly is considered more intrusive. One imagines a similar ethic will develop around video calling, since video is much more intrusive than voice.
It's a wonderful technology in its place. But it should remain there.
Photo montage: TrekMovie.com